SPONSOR KVAK's NEWSFLASH – Sports & Activities Program




(On-air/Online/E-news)
Please help KVAK Radio bring our "News Flash" – Athletes & Activities" program back to the airwaves for the 2021-2022 school year! Last year, KVAK was so busy with COVID Coverage that we were not able to solicit sponsors for this program. While we did not have any sponsors, we still produced the on-air program and carried updates in our e-mail newspaper. We will not be able to sustain the full program another year without the support of sponsors. We are hoping to have at least 12 businesses or organizations step up with monetary support so we can provide coverage the entire school year.
Being a sponsor not only gives you the satisfaction of supporting youth activities, Newsflash is a great program to be associated with and KVAK provides our sponsors with lots of recognition on the air, on our website and in our e-mail newspaper. We appreciate working with the schools to share student activities and accomplishments and hope that you will join us as a sponsor.
November 1st, 2021 through April 30, 2022
MVP: Sponsor ALL 3 On-Air Features / Bonus Mentions
Sponsor recognition in every Tuesday Wrap Up, Friday Upcoming Events Listing and Thursday On-Air Interviews with athletes, coaches and students. Prominent recognition on-air in KVAK e-mail news and KVAK website. Bonus mentions-Radio & Digital Promos.
$995 (One price for 6 months) – Programs Run 6x Each Day
Sports Fan: Sponsor 2 On-Air Features
Sponsor recognition in every Tuesday Wrap Up and Friday Upcoming Events Listing. Mentions in KVAK e-mail news and website. Bonus Mentions in Promotional Radio Spots
$695 (One price for 6 months) – Programs Run 6x Each Day
Cheerleader: Sponsor 1 On-Air Feature
Sponsor recognition in every Friday Upcoming Events Listing.
Recognition on-air in KVAK e-mail newspaper and on KVAK website
$395 (One price for 6 months) Programs Run 6x Each Day
To sponsor: fill out the form below. Questions? – Give us a call at 907-835-5825

Agency? Click here for KVAK's Rate Card
Click Here for Premiere Client Advertising Plans
Click Here to

Sponsor Programs & Promotions

Click Here for Short Term Advertising Packages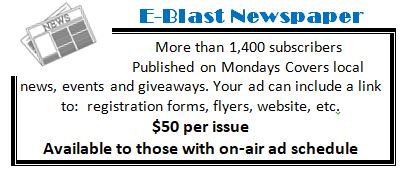 It's really quite simple – the more people you invite to do business with you, the more potential customers you'll attract. The same holds true for organizations –  are you looking to fill seats at your next event or invite folks to participate in an upcoming activity?  Advertising connects you with your audience and encourages them to walk through your front door.
At KVAK, we're in business to help you do more business!
---
Call us  (907-835-5825) or Email (Office@KVAKMedia.com)


today to share what's going on with your business or organization
and we'll put together some ideas to help you advertise effectively!
**Click Here for Frequently Asked Advertising Questions**
**Click Here for Radio Advertising Facts**
---
KVAK has the only 2 commercial radio stations in Valdez, as well as a community minded e-mail newspaper and the website everyone in Valdez visits.
                                                                                           Advertising opportunities include:
"Hear It" – :30 or :60 second ads on 93.3FM (Hit Music & Classic Rock) & 1230AM (Country)
"Hear It" – On-Air News, Weather, Special Programs & Feature Sponsorships
"Hear It" – Contest & Event Sponsorship
"Find It" -Using E-blasts Ads in KVAK's email newspaper  (1400+ subscribers)- Click Here to view a sample
"See It" – Banner Ads on kvakradio.com
                      On-air + Website+ E-News = Success
Valdez, United States

38°F

overcast clouds
Day

Cond.

Temp.
Wind
Humidity

Pressure

Pres.

sat

oct 23

41/38°F
3 m/s, NE
83%
738.81 mmHg

sun

oct 24

39/33°F
4 m/s, NNE
84%
749.31 mmHg

mon

oct 25

36/33°F
4 m/s, NNE
75%
742.56 mmHg

tue

oct 26

35/29°F
5 m/s, NNE
73%
744.06 mmHg

wed

oct 27

34/31°F
5 m/s, NNE
74%
748.56 mmHg