Agency? Click here for KVAK's Rate Card
Click Here for Premiere Client Advertising Plans
Click Here to

Sponsor Programs & Promotions

Click Here for Short Term Advertising Packages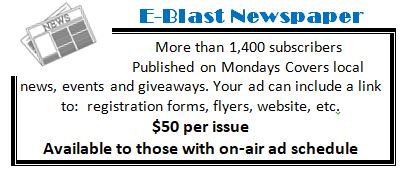 It's really quite simple – the more people you invite to do business with you, the more potential customers you'll attract. The same holds true for organizations –  are you looking to fill seats at your next event or invite folks to participate in an upcoming activity?  Advertising connects you with your audience and encourages them to walk through your front door.
At KVAK, we're in business to help you do more business!
---
Call us  (907-835-5825) or Email (Office@KVAKMedia.com)


today to share what's going on with your business or organization
and we'll put together some ideas to help you advertise effectively!
**Click Here for Frequently Asked Advertising Questions**
**Click Here for Radio Advertising Facts**
---
KVAK has the only 2 commercial radio stations in Valdez, as well as a community minded e-mail newspaper and the website everyone in Valdez visits.
                                                                                           Advertising opportunities include:
"Hear It" – :30 or :60 second ads on 93.3FM (Hit Music & Classic Rock) & 1230AM (Country)
"Hear It" – On-Air News, Weather, Special Programs & Feature Sponsorships
"Hear It" – Contest & Event Sponsorship
"Find It" -Using E-blasts Ads in KVAK's email newspaper  (1400+ subscribers)- Click Here to view a sample
"See It" – Banner Ads on kvakradio.com
                      On-air + Website+ E-News = Success
Valdez, United States

62°F

broken clouds
Day

Cond.

Temp.
Wind
Humidity

Pressure

Pres.

mon

aug 2

69/59°F
2 m/s, N
68%
763.57 mmHg

tue

aug 3

56/58°F
2 m/s, NNE
98%
762.82 mmHg

wed

aug 4

69/62°F
2 m/s, NW
75%
757.56 mmHg

thu

aug 5

68/59°F
2 m/s, NNE
70%
759.81 mmHg

fri

aug 6

56/55°F
1 m/s, SW
98%
759.06 mmHg