Listen to KVAK radio every weekday for a chance to win gift certificates from our sponsors Prospector Outfitters, A Rogue's Garden, South Central Hardware, Fat Mermaid, Peter Pan Seafoods, Radiant Wellness, Subway, NAPA, Magpies on the Fly, Valdez Brewing, and Capt'n Joe's.
KVAK is hosting Summer Radio Games! Participate in one of our on-air radio games (Freaky Fast Song, Theme Song, Guess the Artist, Finish the Lyric, and Rock Band, Racehorse, or Romance Novel) for a chance to win!
And remember, you can stream KVAK radio, both 93.3 FM & 1230 AM stations, on kvakradio.com or on the KVAK Radio App, available on the Apple App or Google Play Store!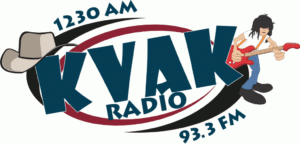 Freaky Fast Song
Sure you know all the songs on the radio, but would you recognize them if they were played "Freakishly Fast"?
When KVAK staff goes on the air and plays a song freakishly fast, call into 907-835-1230 and give us the title of the song
and you'll win a gift certificate from one of our sponsors.
Theme Song Trivia
Show off your knowledge of television shows and movies by answering on-air theme song trivia. We play a theme
song and you call 907-835-1230 with the television show or movie it belongs to and win a gift certificate!
Guess the Artist
Do you know who's singing that tune? Well, we do. When we go live on air for "Guess the Artist"
make sure to call in at 907-835-1230 and guess the artist of the song we play.
Finish the Lyric
When we cue up "Finish the Lyric," you will have a chance to call KVAK.
If you can correctly finish a line in the song, you'll win a prize. And bonus if you sing!
Rock Band, Racehorse, or Romance Novel?
Is the name we say on the air the name of a rock band, an undefeated racehorse, or the title of a
romance novel? Call 907-835-1230 if you know–or try your best guess!
KVAK believes in being involved in community and helping folks enjoy life while we're at it. We are proud to host some of the most anticipated events in Valdez. Our promotions are constantly changing so stay tuned to KVAK 93.3FM or 1230 AM or stream KVAK live on our website or on our free app, just search KVAK Radio in your Apple App or Google Play Store to find out what we have in-store next!