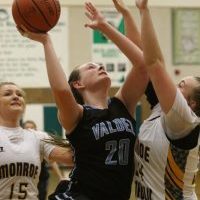 CLICK HERE TO VIEW GIRLS STATE BRACKET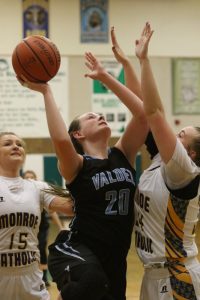 Pictured above: Sophomore Sydney Johnson during the championship game this past weekend.
This past weekend the Lady Bucs competed in the 2017 Aurora Conference Basketball Tournament.  Valdez earned a hard fought victory in their first game against the Eielson Ravens. After being down in the first two quarters of play, Valdez outscored the Ravens in the third quarter 15-4. In the 4th quarter the Lady Bucs carried their momentum from the previous quarter and won 54-41. Valdez was led by the outstanding play of sophomore Sydney Johnson who scored 18 points and grabbed 20 rebounds. The Lady Bucs played again later that day against the Galena Hawks for a spot in the championship game. After even play through three quarters of basketball, Valdez outscored the Hawks 18-9 and won 43-33. The Lady Bucs were once again led by Sydney Johnson who scored 14 points and again recorded 20 rebounds for the game.
On Friday, the Lady Bucs faced off against the hometown Monore Catholic Rams for 1st place. At the end of the first quarter the Lady Bucs led 7-3. In the second quarter the Rams fought back and at the end of the quarter the teams were tied 12-12.  In the third quarter, Valdez held Monroe to single digit scoring to take the lead. In the final quarter the Rams weren't able to recover from there deficit and Valdez claimed the victory winning 36-31. Valdez was led by Sophomore Carlee Fleming who scored 16 points including 3-5 from the three-point line and Sydney Johnson who scored 10 points and recorded 19 rebounds. The Lady Bucs now look to the state tournament scheduled for Thursday, March 23rd through Saturday, March 25th at the Alaska Airlines Center in Anchorage. The girls first game will be Thursday against the Sitka at 11am.