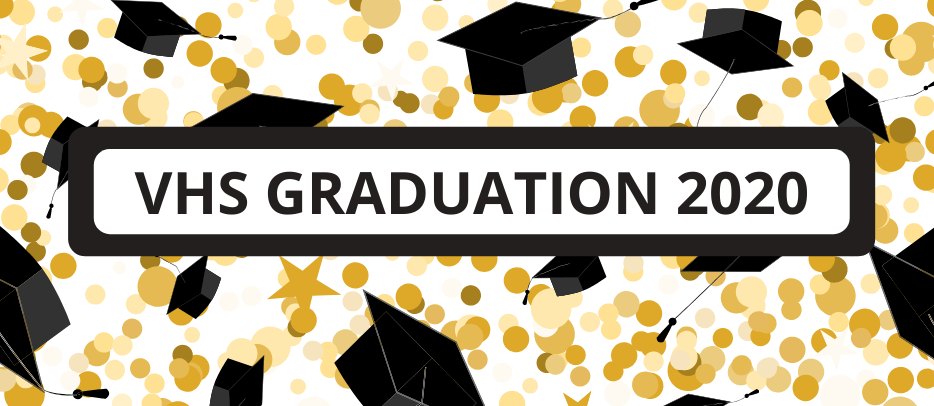 Graduation Parade
Wednesday, May 20th at 7pm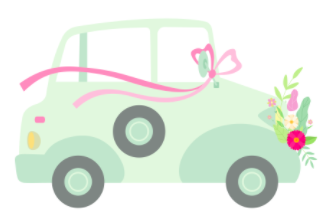 Valdez High School will be celebrating graduation with a parade through the community and a drive-in graduation for families. Pomp & Circumstance will play over the City's Emergency siren to signal the start of the parade.
KVAK Radio will broadcast live during the parade to update the community on where the procession is, play music and talk to seniors as they cruise through town.
PARADE ROUTE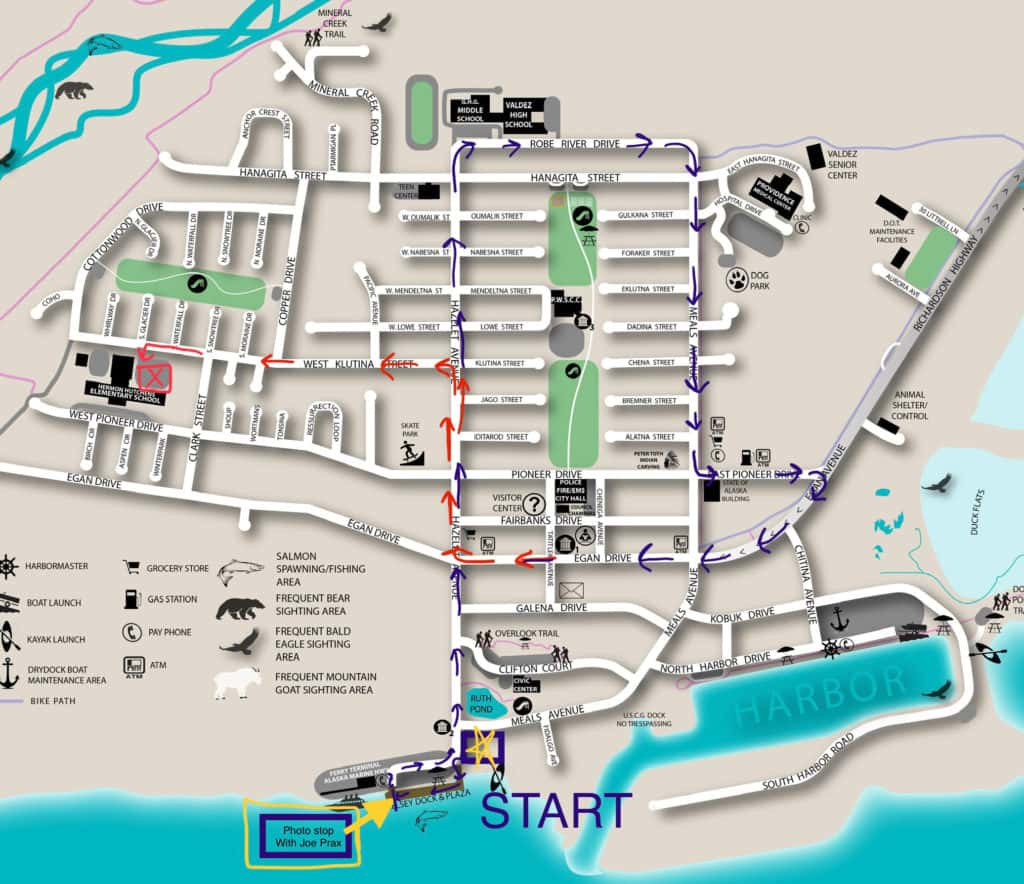 Check out the parade route then step outside and  support the Class of 2020 by cheering them on as they drive by! Be creative and have some fun!
Here are some ideas to get you started:
– Make signs & banners
– Dress up, from costumes to formal wear
– Yard decorations
– Blow bubbles
– Wave flags
– Decorate chairs to sit on
– Wear fun hats
– Balloons
– Decorate windows
Submit a Shoutout to the Class of 2020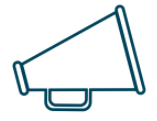 Congratulate VHS Graduates by leaving a shoutout or words of wisdom for the Class of 2020!
(Shoutouts addressed to the whole graduating class)
KVAK will do our best to announce them during our Parade & Graduation coverage.
CLICK HERE for online form
Graduation Ceremony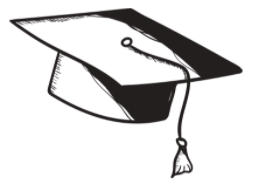 The graduation drive-in ceremony will be limited to High School Seniors and their immediate families but family and friends can tune in to KVAK to hear commencements speeches, senior quotes and the names of graduating seniors during the event. Social distancing will be practiced but plans include having a photographer at the event as well as Seed Media producing a commemorative video.
Interview with Jennifer Kelly & Shannon Major:
VHS Graduation Parade & Ceremony


KVAK's Laurie Prax talked with Shannon Major and Jennifer Kelly about plans for the 2020 Senior Graduation Celebration and Parade. Details on the parade route and how the community can participate are shared along with information about how graduates will receive their diplomas.
CLICK HERE to listen
---
Keep up with the Parade and listen to
the Graduation Ceremony LIVE on KVAK
Get the app and listen on your phone or listen live online. Link up your bluetooth speaker and play it in the parking lot. Crank up the radio in your car at 93.3FM and 1230AM. Grandma in Kalamazoo can log onto kvakradio.com and listen too.
Graduation Parade and Ceremony will be on both 93.3FM and 1230AM.
3 Ways to Listen LIVE
1. Get the App and listen on your phone or other device
This is a perfect way to listen from anywhere! Download the KVAK App in advance so you can listen in along the parade route, from the parking lot, or anywhere else you might be.

Download at Apple App or Google Play Store then see below for instructons.


Visit KVAKRadio.com and click on these icons.
See instructions below.
3. Listen to KVAK on your radio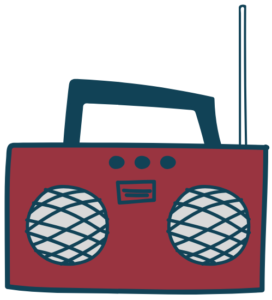 Tune into 93.3FM or 1230AM on the radio.
---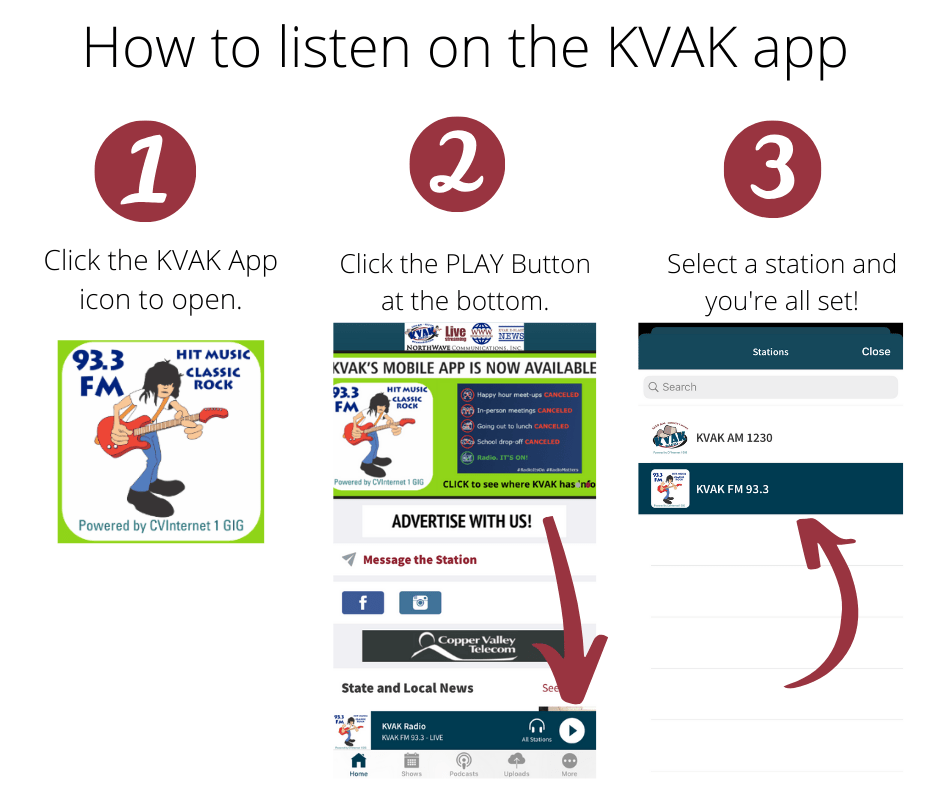 ---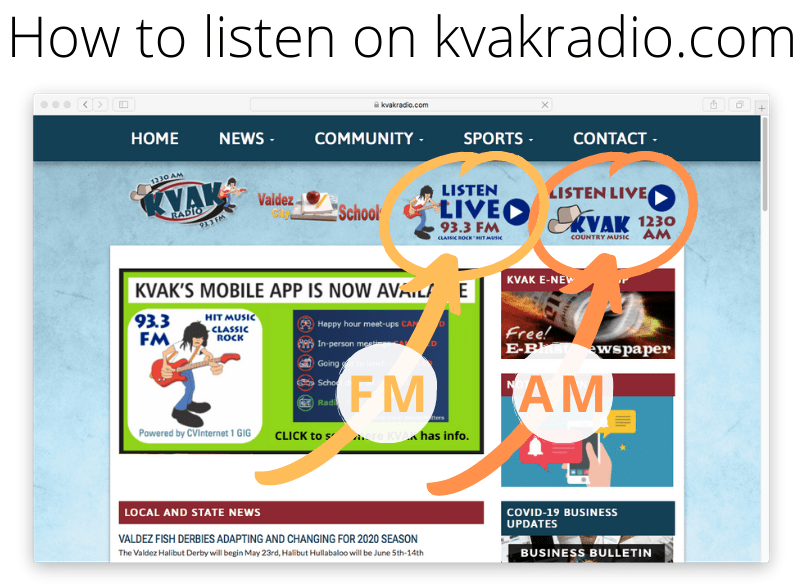 CLICK a station, then a player will pop up and automatically start the audio stream.
KVAK's Senior Spotlights
Listen as Valdez High School's 2020 Senior Class share their
post-graduation plans with KVAK.


All the interviews will air on 93.3FM & 1230AM at Noon, May 20th
Listen to them all online HERE
Just look for this chart and click the play button.


CLICK HERE to listen to Senior Spotlights on kvakradio.com.
Valdez Ministerial Alliance Baccalaureate Blessings 2020
This year our Baccalaureate cannot happen physically so our pastors/leaders sent in blessings and prayers we have for all of you graduates.
On behalf of all Valdez faith communities, know that we hold you in prayer and hope you feel surrounded in support in this celebration that holds both joy of this accomplishment and grief of dashed expectations because of this pandemic. May you feel the grace that flows amidst this community as we cheer you on!
CLICK to watch the video