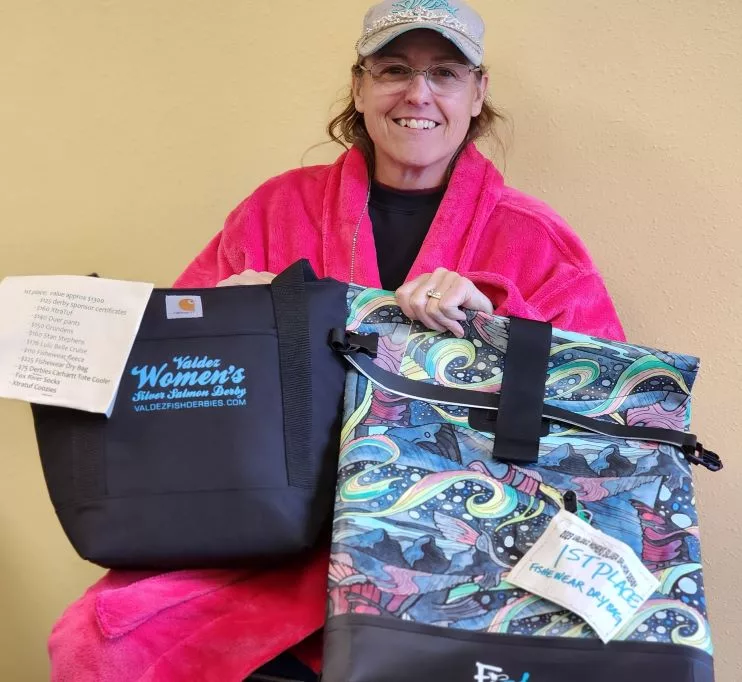 Natalie Chamberlain, 2023 Queen of the Silver Salmon Sisterhood
VALDEZ, Alaska – Natalie Chamberlain of Fairbanks was crowned Queen of the Silver Salmon Sisterhood Saturday Night in Valdez. Chamberlain caught a 10.86-pound silver salmon in the Valdez Women's Silver Salmon Derby and said she and her husband were trolling about 55 to 70 feet out by Potato Point. "I used a hoochie with a herring head on it and that was it!", Chamberlain said. "That's what I put on the pole and that's what I caught all five fish on". In addition to catching the prize winning silver salmon, Chamberlain said she also reeled in some nice sized king salmon. "The one king that I caught was probably pushing 14-pounds," she said.
Chamberlain took home $1,000 in cash and $1,000 in prizes in addition to a plush Women's Derby bathrobe and tiara in addition to the daily 1st place prize in the Valdez Silver Salmon Derby. Chamberlain is an electrician who has been coming to Valdez to fish for Silvers for about 10 years and when asked what she liked most about the Women's Silver Salmon Derby she responded, "I like the way the fish fight". Sherry Shaw of Wasilla Alaska took 2nd place in the Women's Derby with a silver weighing in at 10.76-pounds and Jess Gallatin of Valdez nabbed 3rd place with a 10.74-pound fish.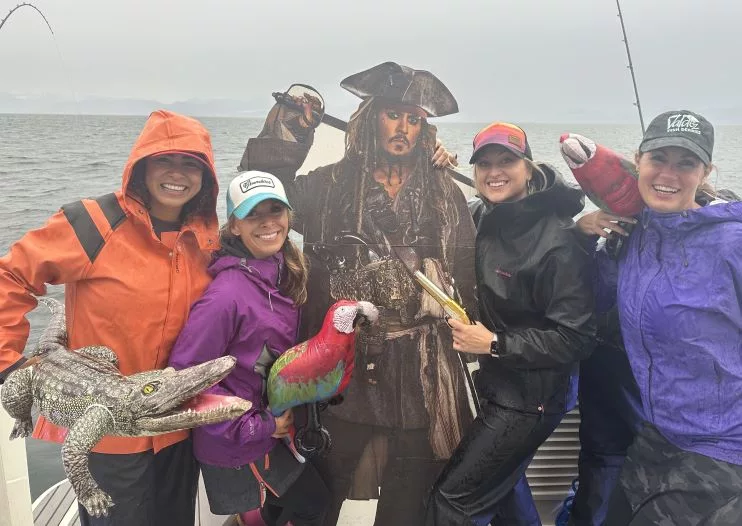 Anne Branshaw friends getting into the pirate theme
The fish that came in for the Valdez Women's Silver Salmon Derby were sizeable, none were big enough to knock the overall leaders off the board. LaVonne Baysinger of Fairbanks is currently in 1st place with a 14.54-pound silver she caught August 4th. David Callos of Tok is currently in 2nd place with an 11.76-pound silver he caught July 30th and Jens Saxum of Valdez is holding onto 3rd place with an 11.34-pound silver salmon he caught July 29th.
In the Valdez Halibut Derby, Jim Jack of Lacey, Washington is still leading and stands to win the $10,000 first place prize if his fish holds on through the end of the derby September 3rd. Last year, Jeremy Smith of North Pole, Alaska won the grand prize with the smallest fish on record in the Halibut Derby, a 170-pound fish. Troy Dolge of Copper Center is currently in 2nd place with a 203-pound halibut he caught June 4th and Maren Russman of Erhard, Minnesota is currently in 3rd place with a 195.4-pound halibut. With thousands of pink salmon carcasses in Prince William Sound, halibut fishing can be good in many of the inside bays. ADF&G suggests fishing the entrances of bays around Knight and Perry Islands.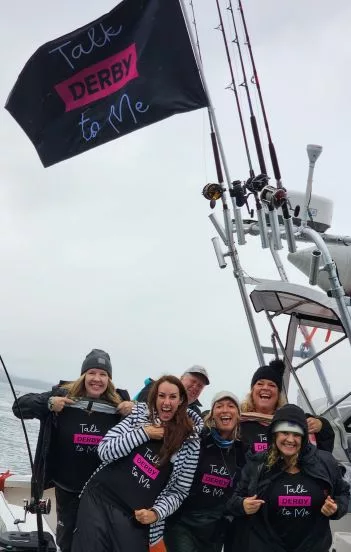 Talk Derby To Me
Valdez Women's Silver Salmon Derby WINNERS
1st  Natalie Chamberlain | Fairbanks | 10.86 lbs.|  Aug 12
2nd  Sherry Shaw | Wasilla, AK | 10.76 lbs. | Aug 12
3rd  Jess Gallatin | Valdez, AK | 10.74 lbs. | Aug 12
Valdez Silver Salmon Derby Overall Leaders
1st  LaVonne Baysinger | Fairbanks, AK | 14.54 lbs. | Aug 4 | Fixed Income
2nd   David Callos | Tok, AK | 11.76 lbs. | July 30 | Mai Sue II
3rd   Jens Saxum | Valdez, AK | 11.34 lbs. | July 29 | Game Changer
Halibut Derby – Overall Leaders
1st  Jim Jack | Lacey, WA | 252.0 lbs. | July 28 | Sentinel
2nd  Troy Dolge | Copper Center, AK | 203.0 lbs. | June 4 | Reflection
3rd  Maren Russman  | Erhard, MN | 195.4 lbs. | July 26 | Chugach Girl