VALDEZ, Alaska – Lacey Stevens of Austin, Texas only went on a silver salmon derby charter because a family member wanted her to experience things that she liked doing in Valdez. The trip marked the first time Stevens had ever gone fishing. Stevens said prior to the trip she didn't think she would like fishing and didn't know anything about the derby. "She wanted us to be in the derby and was very adamant that we got tickets," Stevens said of her family member that put together the trip. After reeling in a 10.06-pound silver salmon and winning the daily 1st place prize in the Silver Salmon Derby, Stevens said she was glad she got a ticket and now loves fishing. "I went out on the Game Changer boat with Jens as the Captain and I caught the first fish of the day and it was just a normal size silver and then the next eight times I tried to reel in, each fish popped off the hook. So it wasn't until about four (or) five hours later that I caught that big fish that won the derby for the day". Stevens said while she had never been fishing before, she knew her fish was a good one when she brought it in. "When Jens actually brought it up in the net I thought 'Oh my goodness that's the biggest fish we've caught today. I bet that's 10-pounds."
While Stevens 10.06 pound silver got her a daily prize and on the board in the overall standings, the odds of winning the $10,000 prize are probably not in her favor. Last year's winning fish weighting in at 14.80-pounds. Stevens said she enjoyed fishing Valdez so much she wouldn't mind if she didn't win anything, but she did take home the daily prize and said she will be wearing her new Valdez Fish Derbies Jacket and t-shirt with pride.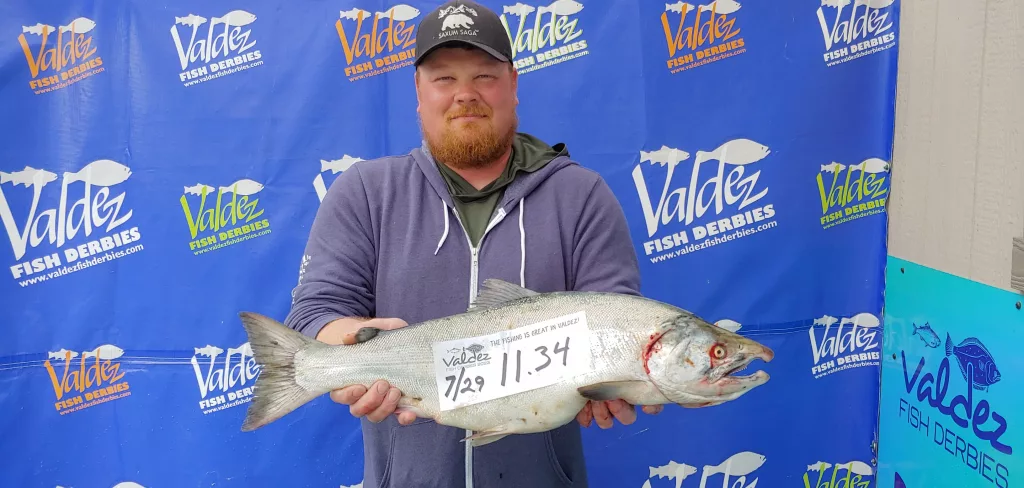 11.34 – Jens Saxum
Jens Saxum of Valdez, AK is currently leading the Valdez Silver Salmon Derby with a 11.34-pound silver salmon Sue Bless of Fairbanks, AK is currently in 2nd place with an 11.02-pound silver she caught July 28th. Jerry Bender is currently in 3rd place overall with an 11.00-pound silver. The Big Prize Friday Winner is Sue Bless of Fairbanks, AK with a 11.02-pound silver salmon. Bless won $500 cash in addition to the daily prize package worth about four hundred dollars.
There are a few reports of silvers being caught in the Port, but most are starting to get picked up outside of Valdez toward Glacier Island. In the Valdez Halibut Derby, the leading fish is a 252-pound halibut caught by Jim Jack of Lacy, WA. Troy Dolge of Copper Center, AK is currently in 2nd with a 203-pound halibut and Maren Russman of Erhard, MN is hanging onto 3rd place overall with a 195.4-pound flatfish he caught July 26th. Anglers are also hooking into trophy size lingcod and rockfish.
The silver fishing should be excellent for the Valdez Women's Silver Salmon Derby August 12th.  Valdez Fish Derbies will give cash and prizes to the Women catching the three biggest fish.  Registration is going on at the Valdez Prospector August 9th through 12th. Derby anglers purchase a ticket for the regular derby, in addition to the $30 fee for Women's Derby, so they will be eligible for prizes in the regular derby as well as the Women's Derby. The Women's Derby Grand Prize is $1,000 cash plus Prospector Prizes valued at $1,000. This year's Valdez Women's Silver Salmon Derby theme is "Pirates" and Treasure Hunt will be part of the fun during the opening on Friday, August 11th. CLICK HERE for Valdez Women's Silver Salmon Derby information.
Halibut Derby – Overall Leaders
1st  Jim Jack | Lacy, WA | 252.0 lbs. | July 28 | Sentinel
2nd  Troy Dolge | Copper Center, AK | 203.0 lbs. | June 4 | Reflection
3rd   Maren Russman | Erhard, MN | 195.4 lbs. | July 26 | Chugach Girl

Silver Salmon Derby – Overall Leaders
1st  Jens Saxum | Valdez, AK  | 11.34 lbs. | July 29 | Game Changer                 
2nd  Sue Bless | Fairbanks, AK  | 11.02 lbs. | July 28 | R401k
3rd  Jerry Bander  | Ackworth, IA  | 11.00 lbs. | July 26 | Coho Casa