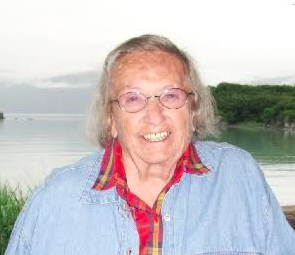 Gloria Day passed away peacefully on May 17, 2023, in Valdez, Alaska. She was 101 years old. Gloria was an Alaskan Pioneer, is loved and cherished by many and will be greatly missed.
Gloria was born in Bexley, Ohio, a small suburb of Columbus. One of her first jobs she enjoyed there was serving shakes at the local ice cream parlor.
Following World War II, Gloria decided a change was in order and made her way to Valdez. She found work there with her future husband, Walter Day, and together they were true Pioneers of Alaska. They helped to operate the family salmon cannery at Dayville, Alaska, until the 1950s. Gloria found happiness doing accounting work at the highway department, as Postmaster, a newspaper publisher, real estate agent, insurance agent, retail store owner and commercial fisherman.
Gloria also served her family and community in many ways including as an election board worker, President of the Valdez Historical Society and was appointed by Governor Egan to serve on the State Mental Health Board. Gloria is a charter member of the Pioneers of Alaska, Valdez Igloo, and has served as an officer many times. She was instrumental along with other community members in initiating the preservation of an important historical site, the Valdez Pioneer Cemetery. Gloria served with distinction in the United States Coast Guard Auxiliary in Valdez as the Flotilla Commander for many years. In addition to on-water patrols and rescuing wayward mariners, she taught boating skills and seamanship, coastal piloting, and spent many hours teaching on-water boating safety to Valdez elementary school students.
Gloria was preceded in death by her husband, Walter; son, Larry; and daughter, Sandy. She is survived by her children: Carl, Bobby, Pat, Wanda and Linda. Gloria also enjoyed numerous grandchildren, great-grandchildren, and great-great-grandchildren.
A memorial service and reception will be held at the Valdez Civic Center on July 2, 2023, at 1 p.m. A graveside service will follow at the Valdez Memorial Cemetery.
NorthWave Communications provides memorials as a public service to the community (no charge). 
CLICK HERE for the Obituary & Memorial Page