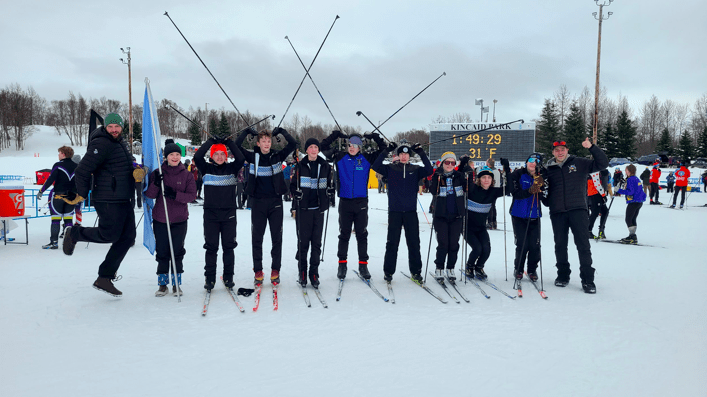 Courtesy of VHS Coaches
8 Valdez High School Nordic Skiers competed in the 2022-2023 ASAA State Nordic Ski
Competition last weekend at Kincaid Park in Anchorage. Elaina Hanson and Morgan Hamilton
skied for the Bucs in the individual girl's races. The 6 Buccaneer boys who skied for the state
competition were Cole Wadsworth, Rafe Carathurs, Blake Roosma, Elias Wisner, and Gabe
Caruthers. Teams from schools throughout the state brought their six best male and female
skiers to compete in the 3-day event.
Day one of the state completion was a classic technique interval start. Conditions for the
race changed dramatically before the race. During warm ups it was calm and cold but by the
start of the race there were bone chilling winds blowing icy snow all over the course and
spectators. This made for some cold and challenging racing for the skiers. Boys were up first
with a 7.5k interval start. Our first 3 boys skiers Gabe Caruthers, Ian Tiura, and Elias Wisner all
were skiing in their first ever state competition. Blake Roosma, Rafe Caruthers, and Cole
Wadsworth were all looking to improve on the places from last year's state competition in
Fairbanks. Senior Elaina Hanson was ready to end her ski career on a high. Sophomore
Morgan Hamilton skied in her first state races in the 5k. Facing the gusting winds made this
race an even tougher battle with poles blowing out of place and a 300 meter straight stretch to
the finish line directly into the wind. But the scene at the finish did look cool as senior and first
year skier Ian Tiura battled through the wind gusts and earned him a tough looking cover shot
on the ADN Newspaper. Ian is a first year senior skier that we wish we could keep longer. He
has come a long way in a short amount of time and well earned his spot on the state team. The
bucs showed great toughness to ski their hardest on a tough course in tough conditions.
However, we were all looking forward to the forecasted blue skies and sun predicted for Friday's race.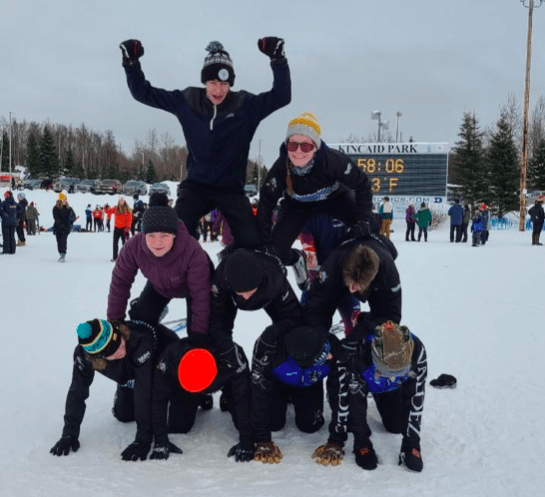 Day two was the beautiful race day we were hoping for. Skiers took on a Freestyle
technique mass start. Mass starts are always tricky especially with skate skiing. 7.5k for the
girls and 10k for the boys. 101 girls lined up for the first race. Senior, 3 year captain, 4 year
"wax wizard" award winner Elaina Hanson skied great in her last high school race. Elaina has
been a joy to coach and watch her skiing improve over the years. She is a great team leader
who is always prepared, works hard, and always has great encouragement and sportsmanship.
Elaina took 6th place out of the Division 2 girls and had a 7.5k time of 26:26 which was 10:46
faster than her 7.5k time from just two weeks ago at regionals! Morgan Hamilton also saw
amazing improvement from her regional time and improved an amazing 12:14 off her time! The
Success for the Bucs didn't stop there, the boys were up next for their 10k race. The boys had a
great warm up and were feeling ready to race with wind free, blue skies, and fast skis. 110 boys
took off in the mass start and thankfully got through it without pile ups and broken poles like last
year's race. Junior Rafe Caruthers placed 9th overall out of the Division 2 skiers and just like
the girls team, every single boys skier dropped significant time off their regional race. Cole
Wadsworth dropped 9:45, Ian Tiura 6:31,Rafe Caruthers 7:04, Blake Roosma 3:53, Elias Wisner 8:20, and Gabe Caruthers 10:18. Our team had a combined time loss of 1:09:08 from
our regional race just 2 weeks ago! Great job bucs!
Day 3 was a 4x5k relay. The first 2 legs of the relay are classic technique and the last 2
legs are skate technique. The 4 boys representing Valdez were Rafe Caruthers, Cole
Wadsworth, Gabe Caruthers, and Elias Wisner. Rafe had a great first classic leg recording a
great 5k time of 15:01. Cole skied a strong second leg and had a PR skiing his fastest 5k
16:54. Cole is another senior that we will miss on the team. Cole won the "Pete Toye
Toughness" award last year and continues to improve in his second year of skiing. Cole is a
leader that is always kind and works hard every day. We'll miss him. Freshman Gabe had an
amazing first year of skiing which earned him a spot on the relay. He completed the first skate
leg of the relay with a fast time of 17:11. Elias skied the anchor leg of the relay in his first year
skiing. He had a fast 4th leg of the race holding onto our lead over Bartlett who finished 30
seconds behind. Overall a fast and fun relay to end a great weekend of racing.
Fantastic way to end the season! Way to go Buccaneer skiers!