FROSTY FEVER BIG PRIZE WINNERS

JOE SZMYD IS THE WINNER OF THE FROSTY FEVER
$1,000 CASH PRIZE FROM KVAK

Congratulations!
BIG ON-AIR PRIZE WINNERS


Kristen Reid – Capt'n Joe's Car Wash Card

Iam Cabitac – $100 Fat Mermaid

Regina Blood – South Central

Jamie – $100 Valdez Brewing (picture of Jorge as he picked up certificate 
)

Airoh Smelcer – Subway Party

Jaelynn Adams – $100 Prospector Gift Card
Jamie Kompkoff – CVT Gift Card
Agnes Hansen – Ravn Alaska
RAVN TICKET WINNERS


Theresa Cummins, Sandy Johns, Vickie Martel (Pictured), Jamie Arciniega
ARCTIC CHIROPRACTIC MASSAGE WINNERS


Mary Mehlberg (Pictured), Jennie Sodergren, Nash Smith
PROSPECTOR CARHARTT JACKET WINNER


Krista Andersen – Carhartt Jacket
RADIO GAME WINNERS
Airfare from Ravn Alaska courtesy of KVAK


Tina Russell (Photo above), Erin Christie, Ramona Mooney (Photo below),
Meta Mendenhall

THANK YOU FROSTY FEVER SPONSORS!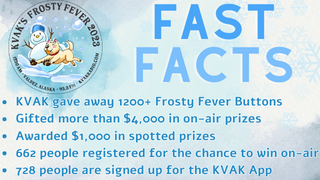 KVAK WANTS TO SEE YOUR FROSTY FEVER PHOTOS!


5th graders fundraising at Frosty Fever BINGO. Click to Share OR Upload on the KVAK App


Learn how HERE