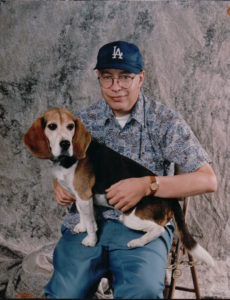 June 8, 1946
December 4, 2021
Lifelong Valdez resident Spike Gilson passed away on December 4, 2021 of sudden heart arrest. He was 75. Spike was born at the old Providence Hospital in Anchorage, as Valdez was without a doctor at that time. He graduated from Lathrop High School in Fairbanks in 1964 with a diploma from Valdez High as Valdez schools and the community was hard hit from the Great Alaskan Earthquake.
Spike was severely injured in an automobile accident while attending Spokane, Washington's Gonzaga University in 1967. He spent the next year of his life in rehabilitation from his injuries which left him a quadriplegic for the rest of his life. His life story is one of dogged determination and perseverance. Spike worked for 25 plus years as a construction auditor at the State of Alaska, Department of Highways at the Valdez district office.
Spike contributed to his community in being a longtime member of the Valdez Elks, Valdez Eagles, and Pioneers of Alaska, Valdez Igloo #7. He was also a longtime board member of the Valdez Museum and Historical Archive. For about 20 years Spike was the coach/mascot of a not-too-serious band of beer drinking misfits who called themselves the Valdez Swamp Rats softball team. They didn't win a lot of softball games, but who cared?
Not long after retirement (1994) he was forced into using a wheelchair to get around. And get around he did! Spike was a familiar figure touring the streets of Valdez with his faithful beagle on the leash, a large cigar protruding from his mouth, and a Los Angeles Dodger's cap on his head. As fiercely independent as a person with 24/7 care can be, Spike lived life on his terms and in his own home. No doubt his biggest fear of being relegated to living in a group care facility would have been the loss of two of his greatest pleasures: cigars and TV sports.
He was never married. He was preceded in death by his mother, Mary, in 1987, father, John, in 1980. He is survived by his two brothers, Kevin (Gloria), Tom (Lois), both of Valdez; nephew Dan Gilson (Tracy), niece Tana Larson (Brodie) of Ione, WA, niece Keriann Gilson of Valdez, nieces Abby Gilson and Jill Milandin (Erin) of Seattle, WA, and niece Jodi Gilson (Jay) of North Carolina. Also surviving are five first cousins and their families who played a big part in Spike's life: Ron Gilson (Debra), Rosemary Lull, Patricia Caples (Gary), Joanne Winney (Dave), and Chris Pakonen of Anchorage. And eight grand nephews and nieces. A special and dedicated person in Spike's life was Belinda Valelei, his principal care giver and friend.
Burial took place at the Valdez Cemetery on Thursday December 9, 2021.
Spike was sent off into eternity with the cremated remains of this beagle Joey, his last box of cigars, and his L.A. Dodgers hat on his head.
See Memorial Announcement HERE