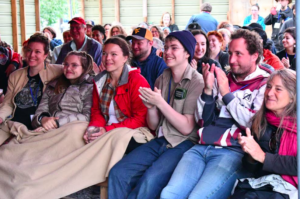 The 30th Annual Valdez Theatre Conference takes place June 11-18. This year, there will be 55 developmental Play Lab readings. The authors are in attendance, and afterward they receive feedback from a panel of professionals.
There are three 8 p.m. performances at the Valdez Civic Center, presented free of charge to the public. CLICK HERE to see the show line up.
Sunday, June 12, Cyrano's Theatre Company presents Chantal Bilodeau's No More Harveys, a one-woman show starring one of Alaska's greatest actors, Danielle Rabinovich.
Tuesday, June 14, features readings of Joe Barnes and Ashley Rose Wellman, starring Frank Collison, Laura Gardner, Dennis Renard and Melody Knudson. A hilarious comedy and a moving drama.
The final show, on Thursday, June 16, is James Hindman's smash New York hit What Doesn't Kill You…, a one-man comedy about discovering he had cancer.
Visit www.theatreconference.org for the full schedule of the week's events.