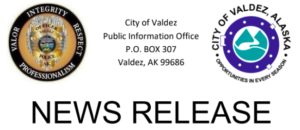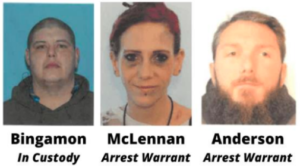 Two suspects remain at large following a Valdez Police Department investigation into the alleged kidnapping, coercion, and physical assault of a Valdez resident on August 16, 2021.
At approximately 10:16 p.m. on August 16, Valdez Dispatch received multiple reports of a disturbance on Airport Road involving a woman either jumping off or falling off a small motorcycle.
The woman, 36-year old Ashleigh McLennan, made telephone contact with Valdez Dispatch stating she was the person who had jumped off the motorcycle on Airport Road. She stated she was uninjured, but requested to speak with an officer at her residence in Glacier View Trailer Park. At the same time, the adult male driver of the small motorcycle made telephone contact with Valdez Dispatch, stating he was en route to the Police Department to speak with an officer about the same incident.
Following interviews with both parties, VPD officers determined the adult male owned a mobile home in Glacier View Trailer Park currently occupied by McLennan. The home owner had met with McLennan at the mobile home to discuss arrangements for her to either vacate the premises, as required in a previously issued eviction notice, or otherwise establish a legal rental agreement if she chose to remain as a tenant. When they were unable to negotiate an agreement, the home owner attempted to leave the scene.
McLennan then allegedly enlisted the assistance of two adult males who were in the back bedroom of the home, 33-year old Rowdy Anderson and 35-year old Adam Bingamon, to physically prevent the property owner from departing the residence. The two men allegedly physically blocked the property owner from leaving, threatened him with severe bodily harm, and used duct tape to bind his arms and gag his mouth.
Investigation results indicate the three suspects then stated they would let the property owner go if he signed over ownership of the mobile home to McLennan and had the bill of sale notarized. They allegedly directed him to drive his small motorcycle, with McLennan as a passenger, to his place of business to obtain the notary. The two adult males followed behind in a sedan. When the property owner slowed down but failed to stop at his business, McLennan either jumped or fell off the motorcycle.
Valdez Police subsequently obtained a warrant to search the mobile home in question and discovered evidence consistent with kidnapping, coercion, and physical assault.
An arrest warrant was issued on August 18th for McLennan, Bingamon, and Anderson for felony kidnapping, felony coercion, felony third degree assault, and misdemeanor fourth degree assault.
Bingamon was arrested on August 19th and remains in Valdez Jail. Court ordered conditions of release for Bingamon include a $15,000 cash only performance bond, a $25,000 appearance bond, a third party custodian, electronic monitoring, and an order not to contact the victim or other two defendants.
McLennan and Anderson remain at large. The Valdez Police Department asks anyone with information regarding the whereabouts of these two individuals to please contact Valdez Dispatch at (907) 835-4560.