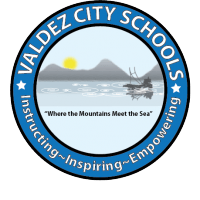 The Valdez City Schools Board of Education is pleased to announce that they have selected four candidates to interview for their superintendent vacancy. The candidates selected for interviews are:
Dr. Deborah Lancaster- Wrangell, AK
Mr. David Langford- Molt, MT
Mr. Rod Morrison- Valdez, AK
Mr. Ralph Watkins- Hoonah, AKA public forum with all of the candidates will be held on March 9, beginning at 5:00 p.m. Members of the public will have a chance to view the forum live, or view the recording until March 15, and provide input via a survey that will be made available on the Valdez City Schools website. Interviews with a committee of stakeholders and the Board of Education are scheduled to be conducted on March 15 and 16.

Valdez City Schools retained the services of McPherson & Jacobson L.L.C. to assist in conducting their search.

After the superintendent has been hired, Mr. Steven Lowder will facilitate a Board/Superintendent workshop to assist in the establishment of performance objectives for the new superintendent. McPherson & Jacobson is committed to work with the Board and new Superintendent for one year to assure a smooth transition.
For members of the public who are interested in hearing from the selected Superintendent candidates, there will be a public forum held on Tuesday, March 9, beginning at 5:00 p.m. The schedule of the forum is as follows.
Public Forum- March 9
5:00-5:30 P.M. David Langford
5:45-6:15 P.M. Ralph Watkins
6:30-7:00 P.M. Deborah Lancaster
7:15-7:45 P.M. Rod Morrison
There will two options for people who want to listen into the forum:
Zoom
Use the following link to register for the Zoom meeting-
https://zoom.us/meeting/register/tJIpceivqjwoHtenBixqHP-L5ZA9f9FSsF3x.
After registering, you will receive a confirmation email containing information about joining the meeting.
YouTube
We are planning to stream the meeting over the VCS Stream Team YouTube page. Streaming will begin promptly at 5:00 p.m.
We will not be taking live questions during this forum. The forum facilitator will ask a set of questions to each candidate. After the forum has ended, a survey will be made available on the VCS website for the public to provide input on the strengths of each candidate and submit further questions for the Board to consider during their decision making process.
The recording of the forum and the survey will be available to the public through March 15, 2021.
If you have any questions, please contact Victoria Hedman at 907.834.4701 or
vhedman@valdezcityschools.org.