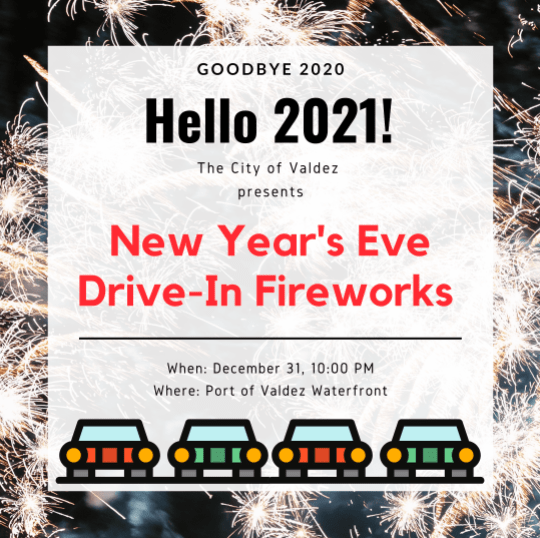 The City of Valdez is proud to present a spectacular New Year's Eve Drive-In Fireworks display over the Port of Valdez.
Make your way down to the waterfront before 10:00 p.m. to snag a great parking spot from the  comfort of your own car. Fireworks will begin promptly at 10:00 p.m.
Enjoy the show from wonderful viewpoints around town to include Kelsey Dock, Harbor Drive or across the bay along Dayville Road.
City Public Health Mandate #003 will be in effect. Please keep proper social distancing of 6 feet and wear a mask around none-household members.
Important Information
Boaters: Please refer to USCG broadcasts ensuring a safe distance from the display fallout. The Harbor entrance will be closed between 9:50PM and 10:45PM.
Pedestrians: Sea Otter Park will be a secured area with no public access on 12.31.20.
Pets: Please keep your pets secure during the 25-minute display."