Valdez City Schools 2020-2021 Smart Start School Reentry
Frequently Asked Questions (FAQ)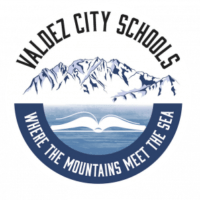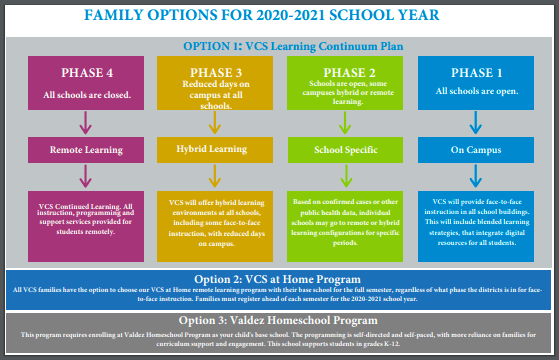 The following are frequently asked questions and answers to what we are planning the start of
the 2020-2021 school year. Many of the planning documents may be found online.
When will School start?
We are planning an in-person student start date, 1st–12th grade, on August 18th (PreSchool and
Kindergarten students will start in-person on August 26th). Some teachers will start returning to
work on August 3rd to create further building guidance to begin safely in-person and deliver
instruction if students need to be away from the building for extended periods. Should the
Governor of Alaska issue a mandate to delay the start of school or local conditions change, more
information will be provided to our parents and community.
What will learning look like in the fall?
Our gating criteria establishes the phase we are in and learning continuum plan. This will guide
the instructional model either on-campus, hybrid, and remote. Whatever we do there is an
expectation for rigorous, high quality instruction and support for social emotional learning.
Every effort will be made to deliver a full year of academic curricula, with special attention to
power standards as identified by our teaching staff.
What will parent(s) need to do to select a learning option to begin with?
Our district developed a request survey to begin compiling parent requests for learning options.
If you did not get a chance to complete the survey, parents will also be notified via the school's
front office staff regarding final program placement for their child(ren).
What sort of safety precautions are the school planning?
We plan to enact many of the health and safety protocols outlined in our Smart Start Reentry
Framework, but much of it can be categorized into limiting contact/interactions and cleaning.
Symptom checks will be required for any visitors to our schools and parents are asked to monitor
for illness and keep kids home if they are symptomatic. The School has ordered enough masks to
issue to each student if needed, but students are asked to be prepared with their own face
covering if required. We are intensifying our cleaning schedule and protocol to combat the
coronavirus and keep our kids and staff healthy.
What is being done in classrooms to mitigate the risk of exposure to the Coronavirus?
Physical distancing measures are being taken, and to the extent, possible desks will be placed 3-6
feet apart. We are also monitoring communal seating areas and ensuring that supplies, food, and
drinks are not shared inside the school building. While this plan is in place, we are also
managing hallway and bathroom protocols and have to adjust class parties, field trips, and
assemblies. Guidance is being followed for reopening according to the CDC.
Will my child have to wear a mask?
Not if we are at low risk in the community. While in Phase I, masks will not be required, but are
encouraged. Even in Phase I, there may be instances (i.e., close proximity to other high-risk
students or staff) when students may be asked to cover their faces or make sure they are at least 6 feet away. If we go into Phase II, face coverings will be required for all staff and students. If we
get into Phase II or higher and parents don't feel comfortable sending students to school, we will
coordinate learning activities, similarly to how we provided instruction and accountability during
the fourth quarter last school year. You can find out more information about phases here.
What about bus transportation?
We will continue provide transportation for all bus riders for this school year. While it is difficult
to carry out the physical distancing recommendations on buses, students will be required to wear
face masks in all phases until further notice. We are encouraging parents that are able to
transport their child(ren), to please do so.
Will student activities and athletics still take place?
Yes, as safely as possible. The mitigation plan outlines our approach to extracurricular activities
this year and details our plan for if and when students travel. This is perhaps the most
challenging aspect of creating parameters for next year. We are in constant conversation with the
Alaska School Activities Association (ASAA) and will continue to follow their guidance and
recommendations. ASAA recently published guidelines for fall sports. Mitigation plans from
coaches are required to be turned in to the building principal or designee prior to travel. The
receiving school will also be required to have a mitigation plan for hosting teams on file with the
building principal or designee prior to team travel as well.
How is the movement between phases be determined? How will I know if they change?
While the school district will ultimately decide to move risk phases if necessary, we will rely
heavily on state and local health officials who will provide clarity on the existence or the level of
community transmission. The school district will use multiple means to communicate a phase
change, which will include but not be limited to mass text messages, emails, postings on our
website, posting on our social media pages, and when possible personal phone calls. You can
find the current status of our phase on the front page of our website.
How do I know what category my school or district is in?
Schools are placed in a category based on analysis of the available health data and under
guidance of medical experts. VCS has identified four phases for school reentry: Phase 1 (all
schools are open), Phase 2 (schools are open, some hybrid or remote learning may occur), Phase
3 (schools partially open, hybrid learning primary model), and Phase 4 (all schools are closed,
distance delivered instruction). Beginning at the start of August, all schools will begin in the
Phase 1 category if there is not a significant increase in the spread of the virus before school
starts.
To what extent will access to the building change?
Access to the school building will be much more tightly controlled than before. Every effort will
be made to ensure students are in classes for the full school day and the extent possible to
participate in school-sponsored extracurricular activities. Beyond the necessities, building access
will be limited to essential functions only. Visitors to the school (including parents) will be either
limited depending on the category risk level.
Will there still be lunch? Recess?
There will, but lunch may not be in a large-scale congregant setting, and recess will be limited
with physical distancing.
Will attendance still be taken?
With students and staff being more careful to guard against illness this year, attendance policies
are going to have to be flexible. While we are still taking attendance for in-person instruction, we
will not be utilizing attendance incentives for students.
How will my child receive their special education services?
Special education services are expected to continue as stated in a student's IEP. If a school has to
move to a distance or hybrid model, schools will continue allowing small groups of students with disabilities to continue coming to the school building to receive small group or individualized in-
person services.
Will we have an in-person back to school night?
Schools will need to limit large groups and practice maximum social distancing. Unfortunately,
this year we will not be hosting our traditional back to school events such as Hot Dog Howdy
and Ice Cream Social.
What is the district doing to address student learning gaps upon returning to school?
Some students may have achievement gaps due to inequities in learning opportunities following
sustained closure. Students will require a variety of supports to address emergent academic,
health, and psychological needs. Our school district will continue to look for ways to meet these
needs when students return to school. We know that there is going to be learning loss, meaning
students may have slipped in their reading grade level and other essential building blocks to
academic success. We will assess students and provide additional interventions, as permissible
by our budget.
Is all of this really necessary?
To be clear, the school board and district staff want nothing more than to return to a typical
school year, unfortunately, given the current circumstances, that will not be possible. We are
mandated by the state to create and follow a mitigation plan. We are in the extremely fortunate
situation of bringing back all of our staff and students for full-day classes, five days per week.
The health and safety protocols, the enhanced cleaning schedule, and the measures are putting in
place to limit or eliminate contact while in the building allow us to bring our kids and teachers
back into the classroom.
Who do I contact for additional questions that I may have after a model is adopted for the district?
Parents and community members should contact their school office staff and school
administration with additional questions. Please continue to check our website for ongoing
updates.