2019-2020 Boys Aurora Conference All-Conference Team
Courtesy of VHS Coaches – Despite the cancellation of the Aurora Conference Regional Tournament last week, the coaches were still able (via email and teleconference) to participate in the annual selection of the Aurora Conference All-Conference Team. In order to be considered for the team, a coach -whether it be that players' coach or an opposing coach- must nominate the player. The nominations are based upon statistics compiled during the regular season as well as other intangibles, such as work ethic, sportsmanship, attitude, leadership, and quality character.
Buccaneer Senior Jalen Freeman took home top honors as he was voted the 2019-2020 Aurora Conference Most Valuable Player. Freeman embodies the aforementioned intangible qualities. Coach Wegner said, "I can't think of a more deserving person for this award. He plays the game the way it should be played. Jalen has always led by example with his work ethic, attitude, and poise both on and off the court. He's a very special young man."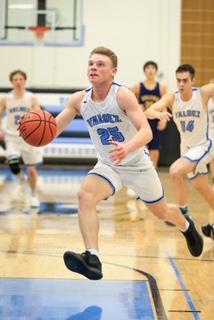 Jalen Freeman
Photos by Joe Prax

Freeman led the Buccaneers to a 10-11overall record (5-5 in conference) and a #3 seed entering the Regional Tournament. For the season he scored 403 points (34 made three point attempts and 75 made free throws), dished out 125 assists, and grabbed 147 rebounds. Freeman finished his Buccaneer career with 1,286 points – eclipsing the 1K point total on January 16th vs. Palmer at the Palmer Elks Showdown.
Freeman also earned his place on the Buccaneer Boy's Record Board (*est. 2015) in a number of categories. He tied the most individual points in a game (30) on February 22nd in a game versus Eielson. Freeman single-handedly holds the record for most assists in a game (10, versus Eagle River on 1/17/20) and in a season (125 for the 2019-2020 season).
In addition to being awarded the Aurora Conference Most Valuable Player, Freeman was recognized at tournaments throughout the year. He garnered an All-Tournament selection at the Mt. McKinley Classic, notched a trifecta (All-Tournament Defensive Team, All-Tournament Offensive Team, and Most Valuable Player) at the Coastal Holiday Shootout, All-Tournament in the Palmer Elks Showdown, and voted Most Valuable Player at the Valdez Elks Tournament.
Freeman headlines a group of 10 additional athletes named to the Aurora Conference All Conference Team: Jason Montes (Delta), Christian Bolton (Eielson), Quinn McHenry (Monroe), Malachi Bradley (Monroe), Deion Frank (Hutchison), Jase McCullough (Monroe), Mason Young (Hutchison), Drenan McGee (Delta), Ben Bialik (Delta), and Joe Riddle (Galena).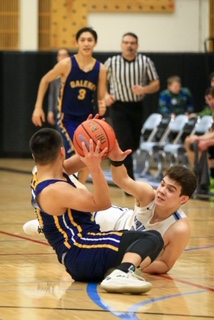 Jimmy Chavez
Jimmy Chavez was listed as an honorable mention. Chavez earned his way onto the record board as well by setting the single-game record for most 3-pointers made (6) on two occasions (12/20/19 vs. Sitka, and 3/7/20 vs. Galena), as well as the most 3-pointers made in a season (48). Chavez also earned himself a steak dinner by successfully taking 3 offensive fouls against Eielson on 2/21/20. *For the record, that is 3 more than Freeman took his entire career.*
Douglas Cummins rounded out the Aurora Conference regular season awards for the Buccaneers, as he garnered a spot on the All-Sport Team.
2019-2020 Girls Aurora Conference All-Conference Team

Courtesy of VHS Coaches – Despite the recent cancellation of the Aurora Conference tournament, the coaches and Athletic Directors of the Aurora Conference schools have determined all-conference awards for the 2019-20 basketball season.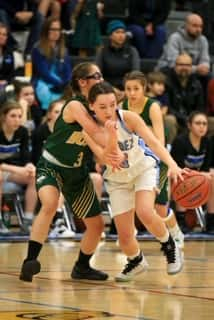 Reese King
Two Buccaneers were recognized and awarded all-conference honors. Junior Reese King averaged 11.4 points per game for the Buccaneers while adding 4.1 rebounds and 1.9 assists per game. Reese also took 3 charges. Freshman Chloe Auble averaged 11.5 points per game for the Buccaneers this season. She grabbed 5.7 rebounds and dished 1.6 assists per game as well. Chloe took 2 charges against opponents this year.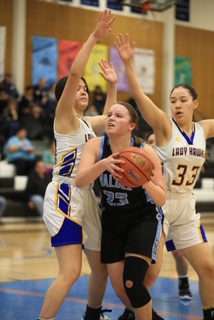 Jade Holmes
Jade Holmes was recognized on the All-Sport team for her leadership of our young team this year. Battling through multiple injuries, she returned to play possibly her finest game helping the Buccaneers to win against the highly ranked Galena Hawks. Jade helped lead our team to 3rd place in the Aurora Conference with a 7-3 conference record. Had the region and state tournaments not been canceled, the Buccaneers would have been a leading contender for the at-large bid to the State tournament.
The full Aurora Conference Girls results and awards are as follows:
Regular Season Records Girls:
1. Galena 9-1
2. Monroe 8-2
3. Valdez 7-3
4. Hutchison 4-6
5. Eielson 2-8
6. Delta 0-10
Girls Coach of the Year: David Wightman – Galena
Girls All-Conference:
Katie Bast – Monroe,
Adam Kaganak – Galena,
Reese King – Valdez,
Tobias Paige – Eielson,
Bri Majors – Hutchison,
Chloe Auble – Valdez,
Grace Hodges – Monroe,
Bridget Charlie – Hutchison,
Marisa Boliver – Galena,
Matteah Felix – Monroe Girls 
All Good-Sports:
Charlotte Leopold – Galena,
Kayla Leu-Clark – Hutch,
Jade Holmes – Valdez,
Matteah Felix – Monroe,
Georgia Able – Eielson,
Megan Kiser – Delta