Rifle
VHS Rifle Team-Mid Alaska Conference Championship Results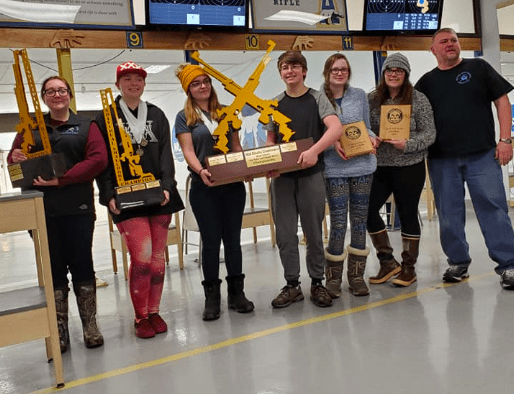 Courtesy of  Coach Hedman – The Valdez High School Rifle team rounded out their year by participating in the Mid Alaska Conference championship match (MAC). This final competition is our "State" and the official end of the high school rifle season. All five of the teams in the conference met at the UAF rifle range for a two-day match. Sara Bauman, Ashlee Schaeffer, Tiffany Larcom, Jared Humphrey, and Layla McAtee traveled to Fairbanks to represent the Buccaneers. The first day served as the Air Standing 60 match. Over three relays, each one lasting an hour and fifteen minutes, five students from each team competed in the most difficult rifle position to achieve the best score that they could. As always, the top four scorers contributed to the overall team score. Sara, Tiffany, Ashlee, and Jared's scores contributed to Valdez's team total of 2229 points, taking the top position of the day by 30 points. Jared Humphrey had a personal best with a score of 550 points. Tiffany Larcom took the top individual score of the day with 576 points.

The second day was the 3×20 smallbore match. Again, over three relays, this time each one
lasting an hour and forty-five minutes, five students from each team competed in three
positions for a chance to contribute to their team's score. Tiffany, Sara, Jared, and Layla's
scores contributes to the Buccaneer's team total of 2172 points, taking the top position of the
day by 33 points. Sara Bauman had a season personal best of 554 points, taking the third-place
individual score of the day. Tiffany Larcom took the top individual score of the 3×20 match as
well with a total of 567 points.

At the end of the two-day match, Valdez came out on top to bring home all three trophies- Top
Air Individual Score, Top Smallbore Individual Score, and Overall Team.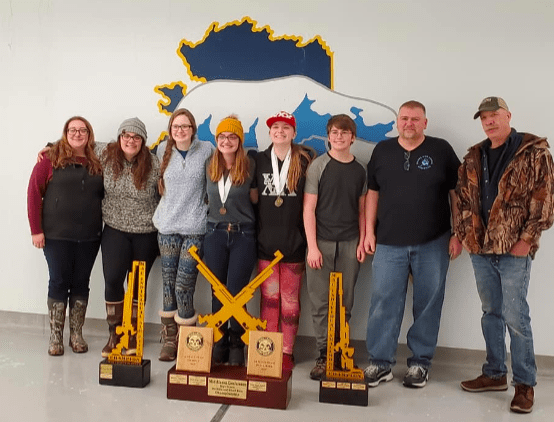 The VHS Rifle Team would like to thank all the people who helped make this season possible
including the VCS School Board, Todd Wegner, and parent volunteers who made our home
matches a success and helped chaperone our away matches. This season has been memorable!
Wrestling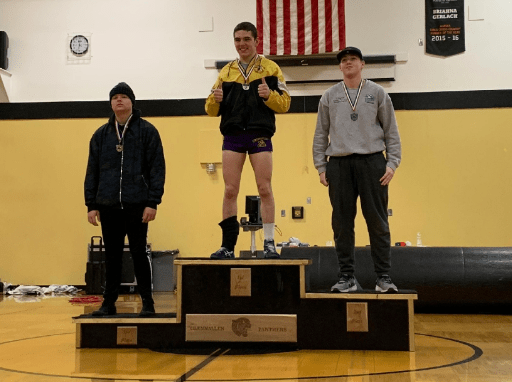 Glennallen Invite:
Courtesy of VHS Coaches – After a short trip up the road, the Wrestling Buccaneers took to the mat against Glennallen, Eielson, Colony, Hutchison, and Galena. This was a perfect size meet to help us prepare for the Denali Conference Tournament next week. I was quite pleased with the effort our team put forth on the mat this weekend. We are doing a much better job hand fighting early and slowing down our opponents. We saw our offense really start to pick up in the second period, allowing us to turn the tides on several occasions. Great weekend with great attitudes and a whole lot of fight. I look forward to finishing the season on a high note!
Varsity 160
Sullivan Holt's place is 2nd and has scored 14.0 team points.
● Round 1 – Sullivan Holt (Valdez High School) won by fall over Brayden Grorud (Eielson High
School) (Fall 1:04)
● Round 2 – Sullivan Holt (Valdez High School) won by fall over Jeremy Phillip (Galena Hawks)
(Fall 4:32)
● Round 3 – Jalen Tosten (Colony High School) won by fall over Sullivan Holt (Valdez High School)
(Fall 1:17)
Varsity 171
William Benes's place is 4th and has scored 3.0 team points.
● Round 1 – William Benes (Valdez High School) won by fall over Joseph Manning (Eielson High
School) (Fall 1:15)
● Round 2 – David Scott (Glennallen High School) won by decision over William Benes (Valdez
High School) (Dec 7-1)
● Round 3 – Landis Erwin (Colony High School) won by fall over William Benes (Valdez High
School) (Fall 0:36)
● Round 5 – Seth Briesmeister (Hutchison High School) won by major decision over William Benes
(Valdez High School) (Maj 11-0)
Varsity 215
Timothy Schantz's place is 4th and has scored 4.0 team points.
● Round 1 – Kael Gerlach (Glennallen High School) won by fall over Timothy Schantz (Valdez High
School) (Fall 2:31)
● Round 2 – Colton Guptill (Hutchison High School) won by fall over Timothy Schantz (Valdez High
School) (Fall 1:07)
● Round 3 – Gaspar DeLeon (Valdez High School) won by fall over Timothy Schantz (Valdez High
School) (Fall 4:00)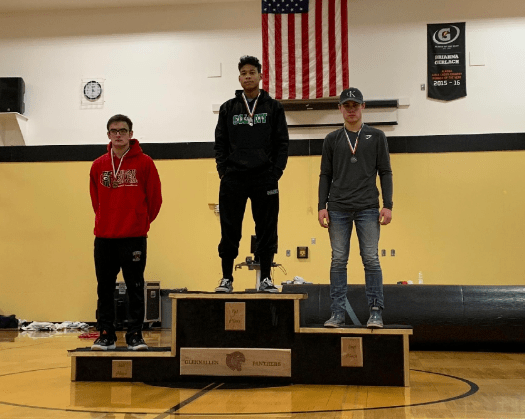 Varsity 215
Gaspar DeLeon's place is 3rd and has scored 9.0 team points.
● Round 1 – Colton Guptill (Hutchison High School) won by fall over Gaspar DeLeon (Valdez High
School) (Fall 3:27)
● Round 2 – Kael Gerlach (Glennallen High School) won by fall over Gaspar DeLeon (Valdez High
School) (Fall 1:11)
● Round 3 – Gaspar DeLeon (Valdez High School) won by fall over Timothy Schantz (Valdez High
School) (Fall 4:00)
Varsity 285
Dennis Mott's place is 2nd and has scored 0.0 team points.
● Round 1 – Daniel Van Slyke (Colony High School) won by fall over Dennis Mott (Valdez High
School) (Fall 0:40)
● Round 2 – Daniel Van Slyke (Colony High School) won by fall over Dennis Mott (Valdez High
School) (Fall 0:22)
Girls 160G
Alyvia Askren's place is 2nd and has scored 4.0 team points.
● Round 1 – Shadie Charlie (Galena Hawks) won by fall over Alyvia Askren (Valdez High School)
(Fall 4:15)
● Round 2 – Alyvia Askren (Valdez High School) won by forfeit over Madelyn Nashoanak (Galena
Hawks) (FF)