GMS Boys A Team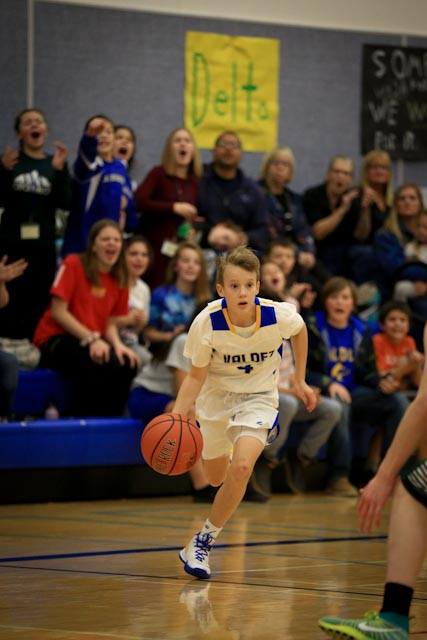 Jarrett Gage
Courtesy of Coach Cronk – This past weekend GMS hosted our end of the year tournament.  There were 28 teams with approximately 250 athletes participating in 52 games.  Games started at 4:00pm on Thursday evening and concluded around 10:00pm on Saturday.
The first game of the tournament the Huskies defeated Delta, 38-16.  Leading the way for Valdez were Nick Alfaro with 10, Grayson Ade with 6, and three others with 5 points each, Jarrett Gage, Gavin Morris, and Corey Petersen.
Game two was matchup that the boys had been anticipating, a rematch with Cordova who had beaten Valdez twice this year by two points each game.  Valdez held Cordova to only two points in the first quarter, and held on to win 27-20.  Valdez had scoring contributions by almost all players, leading the scoring was Jarrett Gage with 11.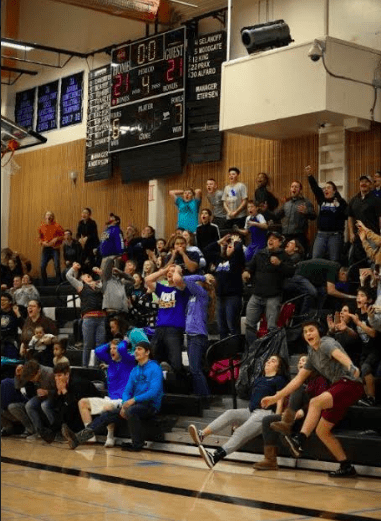 The crowd cheers on the Boys B Team, Photo courtesy of Joe Prax
In the Husky's third game it was a matchup against Grace Christian.  The Huskies had a hard time dealing with the size of Grace on the inside giving up too many rebounds and put backs.  The Grizzlies defeated Valdez 41-27.
After losing to Grace, Valdez was set to match up against a tough Houston squad.  It was a close battle the whole game.  The fourth quarter saw big shots come from Jarrett Gage, hitting a big three, and then by Owen Watson hitting a mid-range jumper to put Valdez on top.  It was a great game the whole way.  Valdez came out on top 40-37.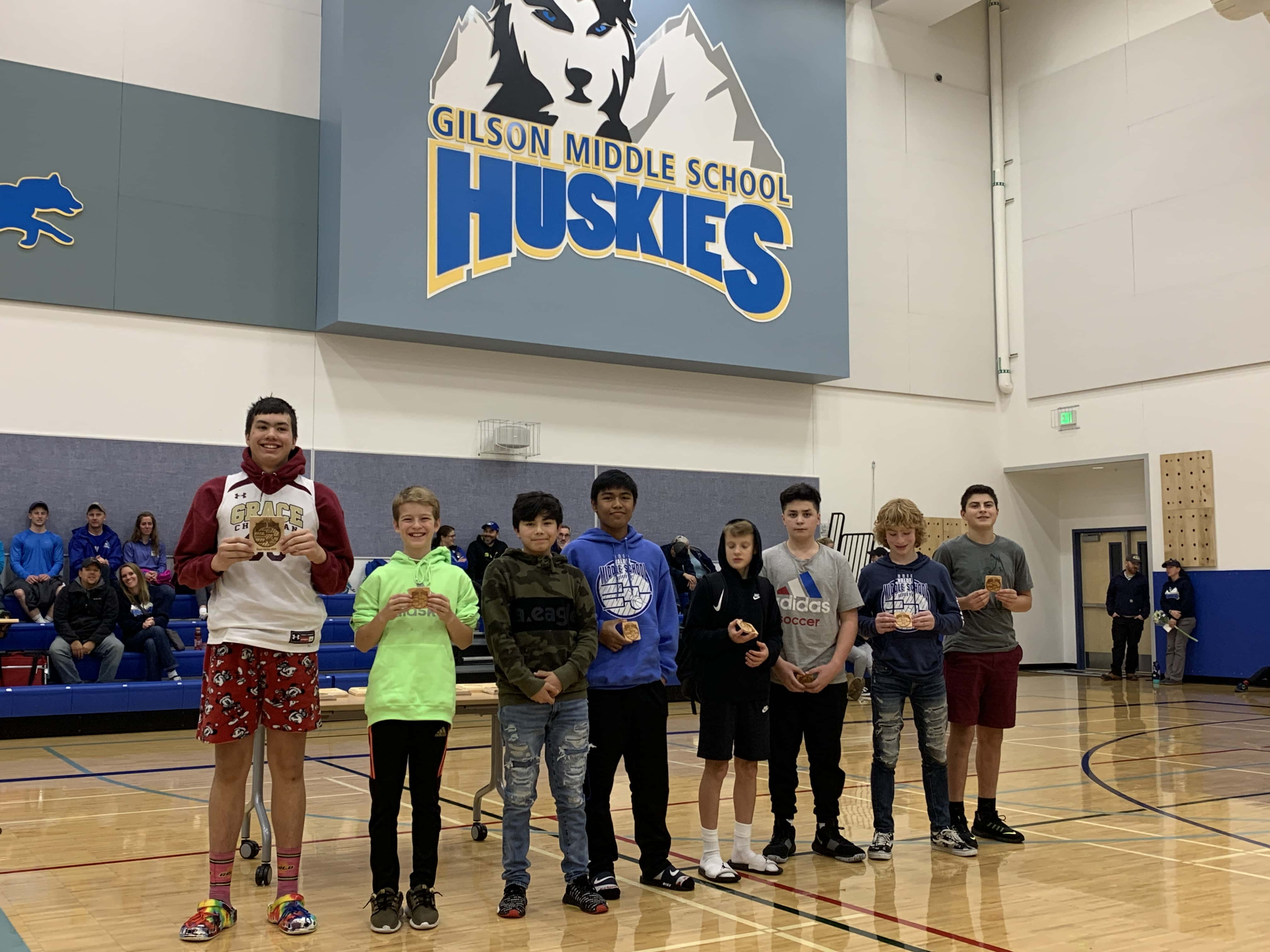 Boys A Team – All Tournament
After defeating Houston the Huskies were off to the championship came to face the Grace Christian Grizzlies again.  This game saw much of the same with the size of the Grizzlies on the interior dominating the boards and interior scoring.  The Valdez boys gave great effort and fought the entire game.  In the end Grace Christian took the championship defeating Valdez 40-26.
It was a great weekend of basketball, and I'm proud of how the boys competed during all the games.  The support from the fans and community was also stellar.  Thanks to everyone who was involved and to everyone who came out to support out athletes.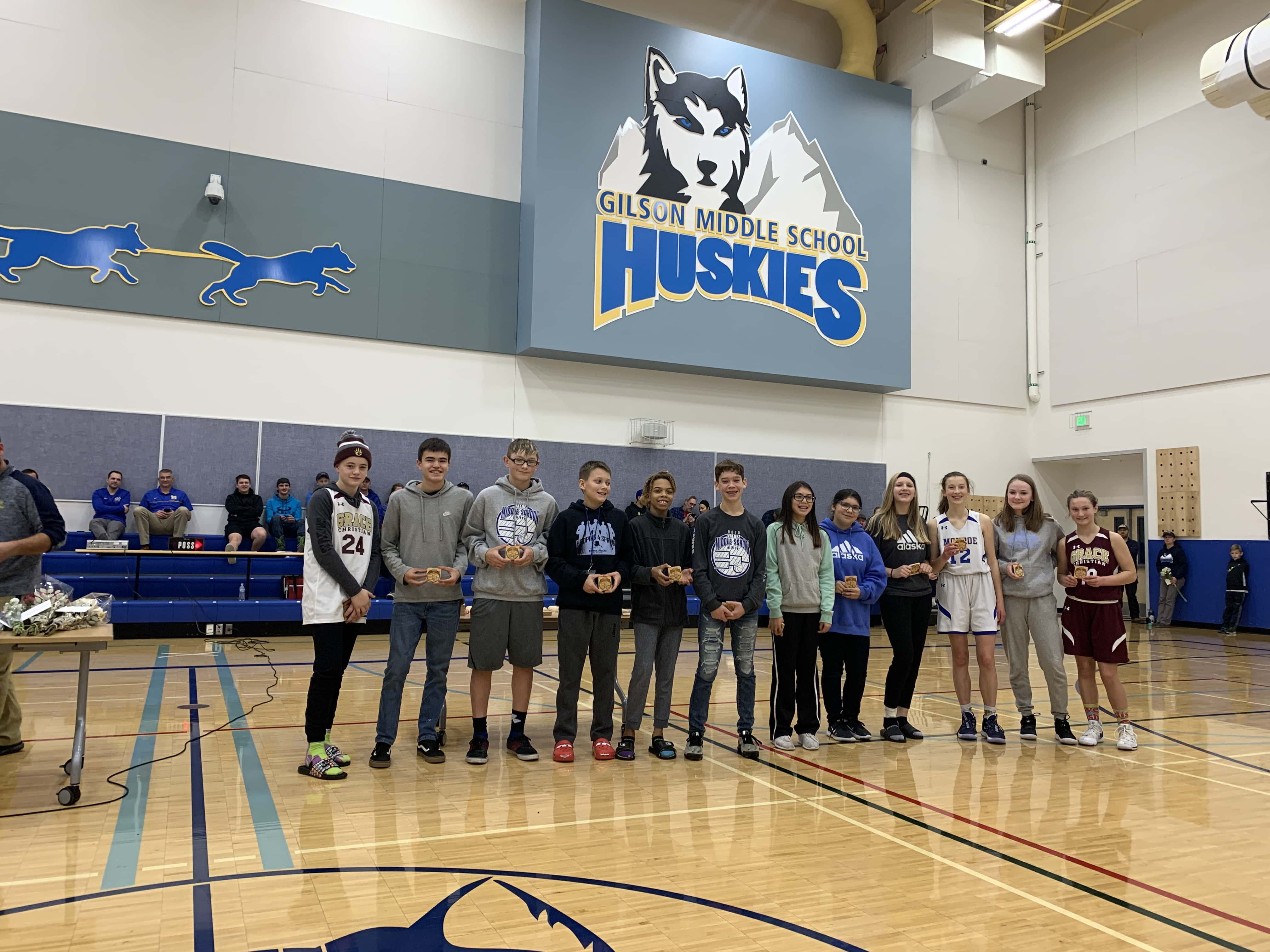 Sportsmanship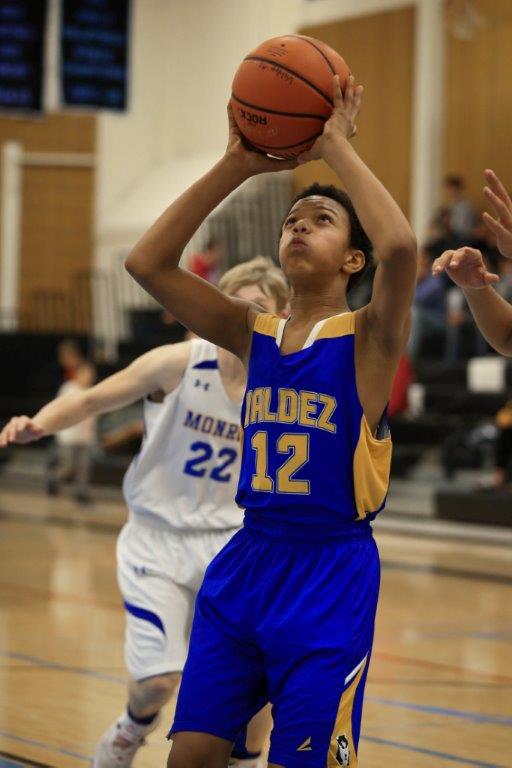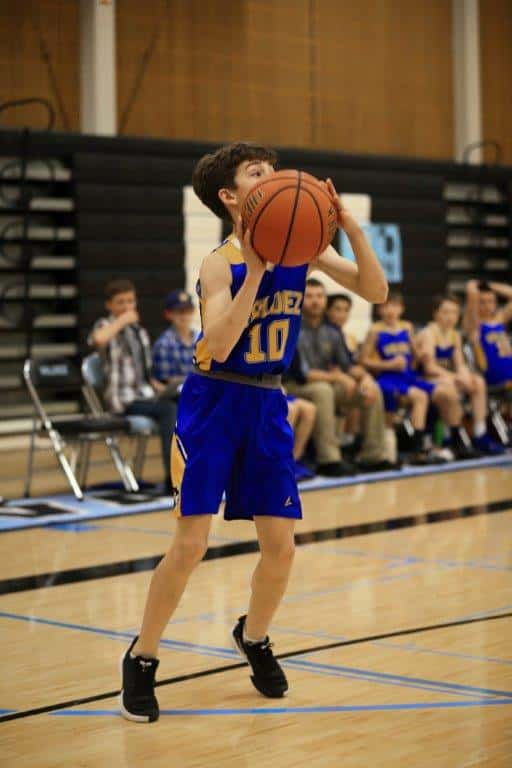 GMS Boys B Team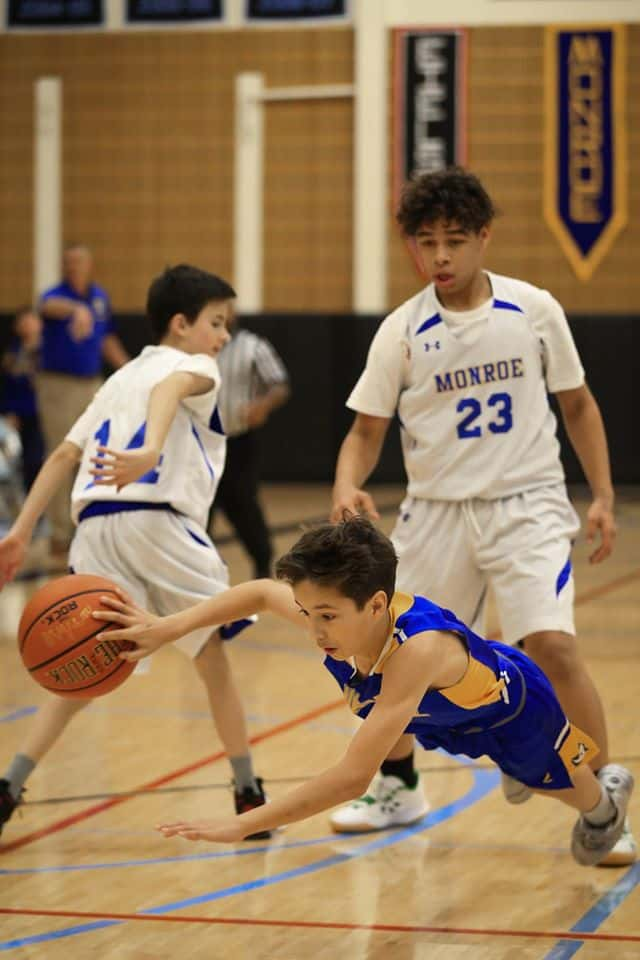 Rylen Case Saves the Ball, Photo courtesy of Joe Prax
Courtesy of Coach Auble – This weekend was the last weekend of games for the Huskies B team and it as a success. Our first game was against the Glennallen Panthers in a 38-16 win. Our starters Rylen Case and Romen Webber each contributed 10 points with Kai Montgomery coming in with 8. We were able to play high pressure defense on their ball handlers to force steals and convert those into fast break layups. Our next game was against Monroe 2 and we were able to hold them down to 14 points to our 23. It was a challenge to overcome their zone defense but our team took the challenge. Webber and Montgomery earned their 10 points apiece that game. continuing down the bracket we faced Monroe 1. We worked hard but they were able to come away with the 32-24 win. Webber was our leading scorer with 13 points, followed by Jacob Reeves and Kai Montgomery with 6. Our last game Saturday night in the championship was a rematch against Monroe. It was a thrilling game as we held the lead until the final minutes where it came down to both teams scoring to tie the game. Lots of action in OT but Monrie was able to take the lead and win with the score sitting at 31-24. Montgomery was our leading scorer with 9 points that game. I couldn't be more proud of how my boys played this tournament and the progress they have made this season, it was a pleasure to be their coach.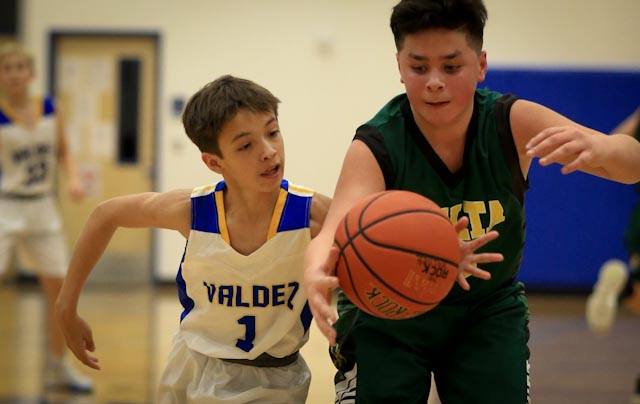 Rylen Case Chases the Ball, Photo courtesy of Joe Prax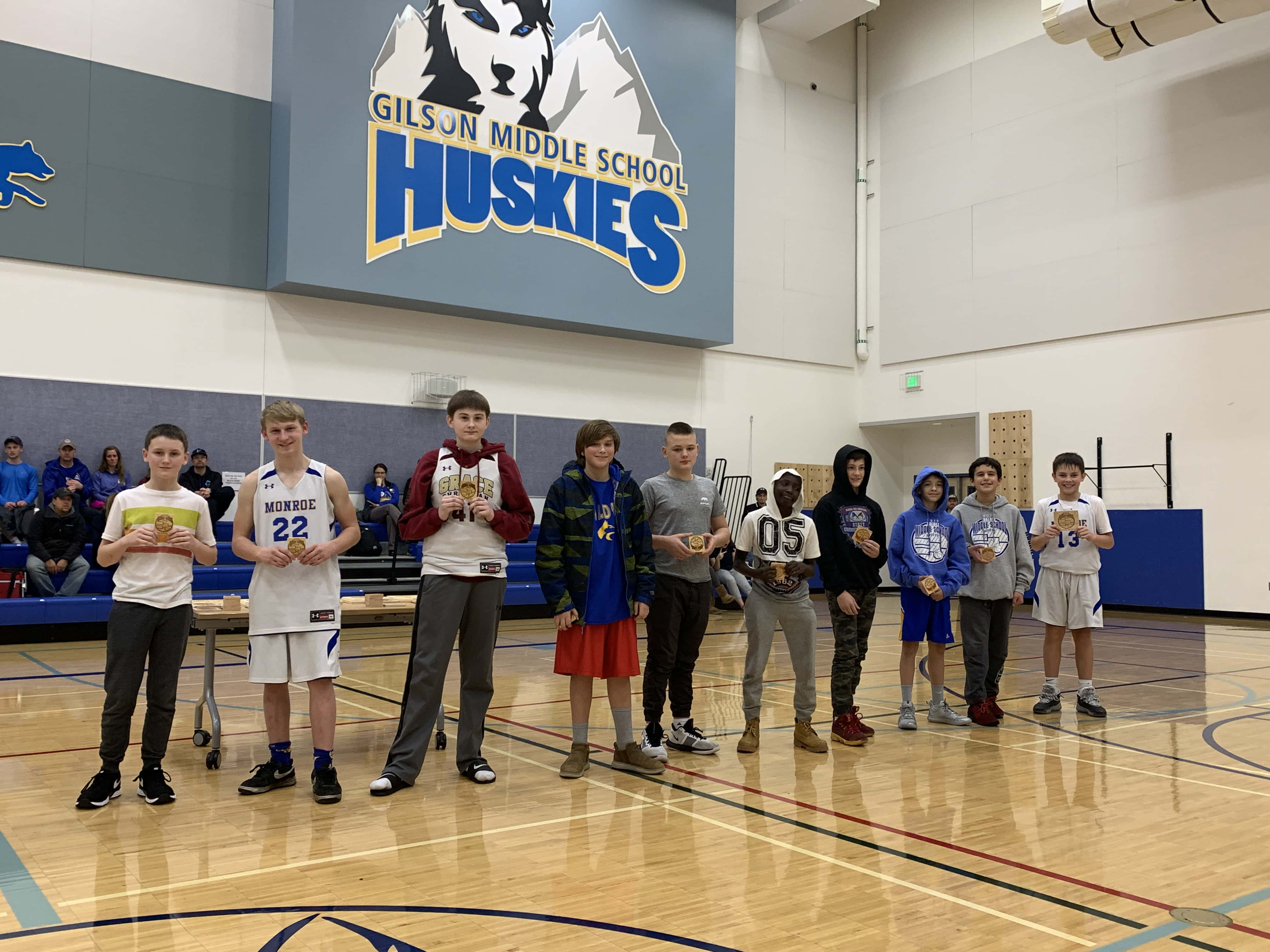 Boys B Team – All Tournament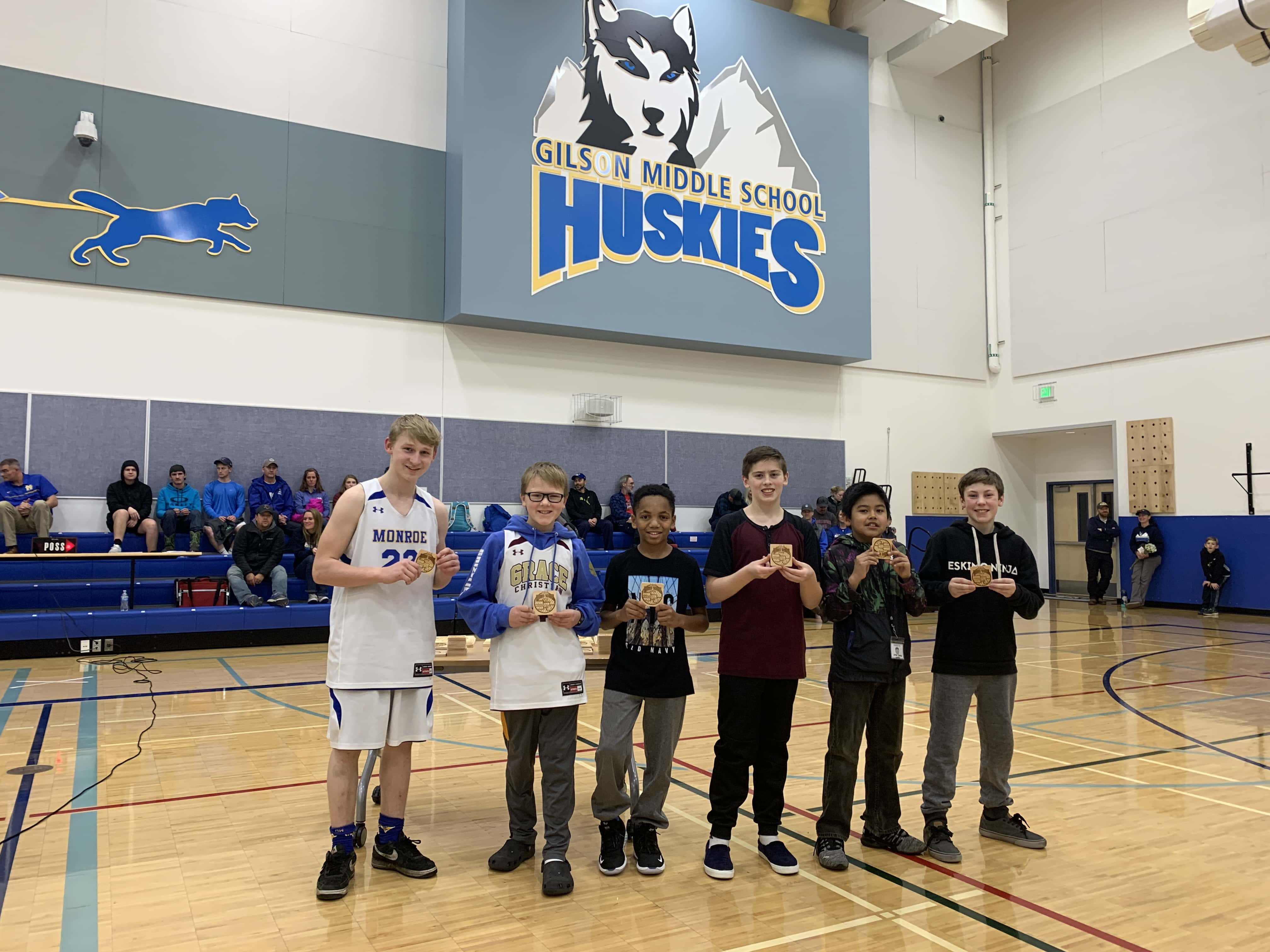 Boys B Team – Sportsmanship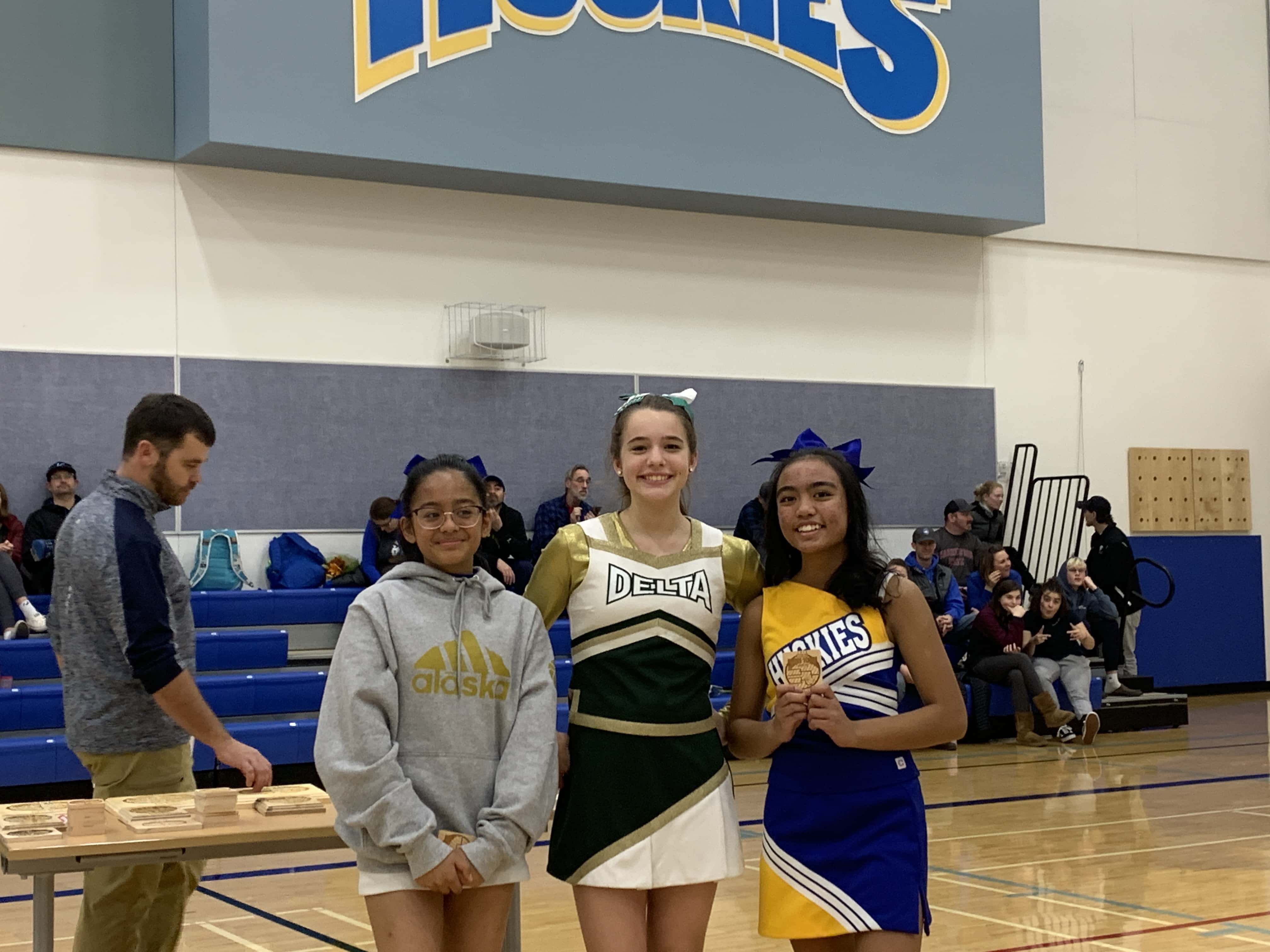 Cheer – All Tournament
GMS GIRLS A TEAM BASKETBALL FINISH SEASON STRONG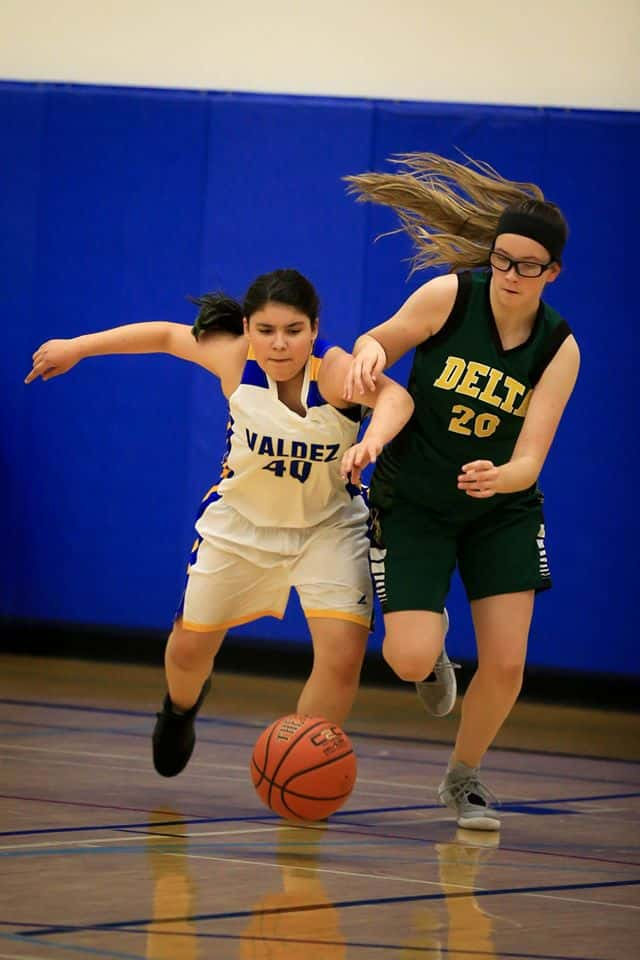 Sofia Ramos chases down the ball, Photo courtesy of Joe Prax
Courtesy of Coach Laurie Prax – The Gilson Middle School Girls Varsity basketball team was missing a few key players heading into the home tournament but stepped up their teamwork and fought hard in three games. In the opening round game, the Huskies matched Delta point for point it looked like they had the game in hand with 10 seconds left and a one point. A heart-breaking steal and bucket by Delta just seconds before time on the clock ran out gave Delta the win. Destiny Day led Valdez scorers with 7 points and Desi Woodgate added 6 rebounds and 4 points. A big Grace Christian team proved too much for the Huskies in game two of the tournament. Kelsey Prax scored 6 points in the loss and had five rebounds and three steals. Day added 5 points in the 36 to 17 loss. In their final home game of the season, the Huskies beat Glennallen by a score of 15 to 11. Prax had 5 points and 2 steals. Day added 3 rebounds and 3 steals and Woodgate picked up 4 rebounds. Moe Togague, who struggled to put the ball in the basket early in the game, pulled down some key rebounds and made a key shot in the 4th quarter to clinch the win. Kelsey Prax was named to the All-Tournament Team and Sofia Ramos was given the team award for Sportsmanship.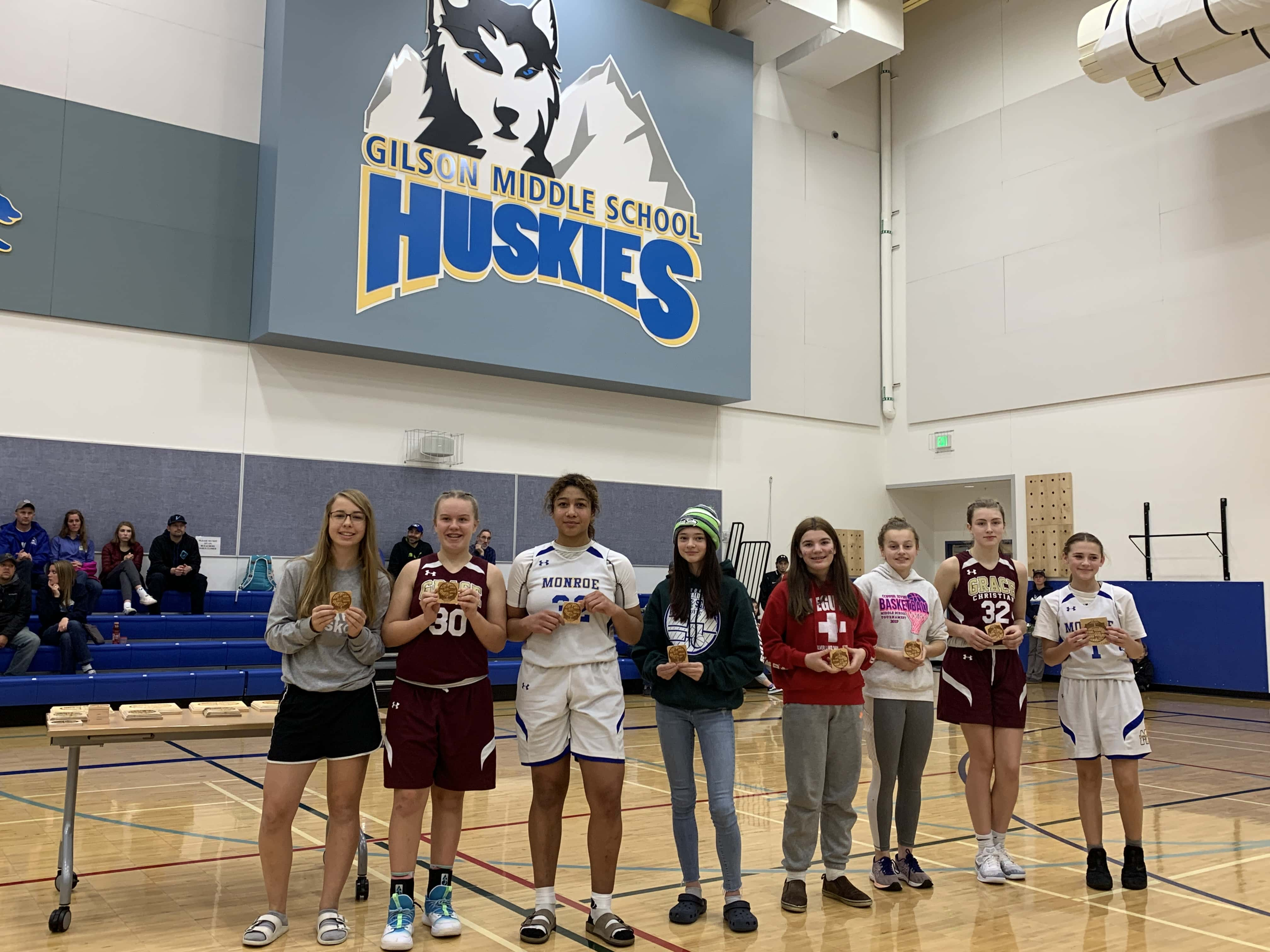 GMS Girls B Team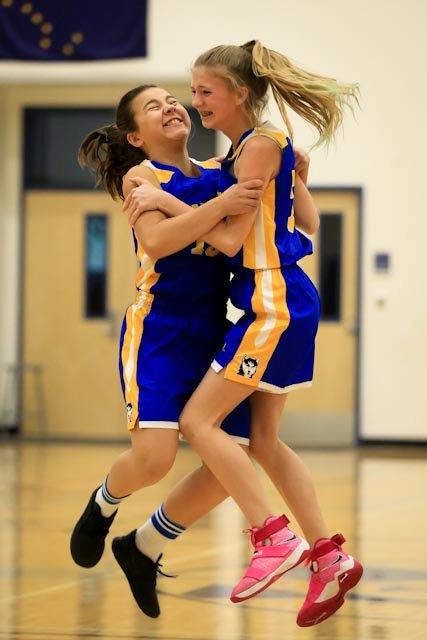 Autumn Boone and Denali Woods celebrate a B Team Win
Courtesy of GMS Coaches – The Lady Huskies were excited to play at home for the first time this season.  They had a rough start to the tournament Thursday evening, losing by one point to Delta.  The girls came ready to play Friday with excellent defense and many shot opportunities but just couldn't get them in.  Justice Needles led the boards with 5 defensive rebounds and contributed 4 steals.  After two emotional losses we ended the season on a high with a consolation win against Grace Christian School on Saturday afternoon.  Smiles were big and feet were fast; you could tell the girls were having fun!  Rylee Wade and Justice Needles led the scoring with 6 points each.  Justice Needles was named to the all-tourney team after a great weekend of strong defense!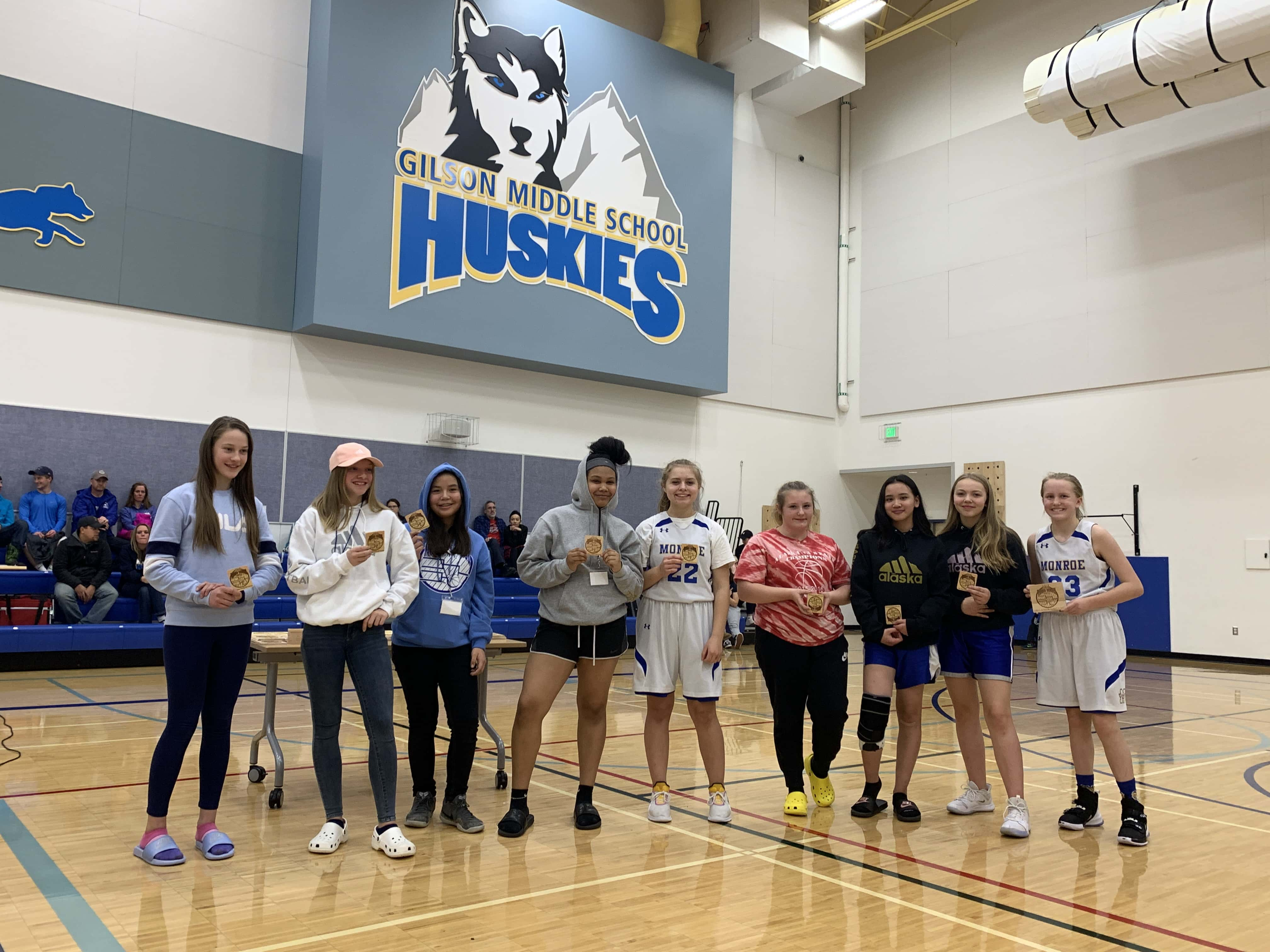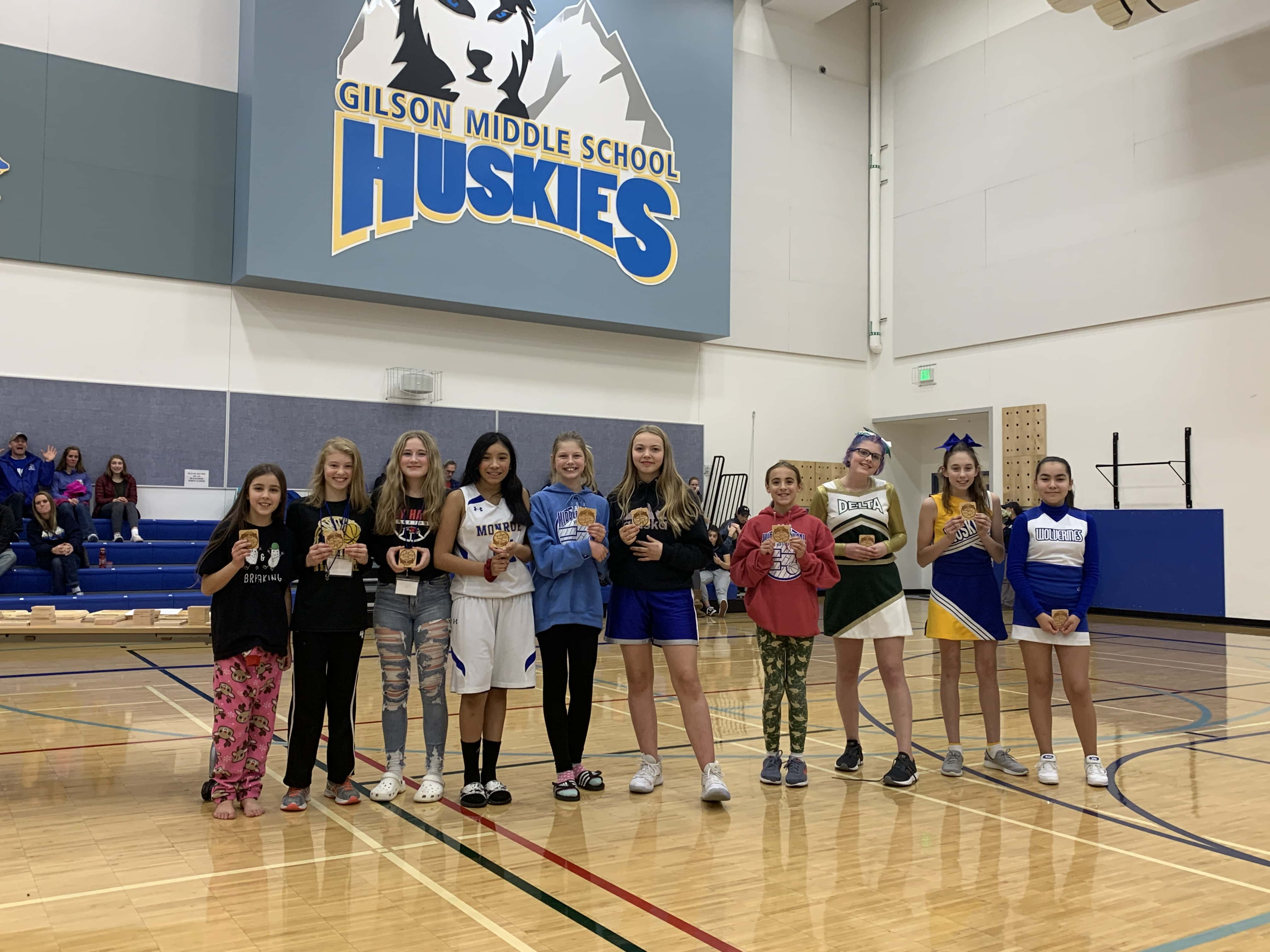 Girls B Cheer Sportsmanship
GMS Cheerleaders