Basketball
Boys A Team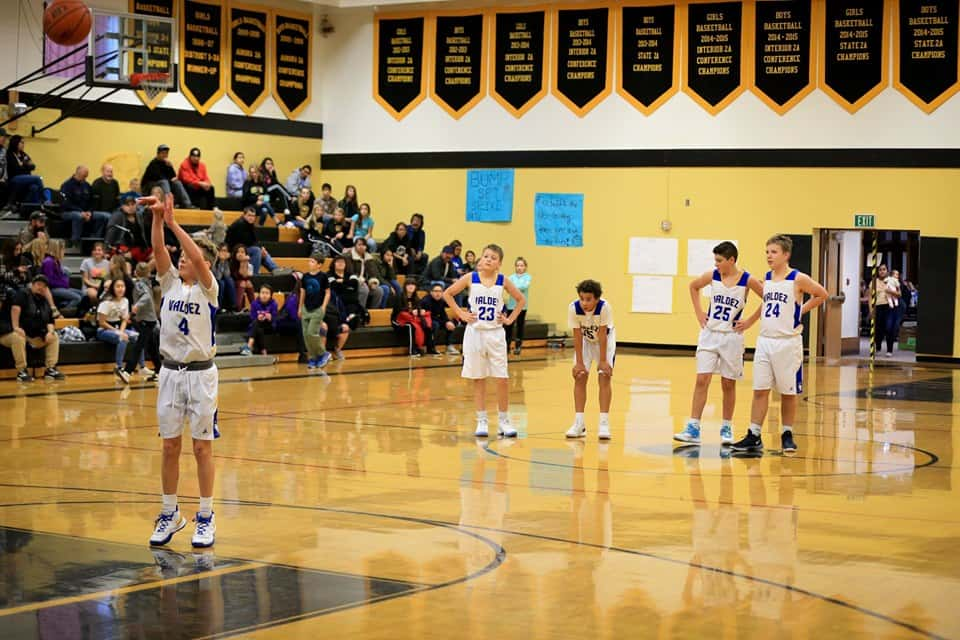 Boys A Team Wins Glennallen Tournament
Photos courtesy of Joe Prax
Courtesy of Coach Cronk – The Huskies traveled up to Glennallen this past weekend to compete in their tournament.  The Boys A Team opened the tournament against Tok.  The Wolverines came out hot, hitting 4 three's in the first half.  The Huskies kept at it and overcame a small deficit at the half to win the game 31-27.  Leading the way in scoring was Jarrett Gage, Owen Watson and Nick Alfaro.
Game 2 was a match-up with Glennallen.  The Panthers came out strong, and the Huskies struggled to put the ball in the basket, which lead to a 13-7 lead by the Panthers going into the half.  The Huskies came out with some full court pressure in the third quarter and started making some shots.  The final score was Valdez-30, Glennallen-25.  Leading the way for the Huskies was Nick Alfaro.
The championship came was a rematch with Glennallen.  This time the Huskies came out firing on all cylinders, hitting shots early and playing great team defense.  The Huskies had contributions from everyone on both ends of the floor.  It was a great team win.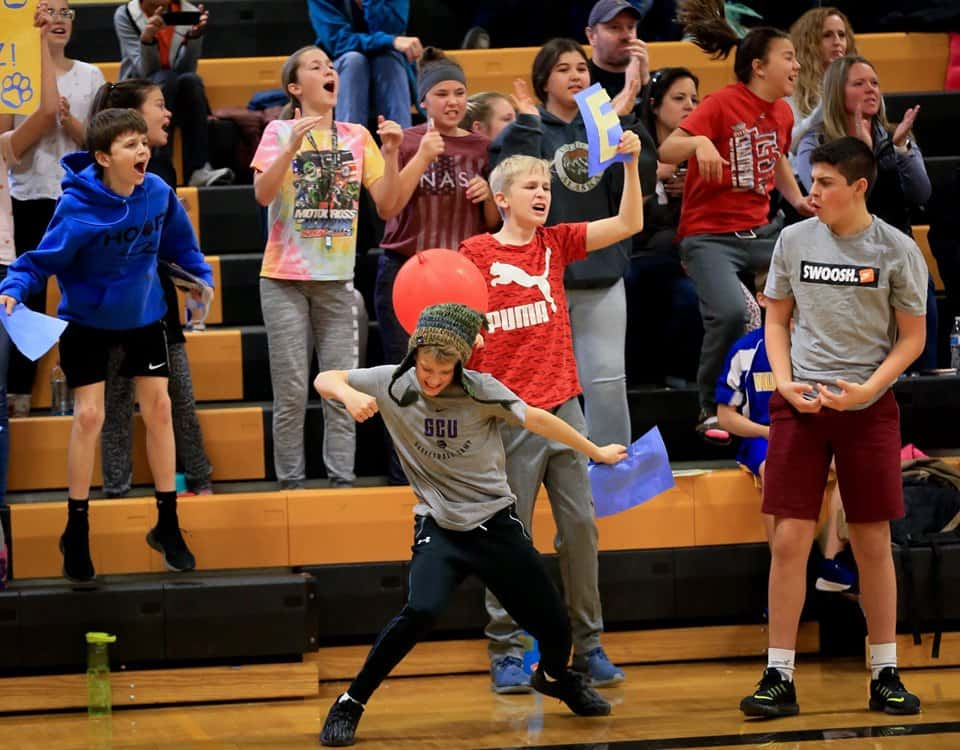 Crowds supporting GMS at their basketball games in Glennallen
Boys B Team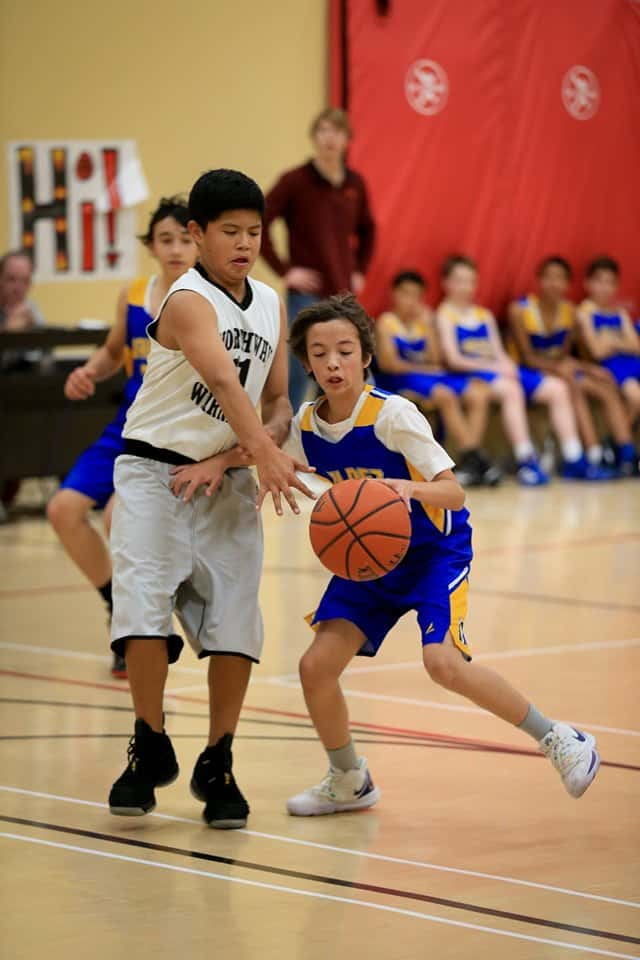 Rylen Case with the ball
Courtesy of Coach Auble – This weekend the boys played at the Glennallen Invitational Tournament. Our first game to start the tournament was against the Northway Warriors. The game was a challenge due to their 3-point shooting and our inability to defend them accordingly. We also had trouble scoring in our offense as they played a zone defense, something we have not had enough experience playing against. Despite the challenges, we managed to score 26 to their 38 thanks in part to Rylen Case who lead the team with 13, followed by Kai Montgomery with 5. Our second game on saturday morning we played the Delta Grizzlies B team. We were able to come out strong and quickly establish a lead thanks to 8 points from Kai Montgomery. Everyone was able to contribute points to secure the win in a 34-9 win. Our next game to advance through the Losers bracket was supposed to be against the Glennallen Panthers, but due to a forfeit we were able to go straight to the championship game against once again, the Northway Warriors. We entered the game with a new plan to stop their shooter. We were able to stop him from getting the ball as much, but it wasn't enough to secure a victory over the Warriors. I am very proud of how hard this team worked this weekend and looking forward to our last tournament in Valdez next weekend.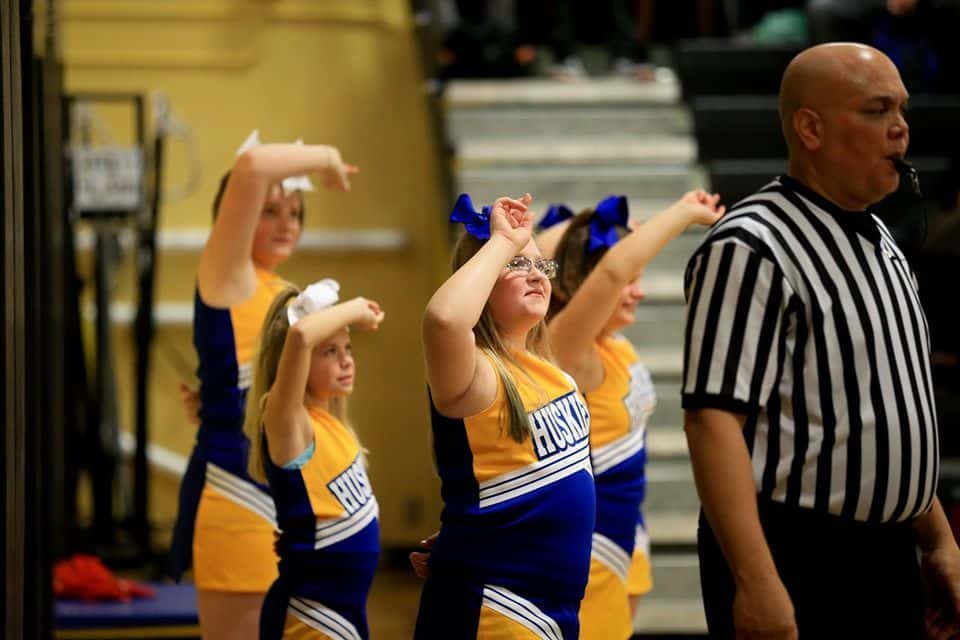 GMS Cheer Section at Glennallen Basketball Tournament
Girls A Team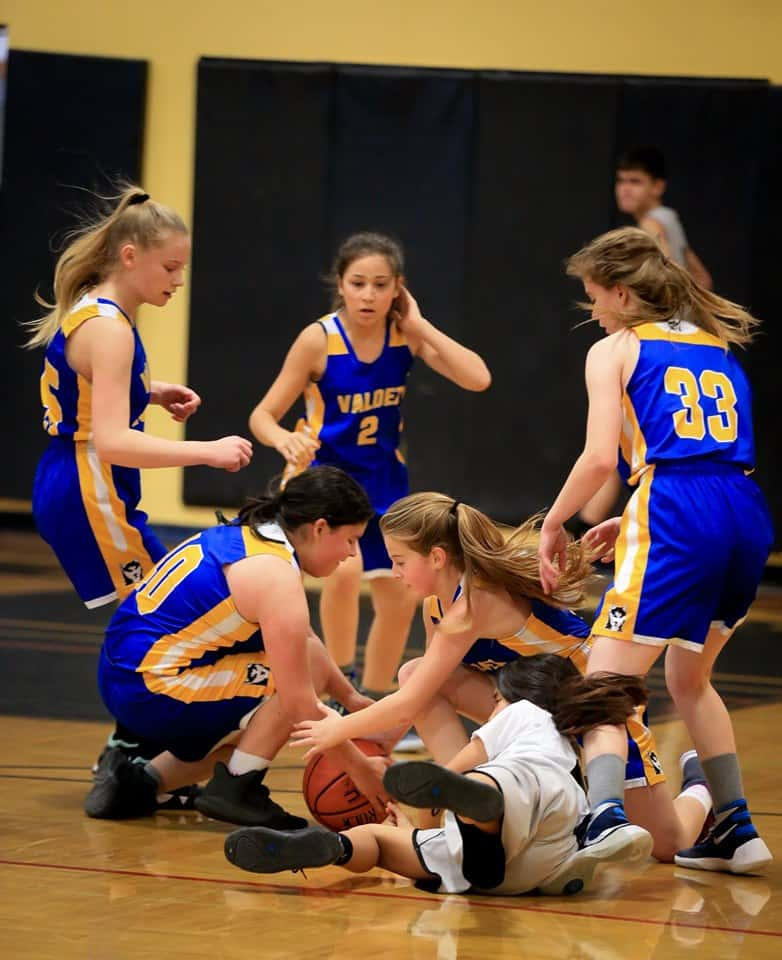 Girls A Team on the floor after a loose ball
VALDEZ GIRLS PLAYED TOUGH IN GLENNALLEN
Courtesy of Coach Laurie Prax – The Valdez Girls A Basketball Team beat Tok 17 to 15 in an exciting overtime to start off the Glennallen Tournament. Desi Woodgate led the team in scoring and had 9 rebounds. Carlie VanBuskirk added 4 points and 4 rebounds. Jasmine Hobson chipped in 8 rebounds and 3 steals. Kelsey Prax added 5 steals and 5 rebounds. Rachel Berkeley and Destiny Day had 5 rebounds apiece. "We brought down some monster rebounds," said Coach Laurie Prax. "but we had a hard time putting the ball in the hoop. I was proud of the girls for hanging in there and bringing home the win."
On Friday night, the Huskies faced an aggressive Glennallen team and did not get many attempts at the basket. In their final game, the Huskies stepped up their aggressiveness and fell just one point short of beating Northway. Jasmine Hobson and Desi Woodgate let the team in scoring with 4 points apiece. Woodgate pulled down 6 rebounds, Sofia Ramos played tough defense and grabbed 6 rebounds and Prax added five defensive boards.  Hobson had four steals and VanBuskirk had five steals. "Without Moe Togague at the post for us this weekend the girls had to really step up their game. We learned a lot this weekend that will help us at our home tournament Nov 7th, 8th and 9th.
Girls B Team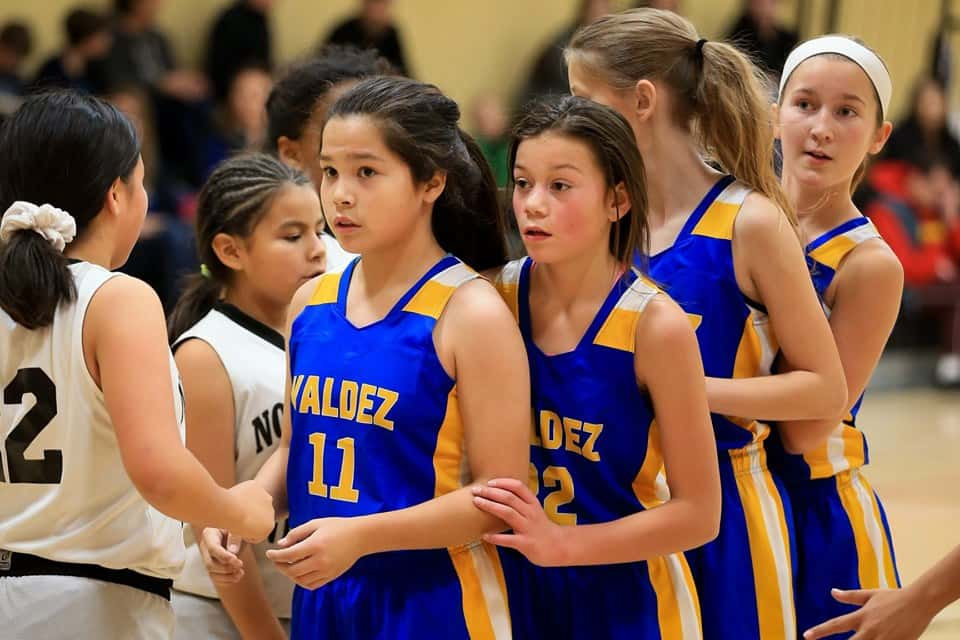 Kelli Malcuit, Lola Compehos, Rylee Wade and Bella Smelcer ready for an inbounds play
Coach Petersen – Our first game of the Copper River Tournament against Delta was a bit of a slow start.  The low-scoring game ended 11-10 in our favor which was enough to take us into the winners bracket.  Lola Compehos led in scoring with 5 points.  Bright and early Saturday morning we played game 2 against Northway.  Our sleepy defense and missed shots saw us behind at the half.  Strong defense from Sydney Cronk slowed their high scorer in the second half but we weren't able to make up lost ground and lost 8-19.  The girls were able to regroup and come out excited and pumped-up for game 3 and it worked!  They had a 23-7 victory over Delta, and more importantly played very well as a team and had a lot of fun!  Rylee Wade led the scoring with 16 points thanks to some great assists by her teammates!  Lola compehos was on fire on defense with 7 steals.  This win took us to the championship game against Northway.  We came out much stronger than the first time we saw them that morning and played a very exciting game that led to an emotional 23-25 loss after DOUBLE overtime.  This team has seen much improvement in our short season and we're looking forward to our home tournament in two weeks!