GIRLS A TEAM WINS DELTA TOURNAMENT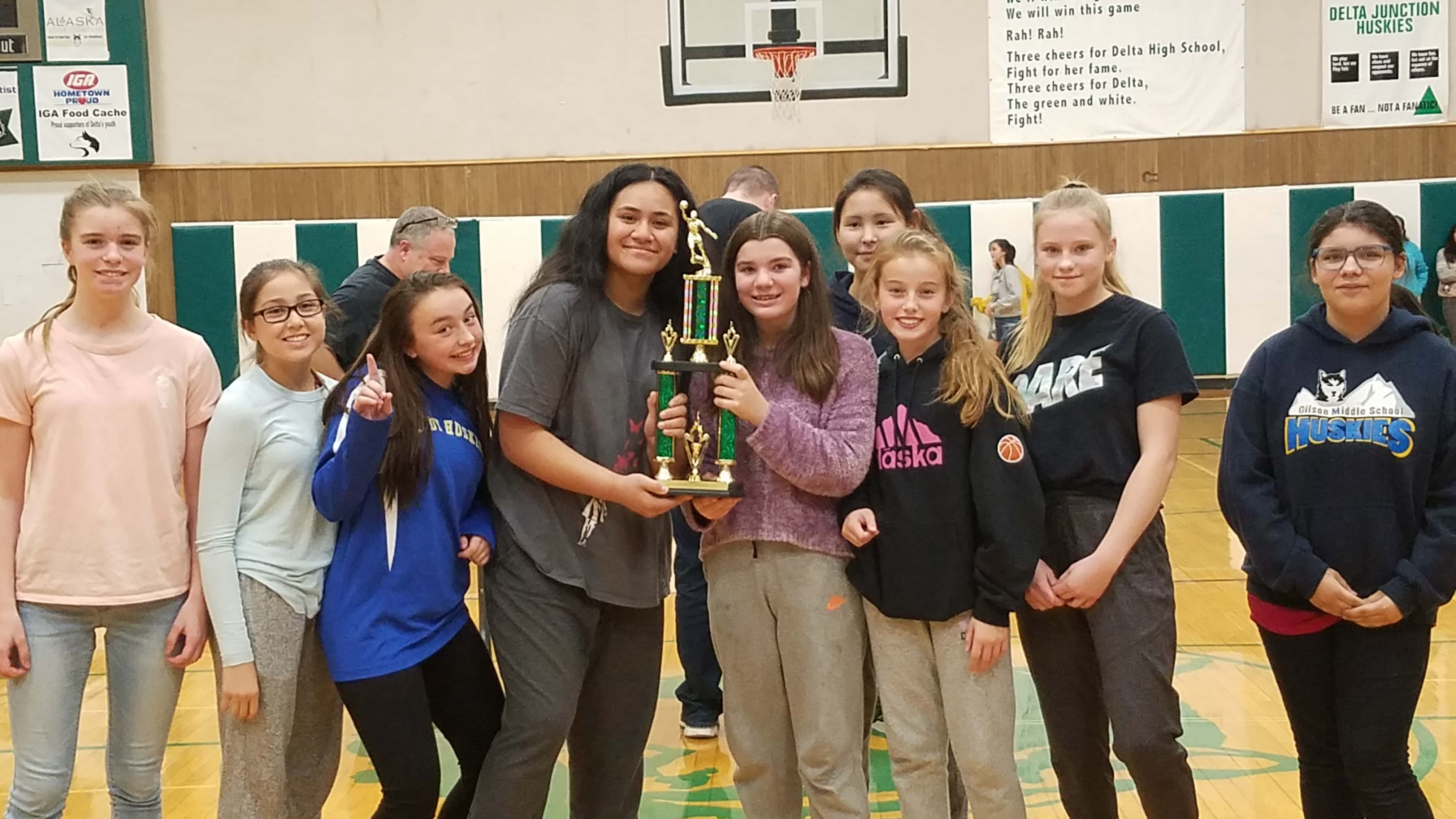 Courtesy of Laurie Prax – The Gilson Middle School girls basketball team beat Delta and Glennallen twice to win the round robin tournament at Delta. Moe Togague came out with a hot hand Friday morning, scoring 18 points in a 31 to 19 victory over Glennallen. Kelsey  Prax picked up 4 points and had 3 steals. Jasmine Hobson played excellent defense on the ball. Prax scored a team high 8 points against Glennallen Friday, Togague had 7 points, 13 points and 4 steals. Hobson added 3 steals. Carlie VanBuskirk had five rebounds. Delta came out strong Saturday and matched the Huskies point for point in regulation. In overtime Togague hit 1 of 2 free throws and Kelsey Prax drained 2 of 2 free throws in the final minutes to take win 26 to 21. Desi Woodgate led the way with 8 points, 6 rebounds and 7 steals. Togague picked up 7 points had 13 rebounds, Destiny Day chipped in 4 points and Jasmine Hobson added three rebounds and three steals. On Saturday Woodgate, Prax, VanBuskirk and Togague all scored 4 points apiece to lead the Huskies to a 16 to 11 win. Hobson tallied 4 steals and Day, Prax, Woodgate and VanBuskirk picked up 3 steals apiece.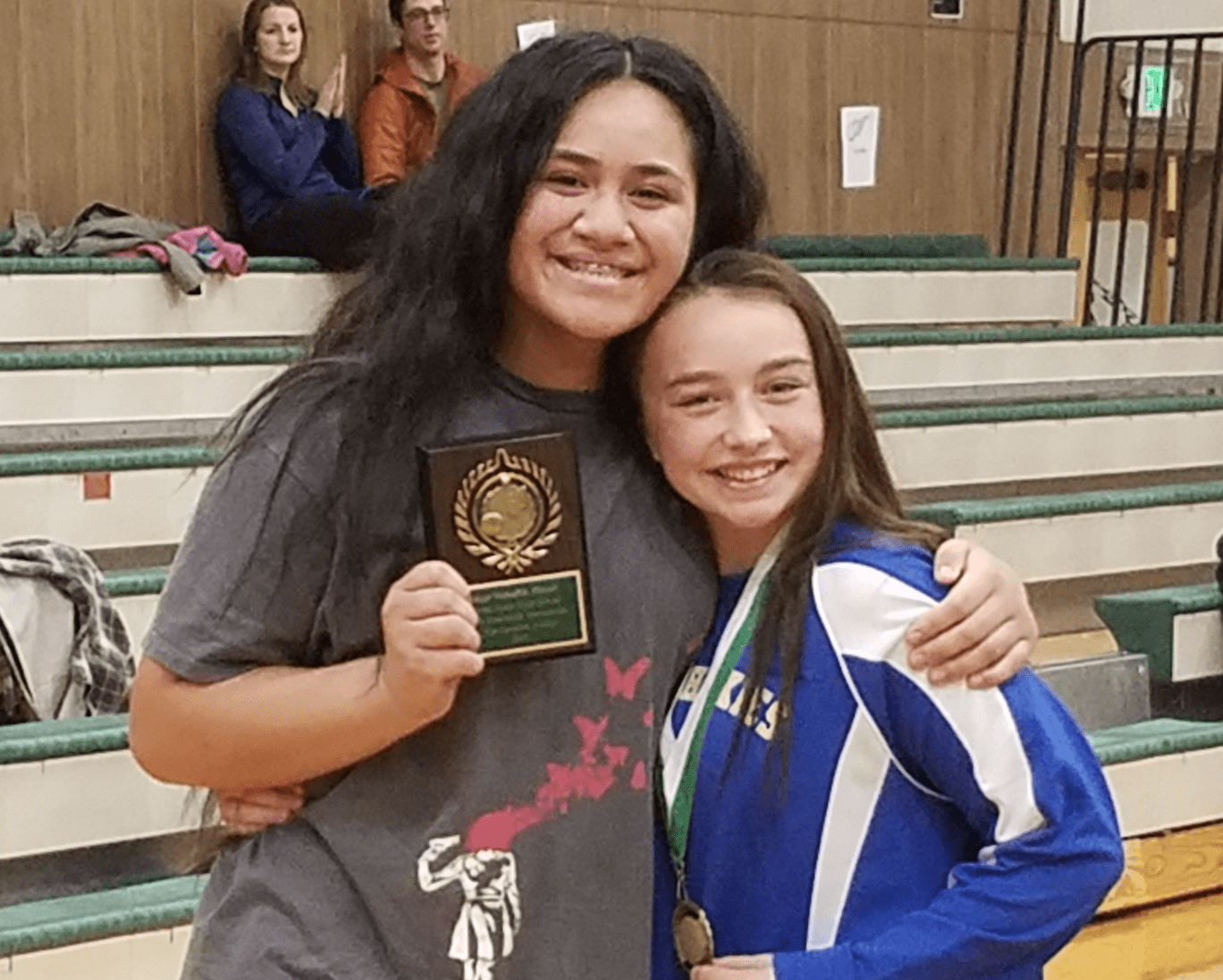 Jasmine Hobson was named to the All-Tournament Team and Moe Togague was named MVP.
GIRLS B TEAM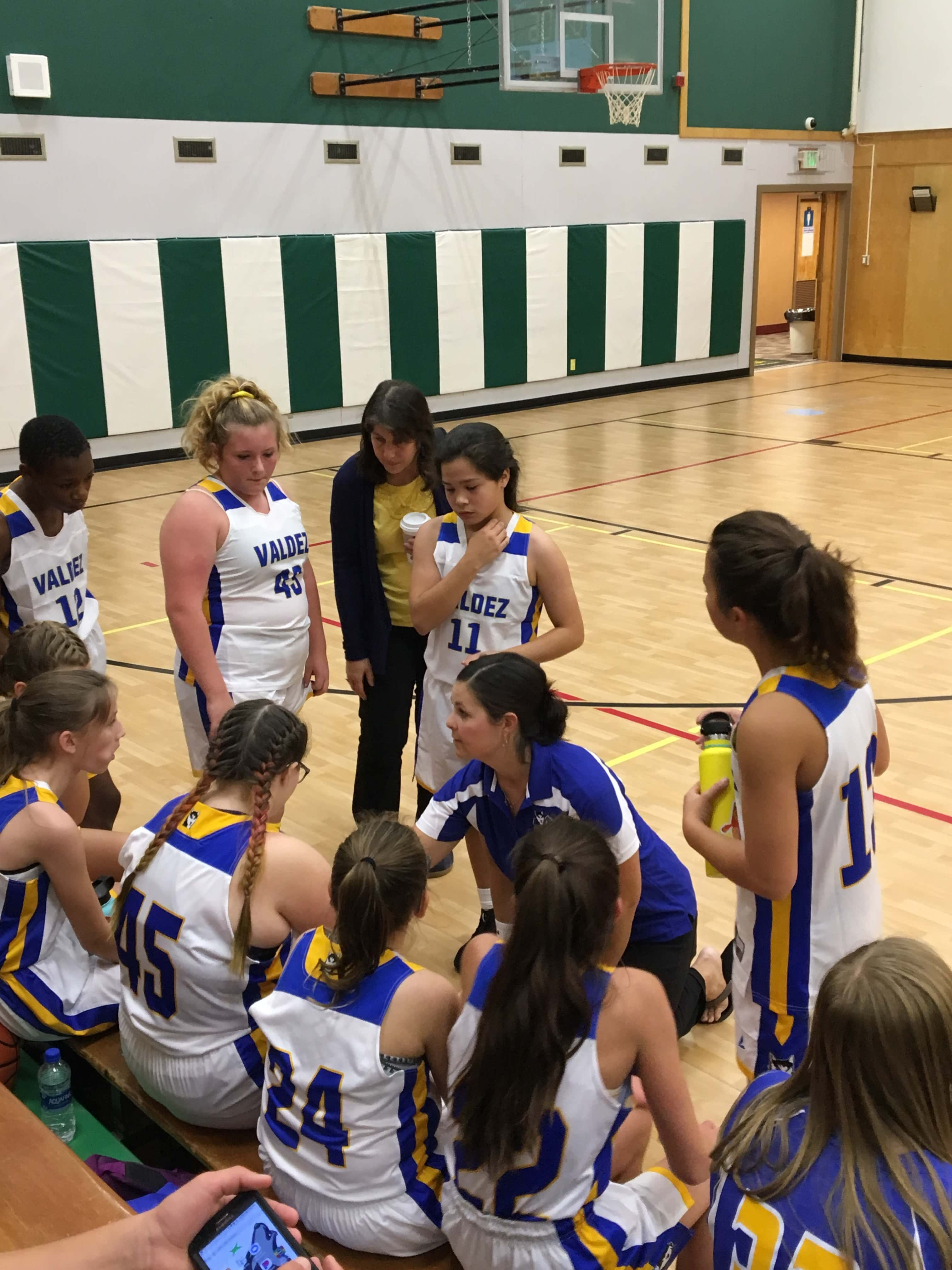 Courtesy of Michelle Petersen, including photos – In the first game of the tournament Valdez played to a 32-6 victory over Glennallen. Rylee Wade led the team with 10 points and 4 rebounds. In the 2nd round game, Valdez lost to Tok 25-13. Lola Compehos led the team with 5 points, 3 steals and 3 rebounds. Justice Needles added four points and Kelli Malcuit added 5 rebounds and 3 steals. In their final game, Valdez lost 18-5 against a tall Tri-Valley team. Rylee Wade led the team with four points and three rebounds, and Justice Needles played very strong coming down with 7 rebounds.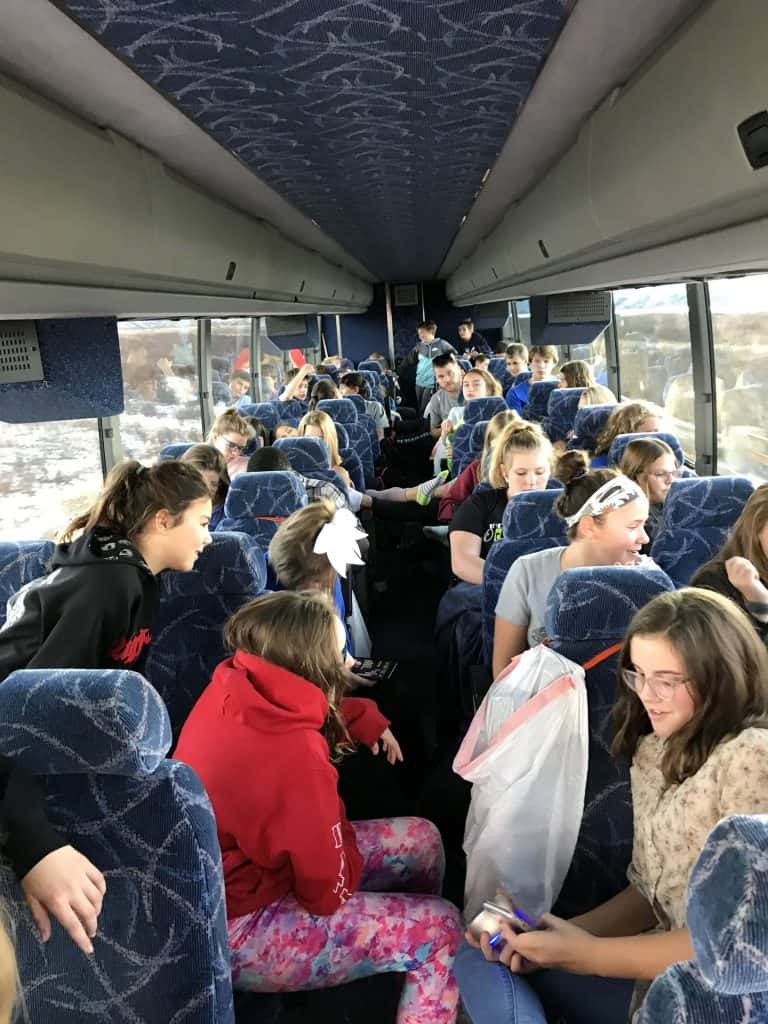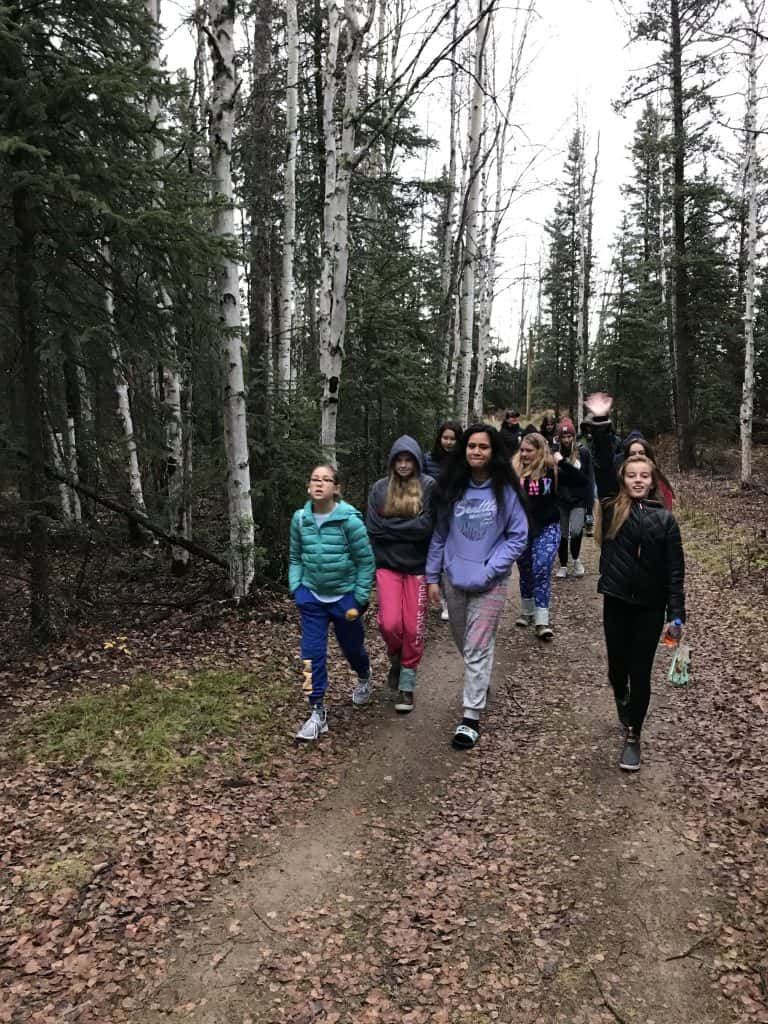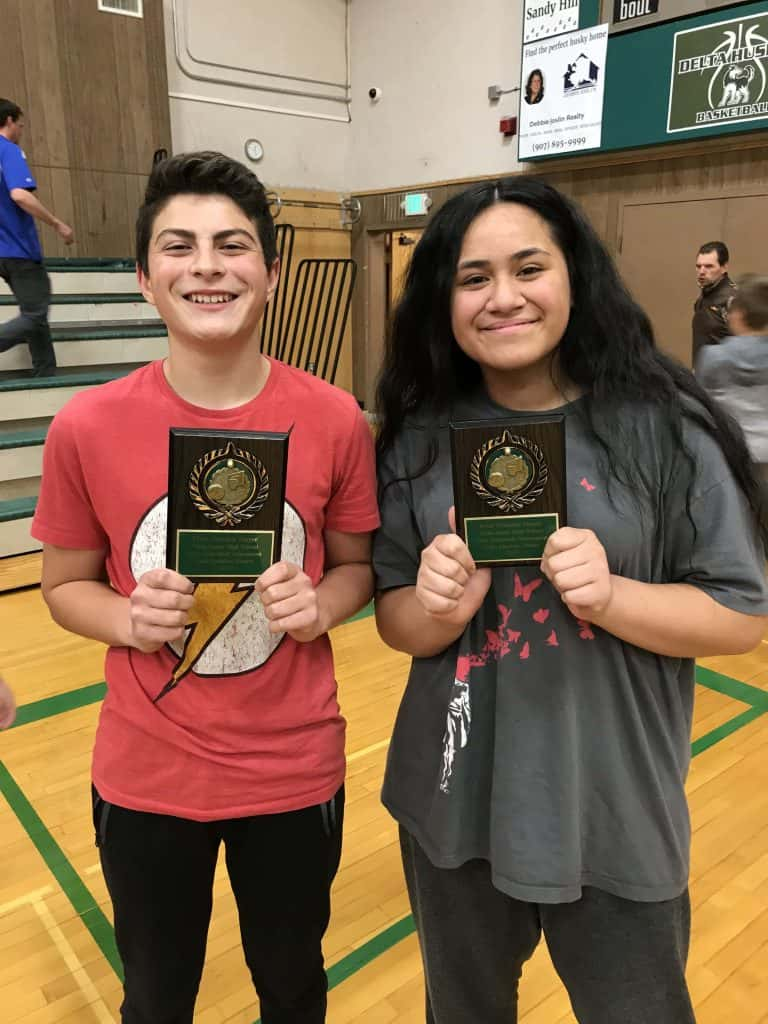 Nick Alfaro and Moe Togague named MVPs
BOYS A TEAM WINS DELTA TOURNAMENT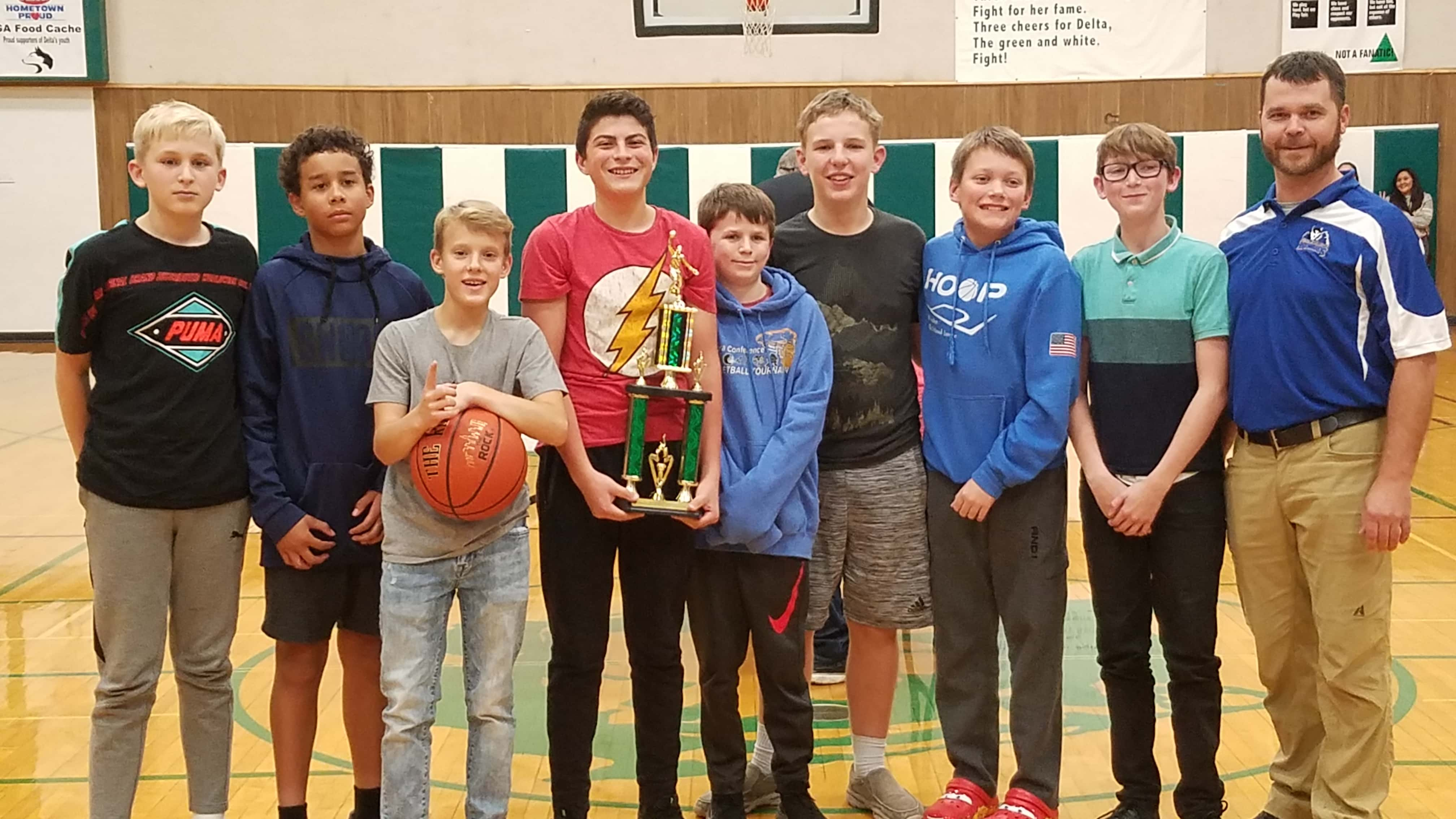 Boys A Team Won the Delta Tournament
Courtesy of David Cronk – This past weekend the Huskys traveled up to Delta for their Season Opener Tournament.  Valdez sent approximately 60 athletes to Delta for the event.
Boys A-Team
The Boys A-Team had a great showing at the Delta Tournament.  We opened with a win over Tok.  The Huskys played great defense which was a common theme throughout the weekend.  Scoring was very balanced lead by Jarrett Gage, Owen Watson, and Tino Tucker who were all in double figures.  Following them were Nick Alfaro, Grayson Ade, Gavin Morris, and Corey Petersen.
In game 2, the Huskys defeated Glennallen. Again, the Huskys played great defense, and down the stretch our defense wore them down.  The forth quarter was owned by Valdez, outscoring Glennallen 15-2.   Leading the scoring was Nick Alfaro with 12, and Jarrett Gage with 10.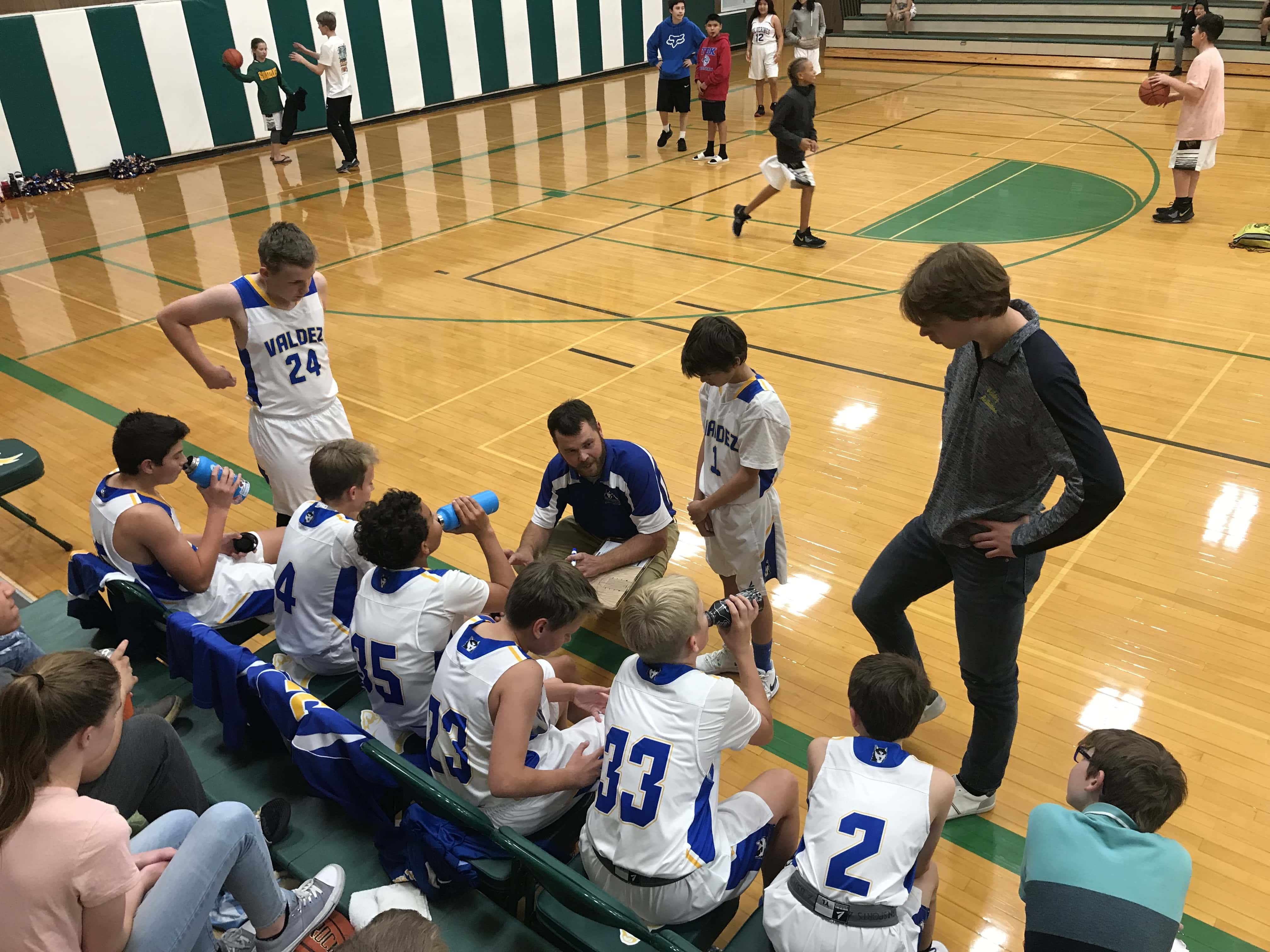 Game 3, the championship was a rematch with Glennallen.  In their best showing of the weekend the Huskys defeated Glennallen 53-18.  The game started close with a first quarter score of 11-9, Valdez holding a 2 point lead.  After that it was all Valdez.  The Husky's defense held the Panthers scoreless in the second quarter and kept it rolling from there.  Leading the Huskys in the championship game was Jarrett Gage with 19 points.  Following were Corey Petersen, Grayson Ade, Tino Tucker, Owen Watson, Gavin Morris, and Nick Alfaro .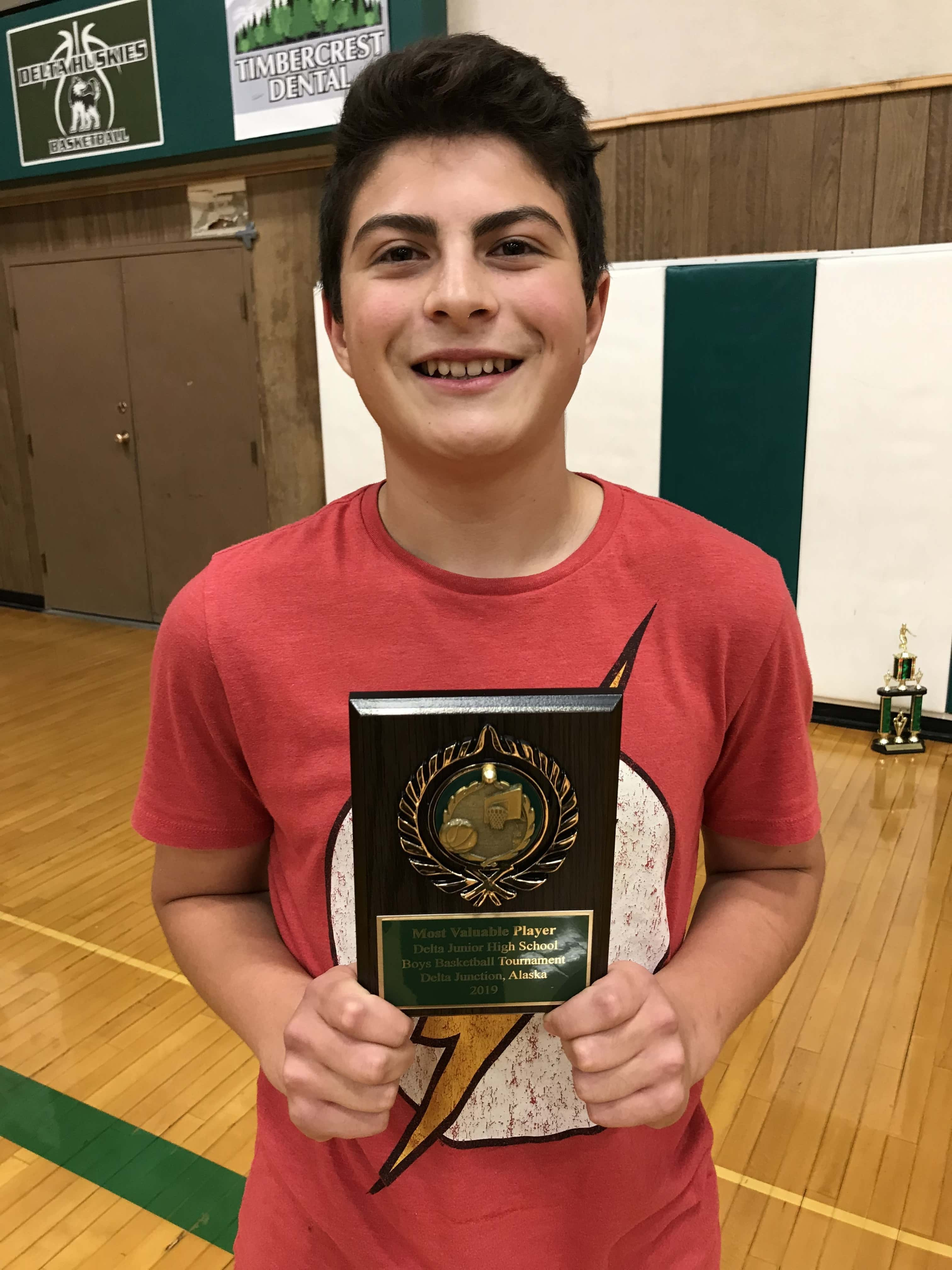 Owen Watson and Nick Alfaro were named to the All-Tourmanent Team, with Nick Alfaro being named the Tournament MVP.
BOYS B TEAM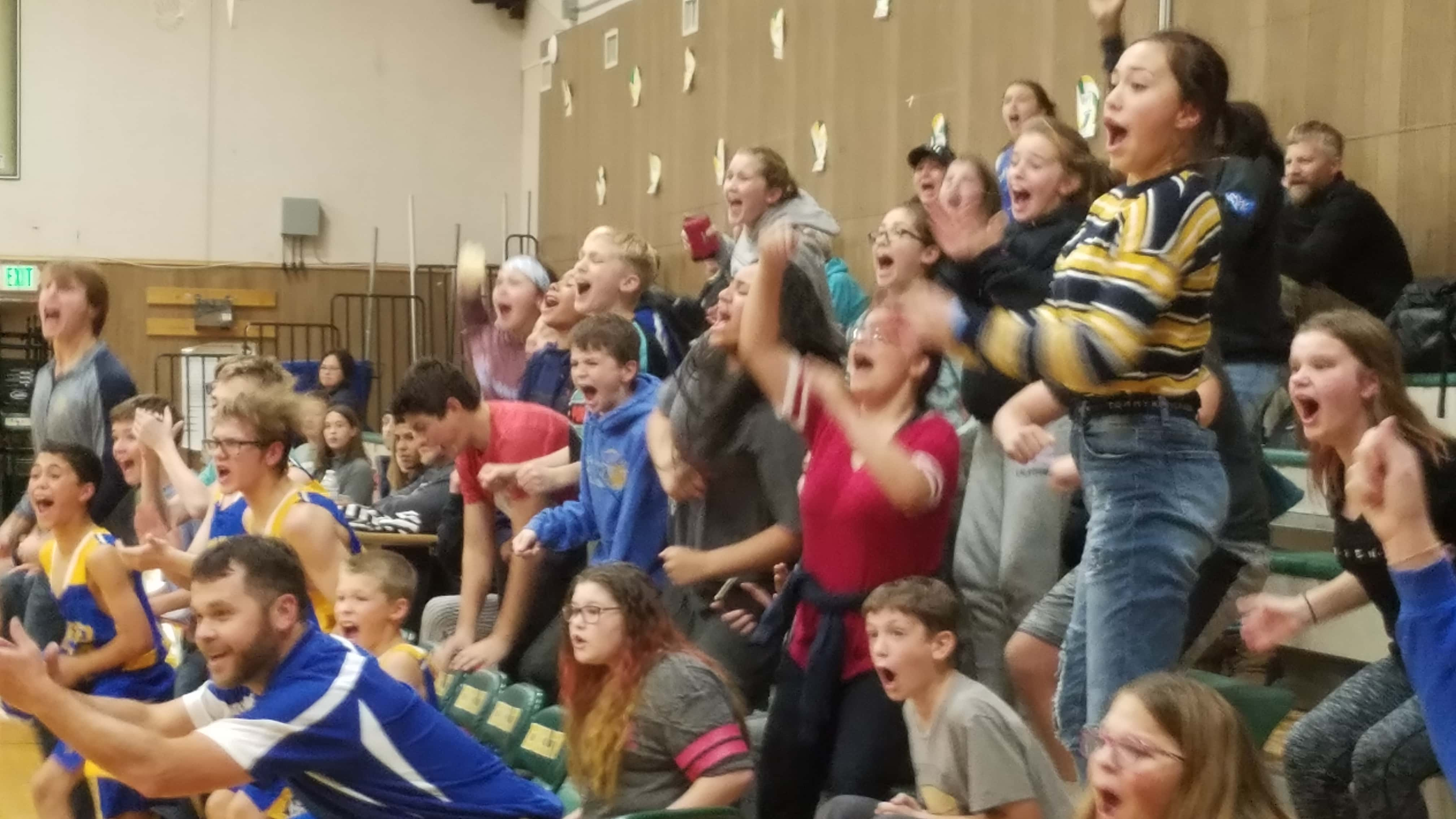 The crowd cheers on the Boys B Team at the Delta Tournament. The boys B team took 2nd place in the tournament.
Courtesy of Coach Auble – This weekend's trip to Delta for basketball was great. The boys B team had successful games against Delta, Tri-Valley, and Glennallen. Our first game against on Friday we played Glennallen and held a strong lead thanks to fast break layups by many of our players as well as slowing down the ball to set up into our offense. Our on-ball defense was great as we held Glennallen down to single digits in the first half thanks to teamwork with packline defense to trap any drives.
Our second game against the Tri-Valley Warriors was tough but we managed to secure a win again thanks to our tenacious on-ball defense by our players. Andrew Baczuk and Rylen case managed to hold their top scorer down with high-pressure defense while Romen Webber and Case were able to score plenty of fast break layups. Case was our top scorer with 20 points, and Webber at 10. We also managed to get playing time for our two sixth grade swingers.
Our third game against the home team Delta Grizzlies was successful with keeping them under 20 points to our 45. Rylen Case contributed 14 points, with Romen Webber being our next top scorer with 12. We made the majority of our points off of fast break layups again with the occasional pass and cut to a layup. Our last game in the Championship was again against Delta but we couldn't pull this one off due to Delta's changing defense and lack of made layups. We look forward to the next four days of practice and seeing them again on our home court this weekend.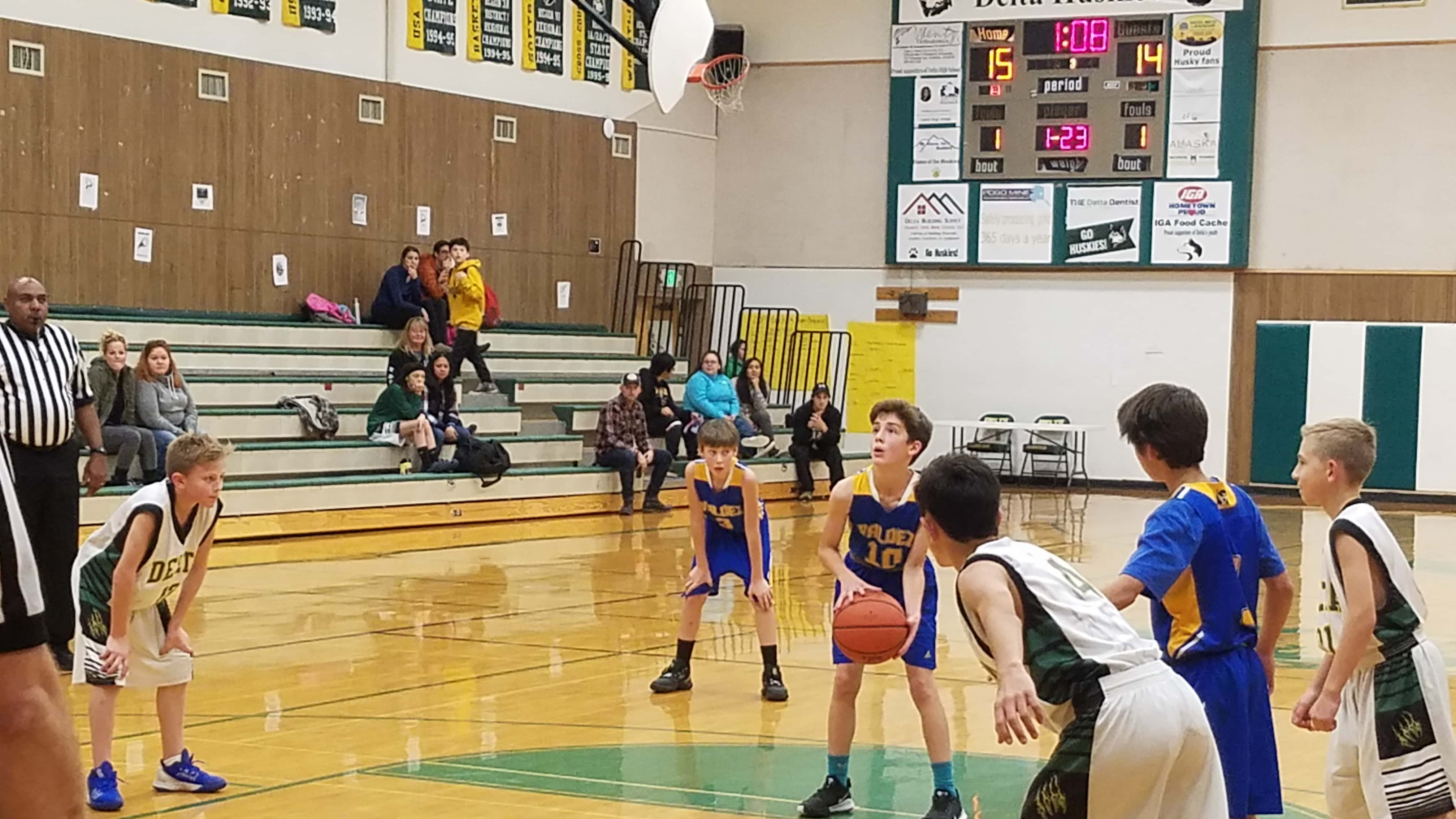 Andrew Baczuk eyes up a free throw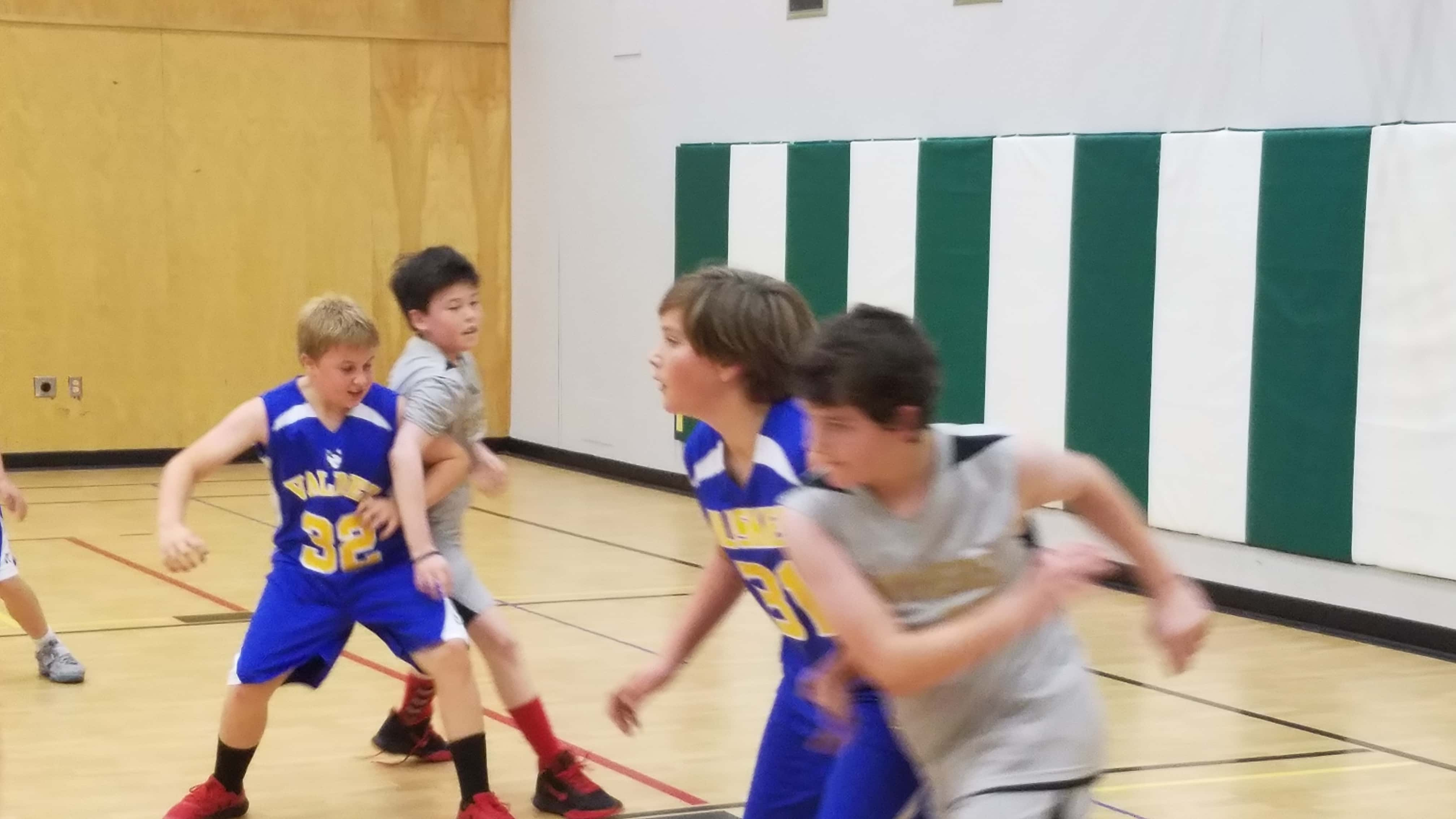 Austin Morgan and James Morgan block out
BOYS C TEAM
Courtesy of Coach Jim Doering – The C-Team, comprised of 14 6th graders new to organized basketball came out of the gates enthusiastic and scrappy in all three games this past weekend up in Delta.
Game 1 saw the boys falling the the eventual champs, Delta B, 24-36.  After a first round loss the boys had a 7am game on Saturday morning.  They were up for the task and comfortably defeated Glennallen by over 20 points.  Game three proved to be a shooting struggle for the Huskys.  They fell to Warriors of Tri-Valley.
Overall the Delta Tournament was filled with lots of laughs, learning and fun times for players, coaches and fans!