Courtesy of VHS Coaches & Teachers

VHS Choir sang for the opening ceremony of the Alaska Pioneer Conference held here in Valdez this past week
Cross Country
Region VI Championship 2019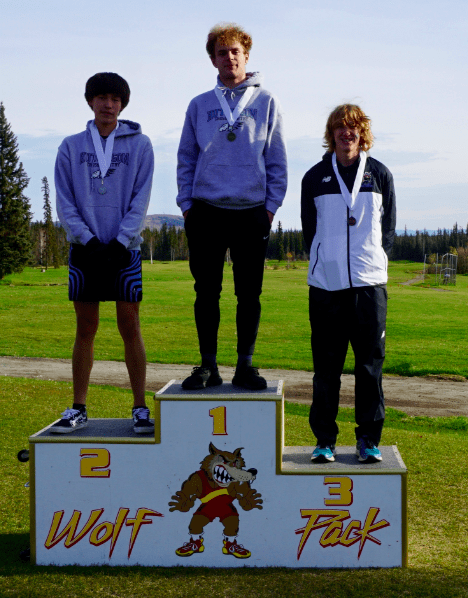 The Buccaneers Cross-Country team headed north to Fairbanks for the 2019 Regional Championships. The team was psyched up to run well, comparing their current rankings for 3A in the region, but our struggles with injury and sickness was like a dark cloud looming over us. Runners have been tapering and rehabbing to be ready for this day.
The team was faced with uncertainty when we learned that the race would be at the Fairbanks Golf Course, instead of the traditional Birch Hill course. Throughout the season, the team has focused on hills to prepare for a hilly regional course the constant rollers at State. We were unsure if we could maintain the strides and cadence on the flatter terrain of the golf course. We arrived in time to take a quick practice lap and was guided by the resident fox who gracefully showed the runners how to glide over the surface.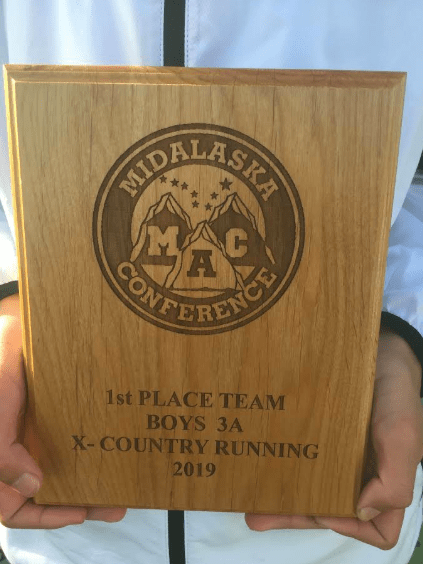 After a leisurely morning, the team was ready. This was the time when all the drills and techniques come into place and they let their body do all the work. The Varsity Boys took off first. Senior Kalin Woods and Sophomore Jim Shiozaki from Japan stuck together for the duration of the race. These two have had a healthy competition from day 1. They both finished strong with Woods sneaking ahead of Shiozaki at the finish line. Woods finished in 3 rd at 18:37.1, a season record, and Shiozaki finished a mere .8 milliseconds behind Woods
for a personal record. Senior Rafael Alfaro partnered up with Sophomore William Benes during the race. Benes pulled ahead of Alfaro at one point during the race, but Alfaro overcame his persistent back pain to finish with a season record of 19:06 and securing 7 th place. Benes beat his previous record by 5 seconds and finished 11 th with a time of 19:16. Freshmen Jason Smilie and Cole Wadsworth continued the team's determination to get personal records. Smilie and C. Wadsworth teamed up for most of the race, until C. Wadsworth slipped and Smilie gained almost 40 seconds, finishing 23 rd with a personal record of 20:17. C. Wadsworth placed 27 th with a personal record of 20:54. Junior Wyatt Mehlberg overcame chronic ankle issues to finish with an amazing sprint at 26:54. The boys' team beat out Hutchinson for first place with a score of 45 points. Valdez High School will get to have 7 runners represented at state next weekend.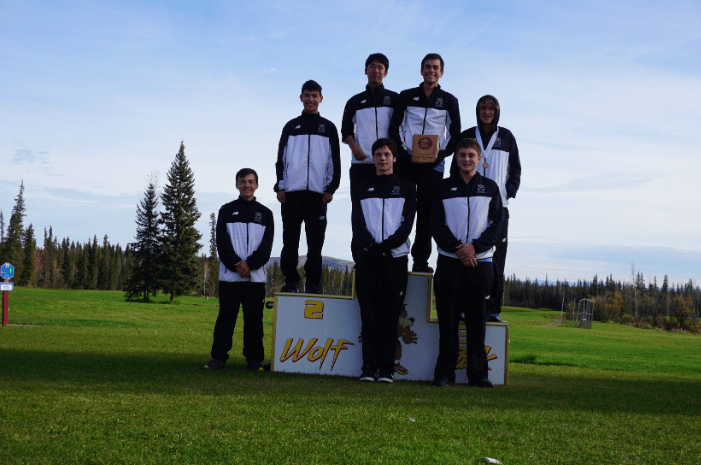 The varsity girls warmed up by running out to cheer on the boys at various points along the course. Senior Chloe Miller led the team, starting off strong and holding 3 rd place for the first lap around the golf course. Miller slipped to 8th by the finish, but she still earned a personal record and finished in 23:13. Senior Sophia Palomar wasn't far behind and finished strong in 9th place with a personal record of 23:50, beating out Senior Katelyn Wadsworth by one second. Out running a pounding headache, K. Wadsworth came from the middle
of the pack and slowly worked her way up to 10th place with a personal record of 23:51. Sophomore Momoka Ishikawa from Japan also earned a personal record by sprinting to the finish at 25:08 and securing 12th place. The Valdez girls dominated the 3A girls' race and all of them secured spots for State.
Coach Koontz couldn't be prouder of this group of young athletes. These athletes have demonstrated teamwork, determination, endurance and pure grit. They never stopped believing in themselves or their teammates, even when battered with injuries, illness, and mental blocks. These runners faced tough competitors this season and their trip to state is well deserved! Next Stop, STATE!
We would like to give a HUGE shout out to the Valdez Football team for coming out and cheering on our racers! Your cheers motivated them to push harder!
Go Bucks!

Swimming
Valdez Invite Swim Meet
The VHS Swim Team had an amazing home meet this past weekend. The Boys team
took 2nd place overall beating Hutchison, Cordova, Northpole, Lathrop, Ben Eilson, and
Bethel High Schools. The Girls team took 3rd place overall beating Hutchison, Cordova,
Northpole, Ben Eilson, and Bethel High Schools.
The Valdez Buccaneers swam fast an racked up a total of 26 tops 3 finishes in their
swimming events. Stats below:
Friday Meet
Female 200 Medley Relay took 3rd Place
Male 200 Medley Relay took 2nd Place
Isaiah Silveira took 2nd Place in the 200 Freestyle & 100 Backstroke
Billi Lovell took 2nd Place in the 200 Individual Medley & 100 Breaststroke
Jeffrey Prevost took 3rd Place in the 200 Individual Medley
Chase Randall took 1st Place in the 200 Individual Medley & 100 Butterfly
Fisher Mishmash took 3rd Place in the 500 Freestyle
Piers Shirk took 3rd place in the 100 Backstroke
Female 200 Free Relay took 2nd Place
Male 200 Free Relay took 2nd Place
Male 400 Free Relay took 1st Place
Saturday Meet
Female 200 Medley Relay took 3rd Place
Male 200 Medley relay took 1st Place
Billi Lovell took 1st Place in the 200 Individual Medley & 100 Breaststroke
Chase Randall took 1st Place in the 200 Individual Medley & 100 Butterfly
Isaiah silveira took 2nd Place in the 50 Freestyle
Grace Keller took 3rd Place in the 100 Backstroke
Piers Shirk took 2nd in the 100 Backstroke
Jeffrey Prevost took 2nd in the 100 Breaststroke
Female 200 Free Relay took 3rd Place
Male 200 Free Relay took 2nd Place
Chase Randall was a power house this swim meet placing 1st in all his events, as well
as, setting all time personal bests. This is why Chase is the Swimmer of the Week. Our
Buccaneer Swimmers are looking strong and wish them good luck as we travel to
Wasilla this weekend.
Football
Valdez Buccaneer Football vs. Monroe Rams
The Buccaneers played the Monroe Rams in Fairbanks this weekend. The previous time this year, the Buccaneers lost by a score of 72-6.  This week showed great improvement. The Bucs stopped the Rams on their first drive in four plays, and subsequently punched the ball into the endzone a few plays later. The Rams were again stymied by a stiff Buccaneer defense, and were only able to garner a long field goal on the following drive. The Buccaneers second drive started deep in their own territory on the 12 yard line. After 10 plays and 60 yards later, the drive ended in an interception. Unfortunately, Turnovers proved costly the rest of the game. The next two drives also were rolling with
steam until costly fumbles ended them. In fact, the Buccaneer offense was never stopped and forced to punt by their opponent this game, but unforced fumbles and interceptions ended 6 solid, ball-moving drives for the Bucs. Such a large ball control deficit was really the story of the game. The Rams were forced to punt 3 times, and were stopped twice more resulting in only field goals. Defensively, the Buccaneers completely shut down the running
game of the Rams after the first quarter which had proved troublesome the first meeting this year. However, the Rams were able to connect on several long touchdown throws that provided the bulk of their scoring.
The Rams ended up winning the game this time with a score of 46-26. To their credit, the Buccaneers exhibited a never-quit attitude, despite the losing score.
This weekend will be the last game of the season for the Buccaneers, and the last game for several seniors. We host the Barrow Whalers in Valdez on Saturday at noon. The Whalers are currently ranked #2 in the state, recently beating Eielson by a large margin.
Rifle
Valdez High School Buccaneers vs. Lathrop Malamutes
Rifle Match Results
On Friday, September 27, the Valdez High School Buccaneer Rifle Team hosted their
counterparts from Lathrop High School. This was the first match for the two teams as they met up to shoot the smallbore portion of the competition. The air rifle match (standing position, 60 shots) was conducted on the teams' respective home ranges; the scores were shared during the small-bore match.
The smallbore portion is a rigorous match, with each competitor shooting 20 shots in the three main positions (prone, standing, and kneeling). Both teams performed well and showed great levels of focus and determination as the two relays worked through the six-hour event.
The Lathrop Malamutes consisted of Kelsey Wade, Sierra Accola, Kelsey Lindig, Issac Baylis, Nikki Smith, and Madison Harris. In the 50ft Smallbore 3×20 event they achieved a team score of 2,015 points. With their Standing Air 60 score of 2,180 points, their combined score came to 4,195 points.
The Valdez Buccaneers were represented by Tiffany Larcom, Sydney McKay, Sara Bauman,
Ashlee Schaeffer, and Jared Humphrey. Their 50ft Smallbore 3×20 score came to 2,183 points and combined with their Standing Air 60 score of 2,228 they achieved a final score of 4,411 points taking the match.
Several of the competitors earned personal bests during this match. From Lathrop- Sierra
Accola shot a personal best in the air event with 559 points and in the smallbore event with 505 points. Kelsey Lindig shot a personal best in air with 523 points. From Valdez- Jared Humphrey shot a personal best in the smallbore event with 532 points. Tiffany Larcom earned a personal best in air with 579 points.
The VHS Rifle Team would like to thank the Lathrop Malamutes for coming all the way to Valdez for their first match and we look forward to meeting them in future competitions.
Volleyball
Valdez VS Cordova VolleyBall 9/27-28/19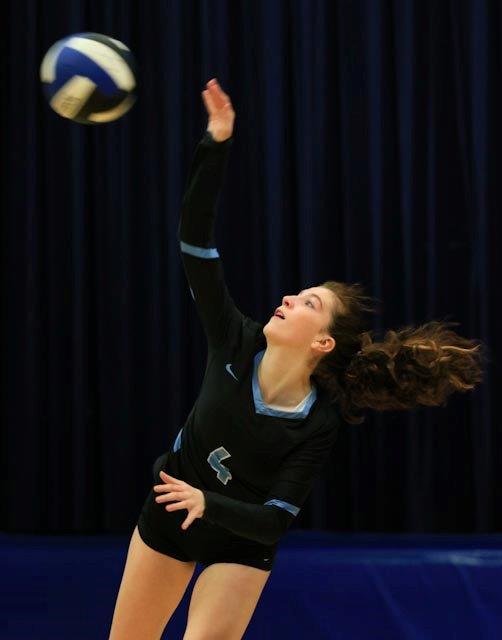 Head Coach: Adam Sharrai
Assistant Coach: Katie Burns
Buc Volleyball loaded on the Glacier Spirit Friday morning and headed over to Cordova for Friday night and Saturday morning games. The Junior High also sent over their basketball teams which added to the Valdez Bucs/Gilson JR. High Huskies invasion of Cordova but as usual the Cordovians were very welcoming and everyone had a great time along with seeing some incredible scenery and wildlife along the way—everyone enjoyed the Humpback and Orca Whales especially—thanks Glacier Spirit captain and crew for taking that extra time.
After docking in town on H float, walking up to the school to drop bags, the Bucs grabbed a quick bite and took small tour of Cordova. After heading back to the High-school and warming up for their games, the Bucs took the Wolverines in three straight in Friday nights set, but not without some adjustment to their play during the set. As always, more talk, communication , movement, cover, defense, and anticipation were discussed by the Bucs and they focused their efforts on tomorrows games. Saturday started a little easier for the Bucs as they responded to their own discipline and desire to play better. They passed, set, and hit well along with playing smart producing good ball placement to take the Wolverines again in three straight games just in time to grab lunch and hurry to the Boat for their return trip home.
The Buc Volleyball team had a good time throughout their trip to Cordova and would also like to thank the awesome crew of the Glacier Spirit for their fine accommodations and helpful nature—thank you much! The Bucs will have a nice break having next weekend off and it will be a good chance to fine tune skills, play, and recharge before heading to the Grace Tournament the following weekend for another great tournament and lots of games. Practice hard and with intensity–Go Bucs!