Courtesy of VHS Coaches
Cross-Country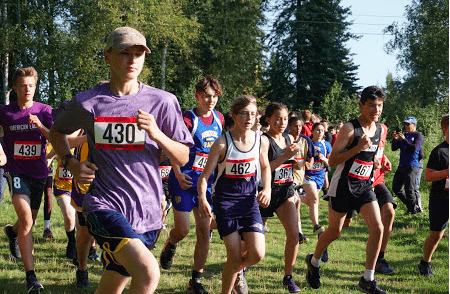 Palmer Invitational 2019
The Buccaneers Cross-Country team enjoyed a quick trip to Palmer where the rain was a welcomed reprieve from the endless warm days this season.  The rain also eased concerns about dust affecting breathing in several sections of Palmer's course.  With excitement, the team jogged the course on Friday night.  After the state preview, we realized that we needed to strengthen our hill training and work more rigorously on attacking steeper sections.  The Palmer course consisted of three laps through the woods on grass and dirt.  There were only two small hills and many runners anticipated setting personal records on this course.  Palmer experienced their biggest race ever with 48 schools being represented and over 1,200 runners participating.
Senior Chloe Miller ran junior varsity with 107 other runners.  She placed 69th with a time of 24:57, a personal record for her this season and securing a spot on varsity for the next race in Delta next weekend.
The junior varsity boys race took a turn after the second lap when freshman Jason Smilie passed fellow freshman Cole Wadsworth, whom he had been chasing all season.  Smilie finished 110th at 21:30 out of 143 runners, setting his personal record.  Wadsworth battled side-aches the whole race, slowing him down to place 122th with a finish of 22:07.  Junior Wyatt Mehlberg also made a personal record, finishing strong at 26:03 in 138th place.  Not far behind was freshman Patrick O'Brien completing his first 5k of the season in 26:50 in 139th place.
Next up, the varsity girls faced off against 82 other runners.  Senior Sophia Palomar battled tight calves and pesky aches to finish 48th at 25:06.  Senior Katelyn Wadsworth was only 10 seconds behind her and set a season record with 25:16, in 52nd place.  Sophomore Momoka Ishikawa wasn't far behind Wadsworth and finished in 25:23 in 54 place.  Ishikawa set a personal record.  Our Varsity girls are all contenders for state and are faster than they were at this time last year. 
Finally, the varsity boys showed true teamwork as they traveled in a pack for most of their race of 120 runners.  Sophomore Jin Shiozaki upset senior Kalin Woods by passing him and setting a personal record with a time of 19:01, placing 34th overall.  Senior Rafael Alfaro turned to stealth mode as he snuck up on Woods on the home stretch and brushed pass him to place 41st at 19:16, a season record for Alfaro.  Senior Woods had hoped for a personal record, but he waited too long to turn up the heat and settled for a season record of 19:16, a mere half second behind Alfaro.  Out of nowhere came Sophomore William Benes, surprising everyone with his 45th place finish at 19:21, setting a personal record and finishing the course over 5 minutes faster than last year.  Onlookers had barely recovered from Alfaro's passing of Woods, when Benes suddenly appeared at the finish line.  Each of these boys show great potential to secure a place for state.
The cross-country team only has two more races before regionals in Fairbanks.  Each athlete is filled with determination to improve and secure that space for state.  Next week we are off to Delta where we will face the easy rollercoaster route or the hill of dread, either way, they will be ready to set more personal and season records.
Season photos (unedited) are now available on Google Drive at: https://photos.app.goo.gl/JnYfQgaXKK5MapqW6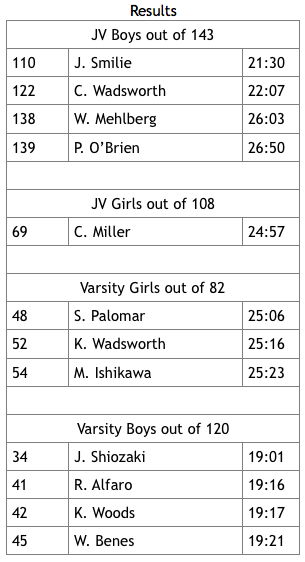 Varsity Volleyball
West Valley Tournament Volleyball 9-5/6/7
Head Coach: Adam Sharrai
Assistant Coach: Katie Burns
Buc Volleyball headed to West Valley to play both 4A South and West Valley
Thursday night for a 2 set match up each. The Bucs split with West Valley in close
sets but dropped both to South. Friday began with pool play against 9 other teams
throughout the day. The Bucs won their sets against Lathrop, North Pole, Barrow,
and Monroe but lost to Palmer, West Valley, South, Bartlett, and Hutchison for a 4
and 5 record for the day setting up for Saturday double elimination B-Pool as a 6
seed. Saturday began slowly for the Bucs at 10am as they dropped both opening
sets to Barrow never really finding a rhythm or the energy they wanted. Finding
their game proved even harder against Monroe at 12 noon and the Bucs dropped
another 2 games to end their double elimination tournament. The Bucs had many
rough moments but again kept pushing themselves in hopes of turning their game
around—more practice, effort, and determination were the consensus. This left the
Bucs thinking about next weeks practices and what they would like to accomplish
before next weeks Valdez Invite. The Bucs are up for the challenge and are going to
begin working hard Monday to tighten up all aspects of their game. The Bucs shared
the responsibility well and are relying on each other more as they put more games
under their belt. We will continue to push on this week and intensify our efforts in
preparation for next weekend tournament and find that rhythm that seemed to
elude us Saturday. Work hard and as always—–GoBucs!
JV Volleyball
West Valley, Monroe, Lathrop September 5-7, 2019 The Buccaneer Junior Varsity team had another great weekend of competition in Fairbanks. We were able to face three different JV squads and watch a lot of great Varsity volleyball play at the West Valley Varsity Tournament. Last week in practice we set a goal to work on communication and movement on the court. Our hard work paid off on Thursday and Friday. In our first match, facing the West Valley Wolfpack on Thursday evening, we battled all the way to the end of the 5th set in five exciting duels. Both teams were moving, talking, and setting up aggressive attacks. The Wolfpack did eventually take the victory, but the vast contrast in energy and execution compared to our last weekend was a huge step in the right direction.
On Friday we drove to Monroe High School for a scrimmage, best of five. In this match the team did a phenomenal job of working to meet high goals. We continued to communicate, move, and set up attacks. We beat the Rams in only three sets, holding them to 14, 13, and 16 points. Another accomplishment during this match was the low number of service errors, holding our team to only six missed serves in the entire match. The team was proud of their effort and success against one of our conference schools.
Our final match on Saturday was against the Lathrop Malemutes. Due to an extreme lack of focus, our team struggled terribly and fell into some of the old habits we had overcome in the last two matches. We lacked communication with our teammates; we were frozen on the court unable to receive serves or returns; we tripled our number of service errors. We lost the set in four sets.
It was a great weekend for volleyball, both the successes and the failures. We come home with new goals for this next week as we look ahead to the Valdez Invite. Go Bucs!
Football
Valdez Buccaneers Vs. Eielson Ravens Football
On Saturday we played our first conference game of the season against the Eielson Ravens. Eielson came here as defending state champions and currently ranked as the #1 team.
Eielson quickly jumped to an early lead. Although we generally had people in the right place and time, we had difficulty hitting with force and wrapping up, and swarming to gang tackles. Ultimately, we couldn't stop their offense sufficiently to give our offense much of a chance. 
We were able to make one score early, however, on a pass from Josh Baczuk to Clay Woodgate.  The final score was 53-6
This week we travel for a non-conference game on Friday night to Homer.
Swimming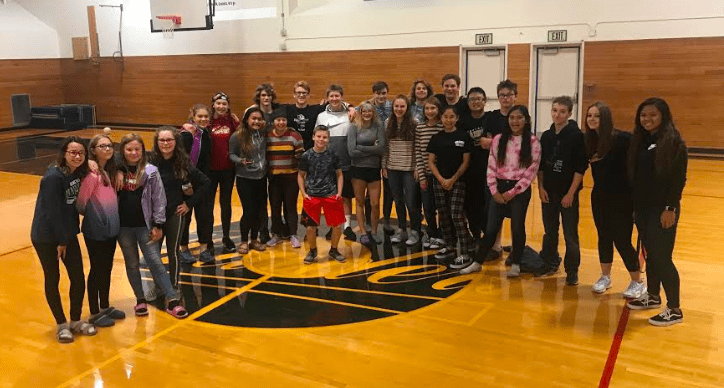 The swim meet in Unalaska was unlike anything I have ever been a part of in High School swimming. The community of Unalaska graciously welcomed us to their school & community with open arms. They provided all our housing, food, and transportation needs; as well as, making us feel like we have always been a part of their community. The swimmers got along so well that it was sad to have to pry them away from their new friends and head back back home to mainland Alaska.
In our dual meet against  Unalaska the Valdez Buccaneers tore through the water taking almost all the 1st place finishes allowing us to clearly win this meet as a team. Levi Clubb had an excellent swim meet being the only Buccaneer to drop time in both his 50 & 100 Yard Freestyle earning him the recognition of Swimmer of the Week.
I am very proud of our 2019 Buccaneer swimmers for all their hard work, and look forward to their continued success this season. If anyone or group has the opportunity to go to Unalaska and experience their incredible people and community I would highly recommend it. Go Bucs!