Courtesy of VHS Coaches
Volleyball
Eielson VolleyBall 8-23/24
Head Coach: Adam Sharrai
Assistant Coach: Katie Burns
Buccaneer Volleyball headed to Eielson Friday to play its first conference game of the season.  The Bucs took the Eielson Ravens in 3 straight games Friday night 25-22, 25-22, and 25-21.  The Bucs had a few rough moments but kept their composure and began breathing together and working as one.  After some questionable bowling at the Air-Force bowling center that evening and a nights sleep, the Bucs readied themselves for day two against the Ravens Saturday at 2:30.  Starting slowly and quietly, (not what they wanted) but still looking for their rhythm they dropped their first set 23-25 to the Ravens.  This woke up the Bucs and they began producing what they practice every day and work hard to achieve—communication and determination.  Although not perfect this change of attitude and effort lead them to take the next three sets 25-13, 25-16, and 25-23 to win the match.   The Bucs are learning to rely on each other as well as trust each others base play which will only continue to improve with more skills practice, communication, and determination to find their competiveness and find their game they want to be playing.  Go Bucs!
JV Volleyball
Monroe Catholic JV Volleyball Tournament
August 23-24, 2019
This past weekend the Buccaneers JV Volleyball Team competed in the Monroe Catholic JV Volleyball Tournament, with five other Junior Varsity teams. On Friday we faced each opponent in a pool-play set game to 20. We started out in a quick game against Hutchison, winning with a score of 20 to 13. Our next set was against West Valley, falling short with a score of 8 to 20. We came out on top in the next three sets: Lathrop (20-12), Monroe (20-14), and Delta (20-17). We entered the bracket on Saturday seated #2 behind West Valley. On Saturday, our first match was against Monroe Catholic who put up quite a fight and ended up beating us in two sets (8-20 and 14-20), placing us in the losers bracket. We fought our way up through the bracket beating both Lathrop and Delta in 2 sets each and then once again facing West Valley. The West Valley match was quite a battle, trading points back and forth after long rallies. West Valley ended up taking the victory (22-24 and 18-20) after two very exciting sets. This weekend was unique in that we were missing five of our athletes. This allowed our small group to build on-court trust with one another during game competition. We have had huge growth in the past two weeks, building confidence in our rotation, setting up aggressive attacks, and communicating on the court. Our next set of goals include coverage on the net and defensive positioning. There were many strong volleyball skills being shown off by these athletes on the court this weekend. Ambrosia Woodgate and Alyvia Askren are a strong setting team on the court that show great leadership in communication and hustle, and are both dynamic hitters on the net when not setting. Carsyn Hinkle and Lindsey Gudgell made many solid attacks in the middle position and are starting to add a defensive block to their game. Rylie King, hitting outside for us this year, has excellent timing in her approach and makes great, game-speed decisions. Also unique this weekend was the use of Anna Agcaoili as libero in the back court. She was a tremendous defensive asset. Ariel Mitchel stepped up as a solid server for us this weekend and defensive specialist and Hailey DePoppe-Lent stepped to serve and play back row as well. Special shout out to Rylie King for earning an All Tournament medal for her great back row defense and aggressive attacks at the net. Great weekend Bucs!
Football
Valdez Buccaneers vs. Seward Seahawks Football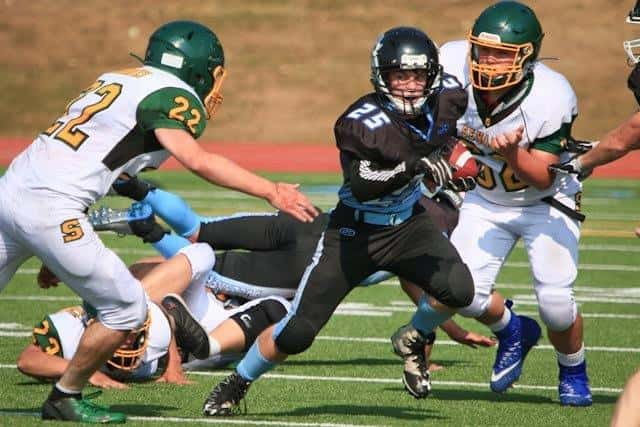 Photo courtesy of Joe Prax
We hosted the Seward Seahawks this Saturday on a beautiful sunny day for football. We started out the first quarter driving the ball well, only to stop ourselves on an unforced fumble. After a stiff defensive stop, we scored quickly for our first touchdown of the year. Another defensive stop and the subsequent punt snap mishap by Seward gave us the ball on the 1 yard line, and Gage Critchlow scored his first career touchdown on a sneak up the middle. Another 4 plays by Seward were quickly stopped by a stiff defensive stand anchored by Cam Stanford, Dennis Mott, Logan Anderson, and Sam Norris. It gave us the ball a final time in the quarter, which we quickly punched in for the score. A PAT kick attempt by Clay Woodgate put us up by 19 in the first quarter.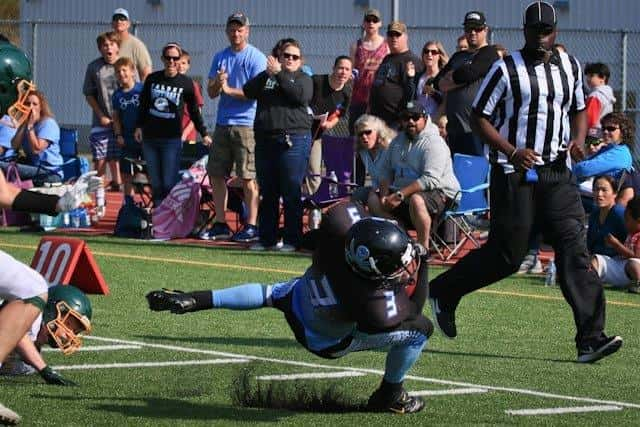 Photo courtesy of Joe Prax
The second quarter was a classic come-apart.  Multiple penalties for off-sides, miscued plays, and a long pass for a touchdown with a minute left before half-time was a wet blanket on our first half performance.  Following the half, it was a Jekyll and Hyde performance, with moments of brilliance punctuated by penalties of all sorts.  For the most part, Seward was unable to move the ball on us, but our offense suffered from self-afflicted wounds. We were able to keep them from the end-zone, however, and scored twice more in the second half, carried in again by Gage Critchlow and Jona Turner. Clay Woodgate again connected on a PAT kick attempt to finalize the score at 32-6. 
This was most of the team's first varsity win, a long-time coming and well earned.  We look forward to building off of what we have accomplished, and compete well at Nikiski this weekend.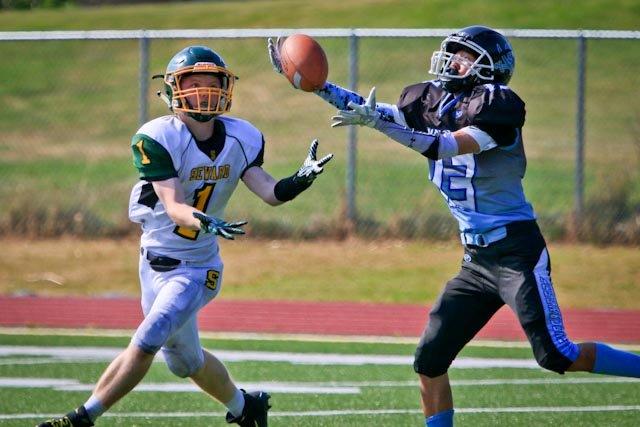 Photo courtesy of Joe Prax
Cross Country
Valdez Invite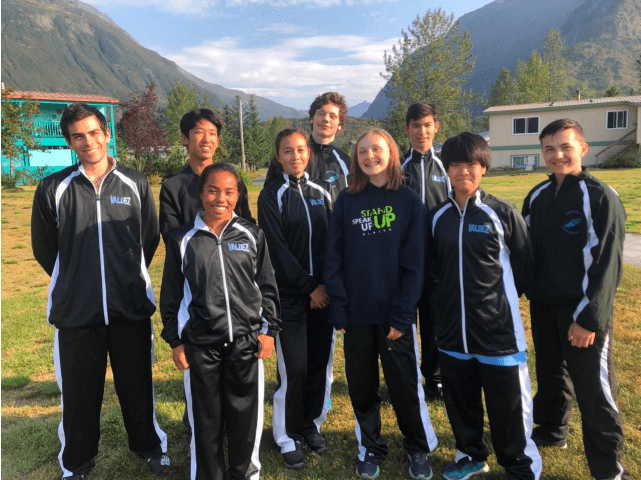 The Buccaneers Cross-Country team hosted Cordova and a community race on Saturday, August 24th. The smoke cleared in time for a combined group of nineteen runners to head up the East Dike to Mineral Creek. For the boys, Sophomore Jin Shiozaki from Valdez placed 1st, finishing in 18:30 and Senior Rafael Alfaro wasn't far behind placing 2nd in 18:48. Cordova's Keegan St. Amand placed 3rd with a time of 19:21. Sophomore William Benes was close on St. Amand's heels and finished 19:25 in 4th . The first girl to finish was Anika Witsoe from Cordova at 21:06. Sophomore Momoka Ishikawa finished 2nd at 24:18 for Valdez. Valdez Senior Sophia Palomar came in 3rd at 24:31, an impressive finish for starting the season late. Valdez boys also included Senior Kalin Woods placing 5th at 19:49, Freshman Jason Smilie finishing 8th at 21:35, and Freshman Cole Wadsworth came in 9th at 21:48. Valdez girls included Senior Katelyn Wadsworth placing 5th at 24:47 and Freshman Angelina Grande finishing 6th at 24:54. Community members came out to run with the high school and middle school cross-country teams in a 5K fun run. Jordan Nelson placed 3rd on the heels of Shiozaki and Woods finishing at 21:54. Great job middle schoolers for running a full 5k. A special thank you to Cross-Country parents for helping out on the course, with timing, and the community race registration. We couldn't have done it without you! The Buccaneers Cross-Country team travels to Anchorage next weekend to preview the state course at Bartlett. This is a key race to see what the team needs to accomplish to earn their place on the state roster in October.