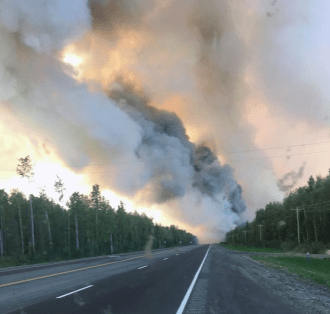 McKinley Fire, photo courtesy of AK Division of Forestry
If you're planning to travel this week, be sure to check how fires may impact your route. Multiple roads have been closed, along with flights cancelled due to poor visibility.
Road closures are being updated on AK 511 website and fire information is available at akfireinfo.com.
McKinley Fire: At least 50 structures were lost Sunday afternoon near Mile 88 of the Parks Highway. The Parks Highway is currently open to one-lane traffic with pilot cars between mileposts 71 and 99. Motorists should expect long delays and be aware that the road could be closed at any point due to ongoing fire activity.
Swan Lake Fire: Crossed the Sterling Highway at MP 60 into Skilak Wildlife Rec Area. Traffic on Sterling Highway between mile 53 to 75 was halted as of 1pm Sunday due to fire activity and risk from adjacent utility infrastructure and will remain closed at least until Monday.
Deshka Landing Fire: Firefighters pulling back, focusing on protecting cabins on Red Shirt Lake and securing the eastern edge of the fire so it doesn't make a push toward subdivisions on Long Lake Road.
Watch for updates at akfireinfo.com.