VHS at the Big C Relays in The Dome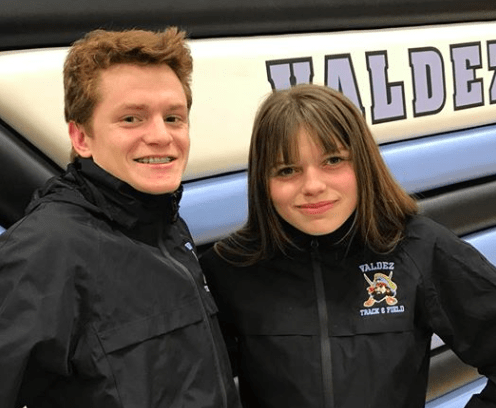 This past weekend the Track and Field team traveled to the Big C Relays at The Dome in
Anchorage. The Big C Relays were attended by 46 teams totaling over 1000 athletes. Needless to say,
the competition was fierce and Valdez didn't disappoint!
Kassi Howard and Owen Chadwick were 2 of 12 athletes chosen to compete in the Pentathlon.
The Pentathlon is an event unique in Alaska to The Big C Relays and requires a coach's nomination.
Nominations are then reviewed by a committee and 6 female and 6 male athletes are selected based on
their Track and Field accomplishments, academic qualifications, and participation in school and
community activities. Owen placed 2 nd against athletes from Kodiak, Lathrop, Palmer, Chugiak, and
Monroe Catholic. Kassi placed 5 th against competition from Lathrop, Nikiski, Chugiak, Palmer, and
Soldotna. The Pentathlon consists of the High Jump, Shot Put, 100m, 300m Hurdles, and 800m.
Other highlights of the weekend included new school records set in the 100/100/200/400
Medley by both our boys and girls relay teams. Tate Chadwick, Josh Baczuk, Jalen Freeman and Hayden
Howard finished with a time of 1:47.28 and Alyssa Metzger, Sophia Palomar, Cherubim Palomar, and
Jade Watts posted a time of 2:11.93.
Owen Chadwick's time in the 100m at 11:56 ranked him at 6 th overall, his 400m time of 51:94
was 4 th , and his impressive 300m Hurdle time of 42:11 ranked 3 rd overall. All three were personal records
for Chadwick. Jalen Freeman and Hayden Howard both posted new personal records in the 100m with
12:41 and 12:42 respectively. Jeffrey Prevost ran a new personal best in the 110m Hurdles with a 20:10
time. Brandon Nguyen, Ethaniel Kockentiet, Hunter Francis and Luke Baczuk had a great run in the
200/200/400/800 Medley with a time of 4:39.23, and a 13:36.25 time was posted by William Benes,
Ethaniel Kockentiet, Blake Morrison, and Kalin Woods in the 1200/400/800/1600 Medley. Gaspar
DeLeon threw a new personal record in Shot Put with a 31'07" throw. Personal records were also set in
Discus by Luke Baczuk- 86'10", Gaspar DeLeon-74'7", Timothy Schantz-68' and Brenner Wilson-65'. Josh
Baczuk had a great first Long Jump of the season with a 15'9.75" jump.
On the girl's team Marianne Prax and Alyssa Metzger both established new personal records in
the 100m. Kassi Howard had a great first crack at the 300m Hurdles and posted a time of 55:04. In the
100 Hurdles Marianne Prax set a new season record for herself at 21:26. The girls 4X100 team of Kassi
Howard, Aly Metzger, Sophia Palomar, and Jade Watts busted out a 59:04. The 200/200/400/800
Medley relay team of Cherubim Palomar, Sophia Palomar, Jade Watts, and Kat Taylor posted a time of
5:42.76. Hunter Hoppe set a new personal best in the Discus with a 64'10 throw, beating her last mark
by 6 feet. Kassi Howard set a new personal record in the Shot Put with a first time throw at 24'.
The Big C Relays also include Co-Ed relays. The Co-Ed 100/200/300/400 relay team of Sophia
Palomar, Ethan Kockentiet, Aly Metzger, and Logan Anderson had a great race with a time of 2:44.10
and the Co-ed 4XAlaskan Mile team was comprised of Ethan Kockentiet, Kat Taylor, William Benes, and
Marianne Prax.
As a team, our athletes gave 100%, supported each other, cheered each other on, and made us
proud. Competing in The Dome is a great way to begin our season and we are excited and looking
forward to our next meet in Colony on April 19 th and 20 th .
Valley Jazz Festival
Ten students took their instrumental skills to the Valley Jazz Festival over the weekend.  While there, students participated in six clinics on instrumental and vocal jazz with music educators and professional musicians to hone their skills and experiment with new music ideas.
The Jazz Band was adjudicated Friday afternoon and performed at the concert on Friday night in the Palmer High School gym in a round robin style of performance by Fairbanks, Anchorage, and Valley schools.  Valdez was the only 3A school represented.  A sound byte of that performance is included.  Despite a last minute bloody nose, worn out chops, lost amp cord, a piano that wouldn't work, and several impromptu solos, the band pulled together a great performance.  Improvise.  That's what jazz is all about.
Piano man Sam Norris was a participant in the High School Honor Band that played on Saturday night.  Later in the concert, students were treated to performances by the visiting guest musicians.
Participating students were Ginger Keller, Isaiah Silveira, Sam Norris, Lydia Merioles, Grace Keller, Chloe Miller, Jessica Britton, Cameron Bowden, Jared Humphrey, and Alexander Britton.
Jared, Isaiah, Cameron, and Alex mingling in a jam session.
Friday night performance at PHS