GMS A Team Beats Tough Monroe Team to Win Championship
Courtesy of Coach Laurie Prax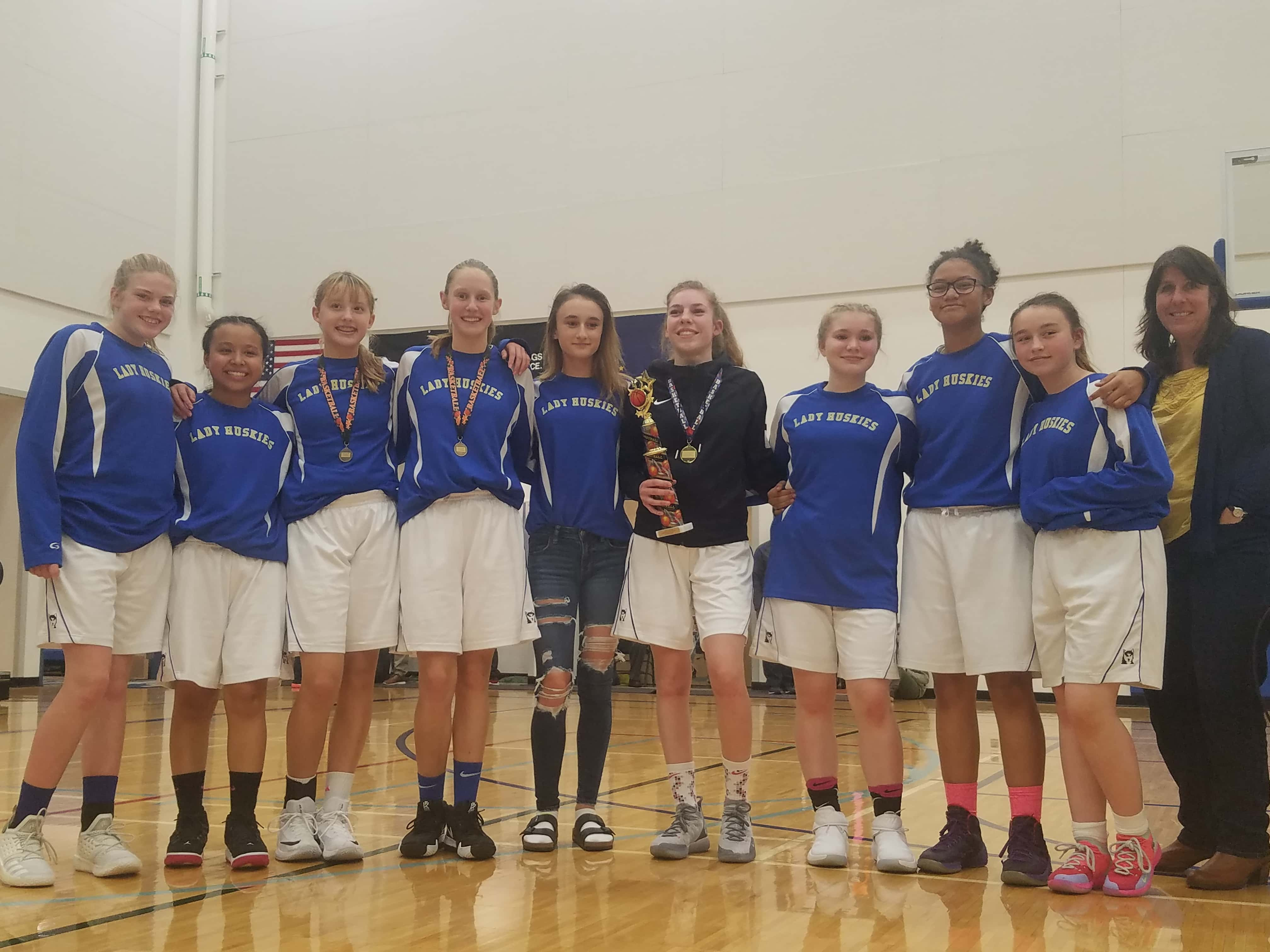 Tenacious defense was played by both Monroe and Valdez in the 1st round of the GMS tournament Friday but Valdez ended up on the winning end with a score of 21 to 17. Masen Holmes had 6 points. Carsyn Hinkle and Chloe Auble added 5 apiece. Holmes had 9 rebounds and Hinkle 6 rebounds. The Huskies faced Teeland in their 2nd game on Saturday and won 33 to 16. Hinkle scored 10 points; Holmes, 9 points and Chloe Auble added 8 points. Holmes and Acacia Montgomery added 6 rebounds each. A very good Monroe team fought through the losers bracket and made it to the Championship Game Saturday night. Valdez held onto a one-point lead to win 21 to 20. Auble had 6 points and 6 rebounds. Jasmine Bravo had 5 points. Acacia Montgomery had 4 points and 6 rebounds. Carsyn Hinkle, who played aggressive defense came up with 10 rebounds and was named MVP of the tournament. Chloe Auble and Masen Holmes were named to the all-tournament team and Jasmine Bravo was named awarded the Sportsmanship Award. "This team has worked hard all season long so it was great to see their hard work pay off in this tournament against a very talented Monroe team", said Coach Laurie Prax. "All of our players played an important role in the wins this weekend and we got some great contributions from our bench. These girls really became a cohesive team this year".
GMS Girls B Team Takes 2nd Place at Valdez Tournament
Courtesy of Coach Laurie Prax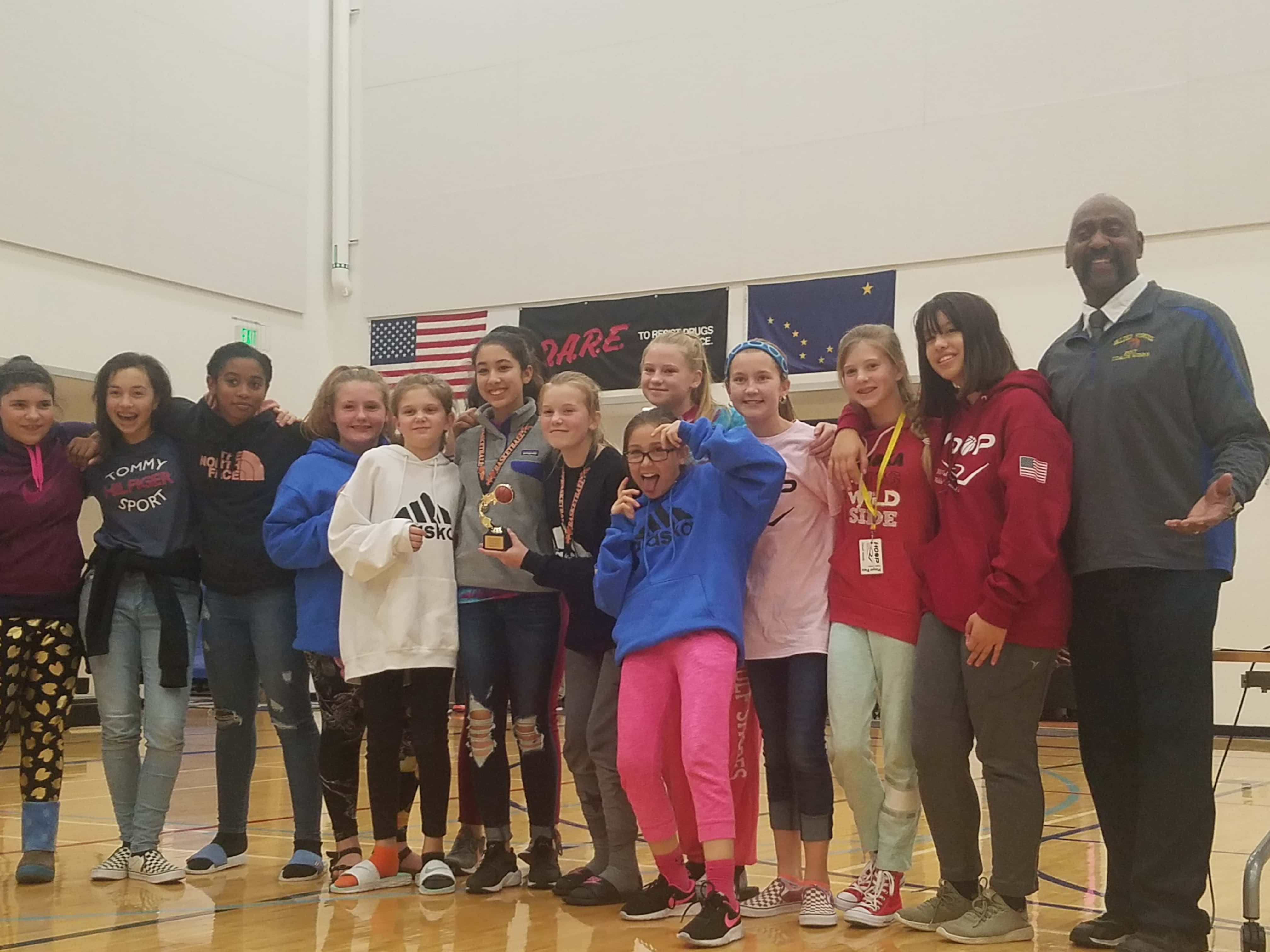 The Gilson Middle School Girls B team played five basketballs games this weekend and ended up with 2nd place at the Valdez Tournament. The first game GMS beat Grace 18 to 3. MoeMoe Togagae and Lily Brown had 6 steals apiece. Brown scored 6 points. In game two, Valdez beat Redington 12 to 7. Lily Brown had 4 points and 7 steals. Togagae had 7 Rebounds. In game 3, the Huskies lost to Monroe 10 to 19. Desi Woodgate had 4 steals in that game. GMS battled back in the 4th game, beating the Cordova A team 16 to 12. Brown scored 6 points and had 6 rebounds. Togagae had 13 rebounds and 5 steals. In the Championship game, Valdez faced Monroe again. Despite a good effort the Huskies came up short 12 to 18. Moe Moe Togagae had 7 rebounds and 8 steals in the game. Angelina Grande had 7 rebounds.
GMS Boys
The GMS boys basketball season ended a successful season with a good showing at the Gilson Middle Basketball Tournament.  Both teams played well this weekend, and competed hard.  As coaches, we were proud of our guys, both for their hard work, and for how they represented Valdez with so many visitors in town.
The Varsity boys played well, and finished 3rd in the Varsity division.  After beating Cordova, the boys lost a tough game to Grace Christian, who would eventually win the tournament.  The boys played Monroe Catholic, with a chance to get back to the championship game.  Despite being down double digits in the fourth quarter, they rallied to tie the score and send the game to overtime.  Overtime was tough, and the Huskies came up just short, losing by one point.
The JV boys finished 3rd in their division as well, eventually losing to the two teams that would play for the championship, Redington and Grace Christian. The JV boys overcame adversity this year to continue to play well, and really had a good showing at the tournament.
For the Varsity boys, Bryce Tucker and Allen Watson were named to the All Tournament team.  Payton Gage received the sportsmanship award.
For the JV boys, Grayson Ade and Jacob Ambaucher were named to the All Tournament team.  Spencer Holbrook received the sportsmanship award.
As coaches, we are thankful for the opportunity to watch these guys grow, both as basketball players and young men.  We would also like to thank all the parents and the administration at the middle school for their support this season.
Go Huskies!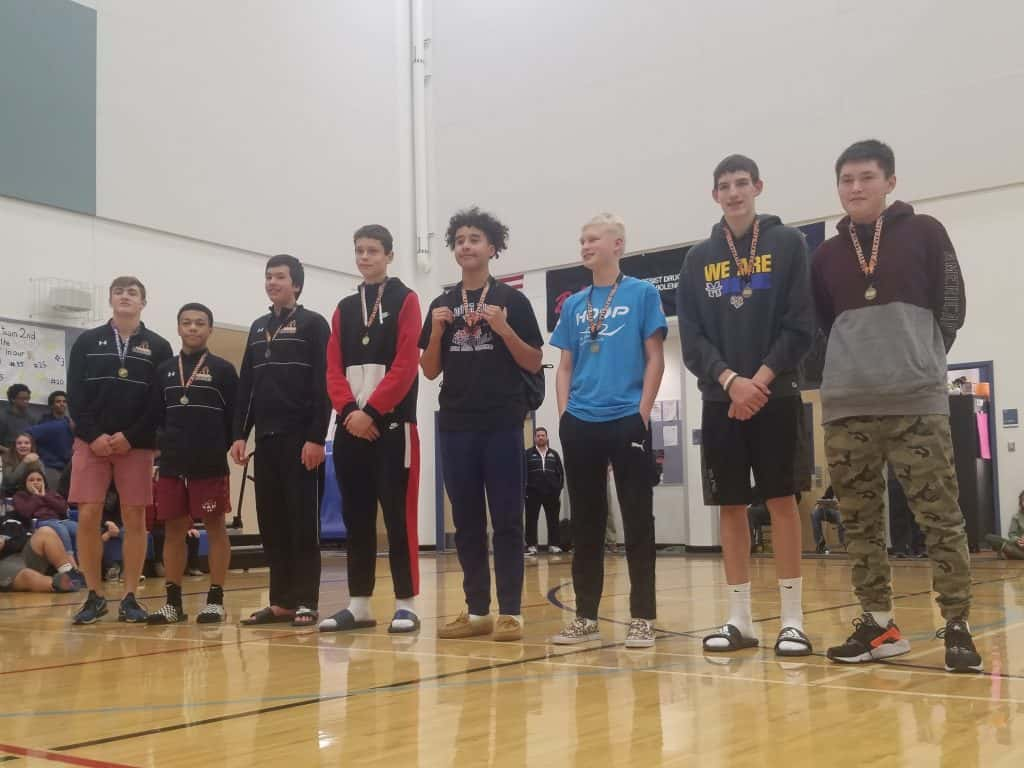 Bryce Tucker and Allen Watson were All-Tournament selections for the Valdez Tournament
Tournament Results
Boys A Division: Champions: Grace Christian and Runner-up: Monroe Catholic
Boys B Division: Champions: Grace Christian and Runner-up: Redington
Girls A Division: Champions: Valdez Huskies and Runner-up: Monroe Catholic
Girls B Division: Champions: Monroe Catholic and Runner-up: Valdez
Cheerleaders: Cordova Wolverines
All-Tournament Team
Valdez                                                                              Valdez:
#24 Bryce Tucker                                        #24 Carsyn Hinkle – MVP
#33 Allen Watson                                        #40 Chloe Auble
#2 Grayson Ade                                           #22 Masen Holmes
#34 Jacob Ambaucher                                    #4 Ariel Voth
                                                                       #20 Lily Brown
Sportmanship Team
Valdez:
#44 Spencer Holbrook
#4 Payton Gage
#23 Angelina Grande
#12 Jasmine Bravo
Cheer: Mercedes Taylor
Cheer All-Tournament:
Valdez
Alina Kokentiet
Bailie Wenner