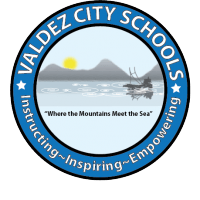 MEET AND GREET OPPORTUNITY
Valdez City Schools will be hosting community meet and greets for the superintendent candidates.
The times and dates are as follows:
Monday, February 19th– Shawn Arnold
5:15 p.m. – 6:15 p.m.
Tuesday, February 20th– Chris Reitan
5:15 p.m. – 6:15 p.m.
The meetings will be held in the VHS Library.
Light refreshments will be provided.
All members of the community are welcome to attend.
Contact Victoria Hedman with any questions at 907.834.4701 or vhedman@valdezcityschools.org.
Interview Schedule
February 19th– Shawn Arnold
February 20th– Chris Reitan
8:00 a.m. Greeting by Board President at the District Office
8:15 a.m. Tour of the Schools 
10:00 a.m.Administrators/Principals – Superintendent Conference Room, District Office
11:00 a.m. Meeting with Superintendent Nygaard
11:40 a.m.Student Leaders – VHS Buc Room
12:30 p.m. Lunch Break
2:15 p.m. Parents/Community Members – GMS Conference Room
3:15 p.m. Classified Staff- GMS Conference Room
4:15 p.m. Teachers – GMS Conference Room
5:15 p.m. Meet and Greet with the Public- VHS Library
6:15 p.m. Dinner with School Board – Best Western Restaurant
7:30-9 p.m. Formal Interview with School Board – Superintendent Conference Room, District Office