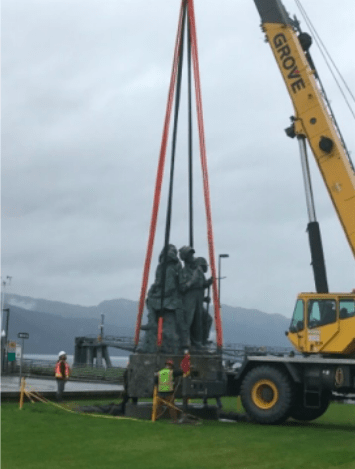 On September 28, 2017, personnel from North Star Terminal & Stevedore Company and Harris Sand & Gravel placed the TAPS Pipeline Workers Statue in its new home near Kelsey Dock.
The location was specifically selected as it provides a clear view of the Alyeska Valdez Marine Terminal on the opposite side of Port Valdez.
With the statue in place, Harris Sand & Gravel will work to install rods and straps to permanently secure it to its foundation.
The Pipeline Workers Statue was sculpted from bronze by Malcolm Alexander and represents the 70,000 workers who worked on the pipeline during the three years and two months spent on construction. The figures represent a surveyor, engineer, laborer, welder, and teamster. The laborer is an Alaskan Native and the teamster is a woman.
To commemorate the 40th anniversary of TAPS, Alyeska and the TAPS owners donated the statue to the community of Valdez.
On August 23, 2017, North Star Stevedores loaded the statue from its original home on the Alyeska Valdez Marine Terminal onto a flatbed truck. Harris Sand & Gravel trucked the statue to its property on Airport Road, where it was stored until Zastrow Enterprises could complete pouring the statue's new foundation.
A formal community dedication ceremony will be scheduled in the future once construction efforts are complete. The Mayor's Beautification Task Force will also be working to develop landscaping and interpretive signage to install next spring in the area surrounding the statue.
A special thank you to North Star Stevedores for voluntarily donating their services, crane, and personnel to assist in the effort to move the statue from the Valdez Marine Terminal to the Kelsey Dock uplands.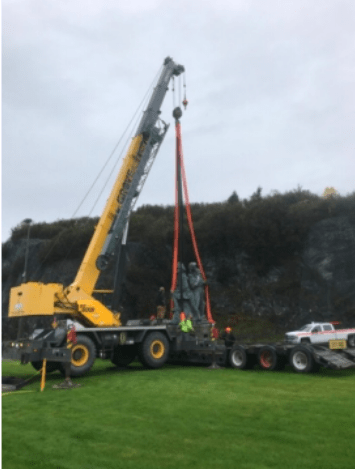 Posted September 28, 2017 Allie Ferko, Public Information Officer City of Valdez, Alaska