State Solo and Ensemble students did a great job this weekend representing Valdez and performing well in adjudications.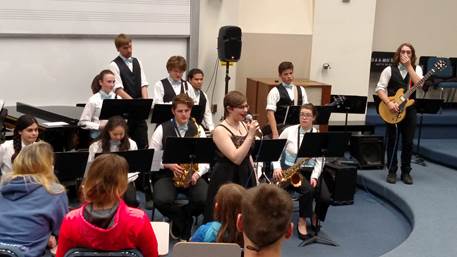 Our performances that earned a Superior rating from the judges were:
Vocal quartet:  Lexie, Haleigh, Jillian, and Caitlin.  "Windflowers"
Vocal duet:  Hali, Gabby, "Danny Boy"
Vocal jazz solo:  Isaac, "Lush Life"
Instrumental jazz solo:  Rylee, "I'm Gettin' Sentimental Over You"
Instrumental jazz ensemble:  Jazz Band "Amazing Grace"
Vocal jazz solo:  Devon and the Buc Band, "Satin Doll"
Percussion ensemble:  Handbells, "John Williams Medley"
In addition, the handbell group was runner-up for Command Performance and Rylee was the Command Performance for jazz solo.  She performed on stage at East High in the Command Performance Concert Saturday night.