Parents and Community Members,
It has been a busy final two weeks at GMS. All MS students have been taking the final MAP Assessment of the school. The results give us a overview how we have done academically this school year and what changes might need to happen next year.
Mrs. Norris' and Mr. Robison's science classes have been landscaping at the middle school. All of the plants, scrubs and tree's that were planted by the contractor have died and are being replaced with compatible trees, scrubs and plants that will thrive in the Valdez community. They will be taking a field trip on Thursday to Gilpatrick's Greenhouse.
GMS will be hosting a home track meet on Saturday from 8 am -12:00 pm and we are seeking a few volunteers that can help with timing and or field events. Please let us know if you are available to help. We can help train you!
On Tuesday May 24th, GMS is partnering up with the city of Valdez in our 12th Annual Community Service Appreciation Day. All students will out working in and around the community from 8:15 am – 11:30 am. If you would like to come out and work next to your student we would welcome your help. Please send your students to school on Tuesday in older work cloths and a pair of gloves if you have them. Everyone who helps with be invited to a Student Council BBQ at the Teen Center.  CLICK FOR PERMISSION SLIP
Among the many activities throughout the morning we are offering  FREE Car Wash at the MS between the hours of 9:00 am – 11:30 am in front of the MS.
If you would like to come out and enjoy the fun please let us know and we will include you in a group. Students and staff will gather at the Teen Center for a Student Council BBQ from 11:30 – 1:30 pm.​
We still have a limited supply of 2015-2016 Yearbooks available for $35.00.
Finally, if your son or daughter might be checking out of school before May 26th please notify the office so we can ensure proper check-out.
Respectfully,
Rod Morrison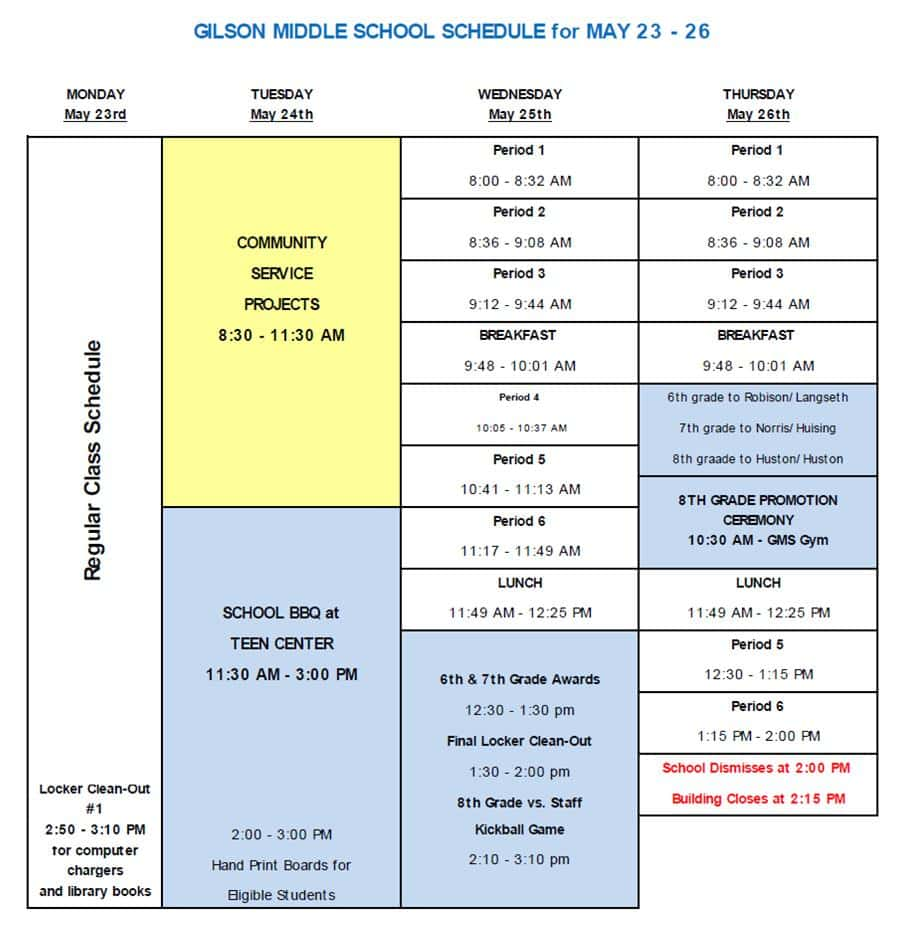 Period 7 Exporatory Classes:
Last day for T/Th Exploratories is Friday, May 20th
Last day for M/W Exploratoris is Monday, May 23rd
Computer Check-In Wednesday, May 25th:
Period 1 – Robison/Hedman (gr 6)
Period 2 – Lanseth (gr 6)
Period 3 – Huisingh (gr 6) & Norris (gr 7)
Period 4 – Huisingh & Norris (gr 7)
Period 5 & 6 – Huston & Huston (gr 8)