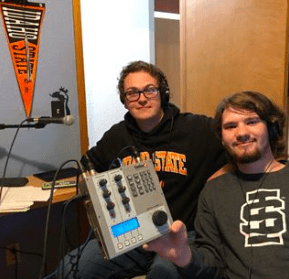 Now broadcasting LIVE from Idaho State!
With the use of an ethernet line, Tieline radio equipment, and a remote operating system, Justin and Ricky are continuing to bring their Random Radio Show to the Valdez airwaves LIVE from their new house. The remote operating system allows them to connect to the Valdez studios and control the local equipment from Idaho.
You never know what's going to happen on Justin and Ricky's Random Radio Show! They've had awesome countdowns to Bean Day, Talk Like a Pirate Day, Pretend to Be a Time Traveler Day, and now Leave a Zucchini on Your Neighbor's Porch Day! They've got awesome facts, great jokes, and things that make you go "hmm." It's an hour of fun you don't want to miss!
Justin and Ricky take song requests via Instagram so make sure to follow KVAK radio on Instagram so you can hear your song!
Tune into 93.3FM & 1230AM or stream live at kvakradio.com or on the KVAK app available on the Apple App or Google Play store.
Thursdays from 3pm to 4pm.
If you're interested in sponsoring this popular show, call the KVAK studios at 835-5825.