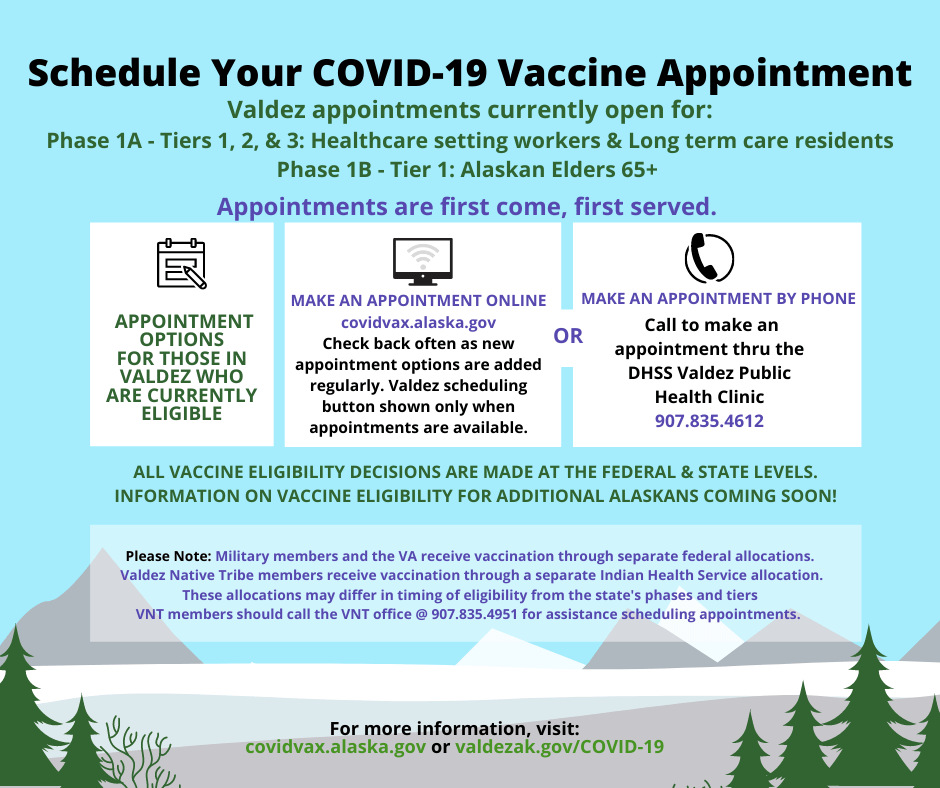 Valdez Unified Command recently announced scheduling for COVID-19 vaccine appointments is now available in Valdez for all those eligible under Phase 1A and Phase 1B-Tier 1.
Phase 1A includes healthcare workers and long term care residents. Phase 1B-Tier 1 includes elders 65 years and older. COVID-19 vaccinations are available by appointment only to verify eligibility, ensure equity of distribution, and provide time for the standard 15 to 30 minute post vaccination observation period.
Two Valdez options exist to make appointments for those in Phase 1A and Phase 1B-Tier
1. The preferred option is to make a vaccination appointment online at covidvax.alaska.gov. Please note, the Valdez online scheduling button will only be shown when local appointment slots are available. Check back often as new appointment options will be added regularly.
2. If you do not have internet access or need help with scheduling online, you can also make a vaccination appointment by calling the DHSS Valdez Public Health Clinic at 907.835.4612.
For the most up-to-date information regarding COVID-19 vaccine distribution, visit
covidvax.alaska.gov or valdezak.gov/COVID-19.