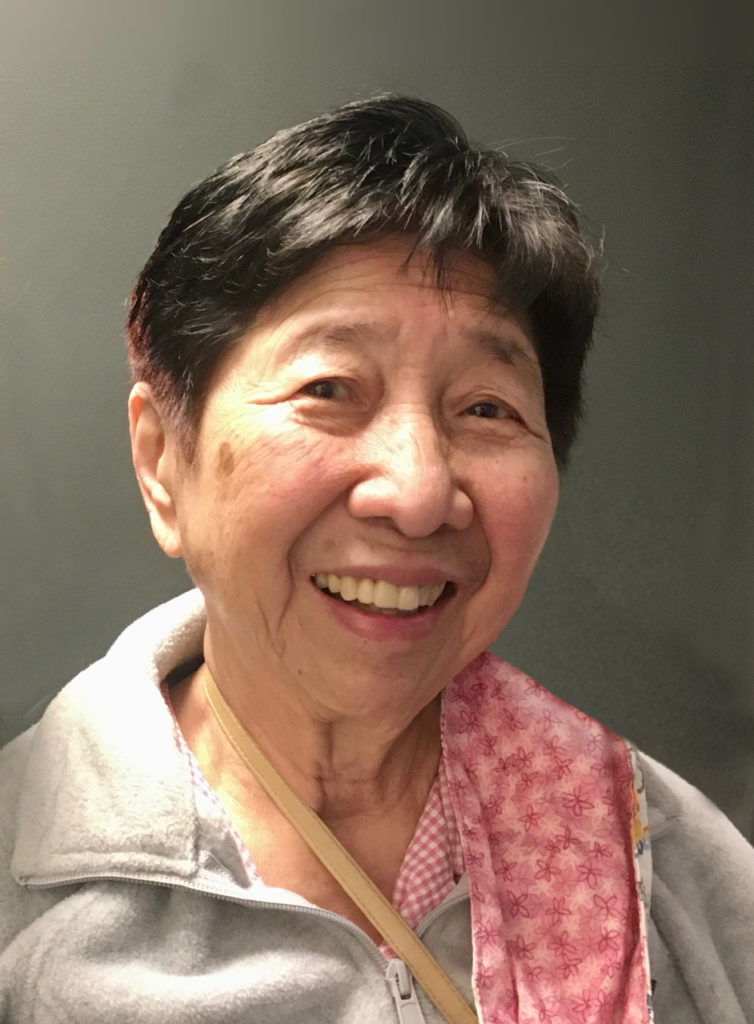 April 20, 1940-October 14, 2020
Anny Chia Wilson, longtime resident of Valdez, AK, died from complications related to COVID-19 on October 14, 2020 at Alaska Regional Hospital in Anchorage.  She was 80 years old.
Anny was born in Jepara, Central Java, Indonesia, just prior to the hardships of WWII, as the country was emerging from Dutch colonial rule.  She was the youngest of 9 children. Both of her parents died when she was a small child, and Anny's childhood included years in an orphanage run by Dutch nuns.  She grew up speaking Dutch and Indonesian, learned English, and graduated from nursing school in Jakarta. While employed as a nurse, she was hired to care for the children of a US diplomat in Jakarta.  By the end of the diplomat's term of service, Anny had become a beloved member of their family.  They invited Anny to the US, and she sailed with them aboard the S.S. Wilson in 1969, the ship's name being a wonderful coincidence.  Her first home in the US was in New York.  Anny's sense of adventure, intelligence, persistent determination, straightforward style, and tireless work ethic contributed to her success. Anny spent several years helping to manage the seven Fowler children (age 10 to 17) in Denver following the death of their mother. Two years after her arrival the children's father was diagnosed with colon cancer and Mary Fowler said, "during the next four years until his death, Anny was the glue that held the household together. She was devoted to our Dad and was heroic in tending to the comings and goings of a band of teenagers, none of whom believed they were in any need to tending". 
Anny and her husband, Jack Wilson, met as pen-pals while Anny was working in Colorado.  Anny moved to Valdez to be with Jack, and the couple married in 1981.  Anny stayed in Valdez after their marriage was cut short by Jack's untimely death in 1984.  Working multiple jobs, she built her own home, fostered children, volunteered countless hours with community organizations, and operated her own B&B for many years.  In 2017, Anny was nominated for the "Women of Distinction Award" as an exceptional Valdez community member.  She loved travel, and opportunities to visit family and friends around the world.  She was an amazing cook and caregiver.  She loved children and had definite opinions on how they should be raised, which were simply a reflection of her own values: be polite, honest, follow the "Golden Rule", work hard, play outside, laugh often.  She never shied away from "tough love" when required.  Above all, Anny held a deep Christian faith.  She knew without a doubt that her final journey would bring her home to Jesus.  She regularly worshiped at St. Francis Xavier Catholic Church, Bayside Church, and several other churches in Valdez.  Friends noted, "…the impact that little lady had on so many people proves that one person can positively impact the lives of so many.  We will miss her greatly." 
Anny is survived by two siblings in Indonesia, sister Grietje (Tjia Gien Hwa Nio) and brother Willem (Tjia Giok Tjoe), 6 nephews in Indonesia, 1 nephew in CA, 6 nieces in CA, 1 niece in CO, 1 niece in Singapore, 6 nieces in Indonesia, 39 grand-nephews and 16 grand-nieces.
A moderated "Sharing of Memories" will be held live on Zoom Sunday, November 8th at 2pm Alaska time. Come prepared with a story or just listen.
Remembering Anny, November 8 at 2 P.M. Alaska Time
Join Zoom Meeting
https://zoom.us/j/5220218578
Meeting ID: 522 021 8578
A celebration of life, funeral mass and burial is scheduled for Summer, 2021 in Valdez. Anny's ashes will be buried in the Valdez Cemetery at that time. In lieu of flowers, please consider a memorial donation to the Indonesian school/orphanage that Anny supported through International Friends of Compassion, PO Box 81823, Fairbanks, AK 99708.  Memorials also accepted through PayPal, https://www.ifcus.org/help/donate/ .  Please designate, "Memorial: Anny Wilson." Updates will be posted at: https://www.caringbridge.org/visit/annywilsonvaldez.