The Alaska SeaLife Center (ASLC) released five harbor seal pups from their Wildlife Response Program at Kenai North Beach on August 27.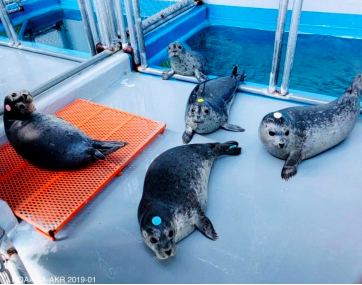 Six harbor seal pups were admitted to the Center during the first half of June and were all successfully rehabilitated by the end of August. One of the seals was found stranded in Juneau and was able to be released near its geographic origin on August 20. The other five, four females and one male, originated from Cook Inlet allowing them to be released together in Kenai yesterday.
All of the harbor seals admitted to the program arrived malnourished and dehydrated, but with no other significant injuries. ASLC's Wildlife Response staff worked around-the-clock to ensure these animals quickly recovered. To qualify for release, each seal had to be completely healed from any ailments, achieve a healthy body condition, and demonstrate the ability to hunt live fish.
The Alaska SeaLife Center frequently rehabilitates and releases harbor seals around the state, but it is rare to see this many animals returned to the wild all at the same time and to the same area. "This year's pupping season was unique for our Wildlife Response Program. Five seals came to us from different places in Cook Inlet over a short period. It worked out nicely that they met their milestones at the same time allowing us to release all five on the same day, a first in our twenty- plus year history of rehabilitating seal pups," states Wildlife Response Curator, Jane Belovarac.
ASLC's practice is to return animals that are eligible for release back to the area they were found whenever possible. "We choose a release site based on where animals would have the greatest chance of success and best chance of fitting in, which is typically close to where they stranded in the first place," explains Director of Animal Health, Dr. Carrie Goertz.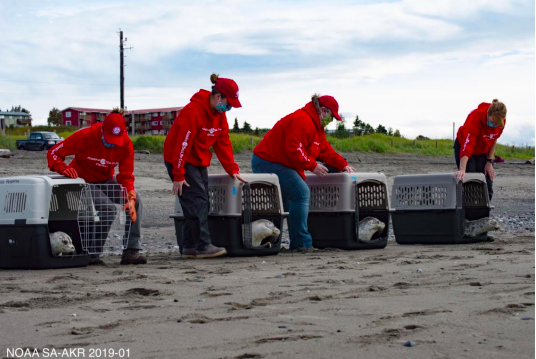 Photo Credit: Mickee McGuire
This is the first time in ASLC history that five seals have been released together.
The Center's Wildlife Response Program is sponsored in part by ConocoPhillips, Marathon Petroleum Corporation, BP, PetZoo, Partners4Wildlife, HDR Marine, Sea Otter Foundation, Grizzly Pet Products, and the Borman Family Foundation whose generous support helps ASLC care for marine mammals like harbor seals.
About ASLC:
Opened in 1998, the Alaska SeaLife Center operates as a 501(c)(3), non-profit research institution and public aquarium. It generates and shares scientific knowledge to promote understanding and stewardship of Alaska's marine ecosystems. The ASLC is an accredited member of the Association of Zoos and Aquariums. To learn more, visit www.alaskasealife.org.