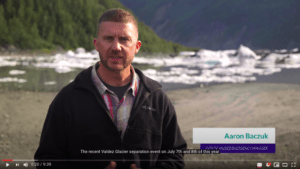 Follow Aaron Baczuk, city emergency manager, as he joins local paddling guides Kaden Addler (Anadyr Adventures) and Zachary Sheldon (Alaska Guide Company) to explain the current hazards in Valdez Glacier Lake.
Valdez Glacier experienced an extreme calving and separation event on July 7-8, 2020. A significant amount of unstable ice now exists in the lake. Rolling icebergs and underwater calving pose serious danger. These conditions are anticipated to remain in place through the fall.
Disclaimer: This video was created specifically for safety and educational purposes to highlight current hazards in Valdez Glacier Lake. The participants are experienced guides and seasoned paddlers who were supported by a safety team for the duration of filming.
Conditions on the lake are changing daily. For your safety, keep away from the face of the glacier and all floating ice. Observe and follow posted danger signs.
Find the first video in this safety report series here: youtu.be/SY5bJPQCu7M