Girls Basketball
TENACIOUS DEFENSE SECURES WIN
FOR GMS GIRLS A TEAM BASKETBALL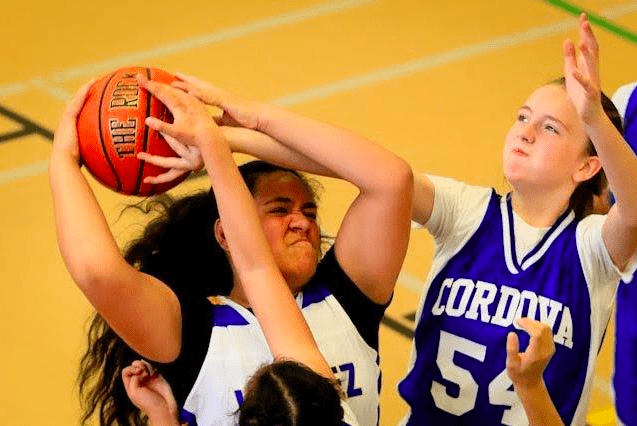 Moe Togague grabs a rebound, Photo courtesy of Joe Prax
Coach Laurie Prax – Moe Togague led the Girls GMS A team with 10 points on Friday in a 32 to 14 victory over Cordova. Kelsey Prax scored six points and Desi Woodgate, Jasmine Hobson and Rachel Berkeley scored 4 points a piece. On Saturday night, the Huskies stepped up their 1/2 court defense and won 38 to 9. Moe Togague had 14 rebounds, five steals and 7 points. Olivia Selloff had six steals. Kelsey Prax had four steals and 7 points. Rachel Berkeley had four rebounds on defense and scored a team high 8 points. Carlie VanBuskirk chipped in five points. Destiny Day and Lola Compehos had four points apiece. "We played great team defense this weekend," commented A Team Coach Laurie Prax. "Everyone who went on the floor this weekend contributed."
GMS GIRLS B TEAM PLAYS STRONG
Destiny Day led the way for the GMS B Team on Friday, scoring 11 points in the 1st quarter. Day ended with a team high 13 points. Ryle Wade and Justice Needles picked up 4 points apiece in the 23 to 12 win. On Saturday, the Huskies played great defense, holding the Wolverines to just 7 points. Ryle Wade, Lola Compehos and Destiny scored six points apiece in the 22 to 7 win. Kelli Malcuit picked up six steals Saturday and Sydney Cronk and Sofia Ramos played great help defense.
Boys Basketball
A-Team Recap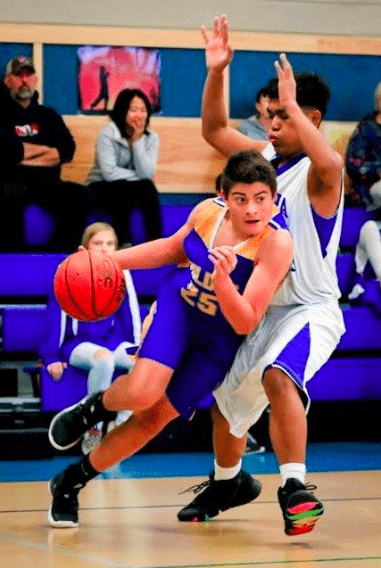 Coach Cronk – This past weekend we had a great trip to Cordova.  A big thanks goes out to Stan Stephens for transporting us this weekend, we had a great trip.  On the way there we had some time to observe some humpback whales and also some Orcas.
On Friday evening the A team lost a close game to Cordova 25-27.  The Huskys played tough defense but just couldn't score enough to take the lead late in the game.  We had a lot of good looks from close in the second half, but we just couldn't get the ball through the hoop.  Owen Watson lead the scoring with 7, followed by Tino Tucker, Nick Alfaro, Corey Petersen, and Grayson Ade.  Rylen Case also played some great defense against some larger opponents.
Saturday's game found much of the same.  The outcome was exactly the same with Cordova coming out ahead again, 25-27.  Valdez again struggled to convert shots from close against their zone defense.  We had some opportunities at the end of the game to tie it up, but the ball didn't bounce our way.  The guys played with great effort and learned a lot about how doing the little things correct can really matter in these close games.  Saturday Theron Deisenroth lead in scoring with 6, followed by Jarrett Gage and Nick Alfaro with 5 and 4.
The Huskys travel up to Delta for their tournament this weekend.
B-Team Recap
 Coach Auble – This weekend the Huskies boys B team were excited to travel on the Stan Stephen's Glacier Spirit to Cordova to play their first basketball games of the season; for some it was their first games of their middle school career. there was a lot of improvement from the first and second game with exercising discipline on offense and playing tougher defense, it was great to see especially since some have never played a competitive game before. i look forward to the next games and how we can improve more.