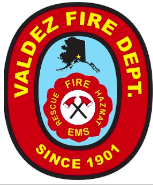 09/13/2019 9:00 p.m.
Valdez, AK – Valdez Fire and Police Departments responded to a motor vehicle collision on the Richardson Highway early Friday afternoon. At approximately 1:56 p.m. Friday, Valdez Dispatch received reports of a motor vehicle collision with injuries near milepost 17 of the Richardson Highway.
Responders arrived at approximately 2:05 p.m. and discovered the scene of a head-on collision involving a 2015 Ford F550 Copper Valley Electric Association work truck and a 2018 Ford Expedition.
Valdez Fire Department personnel extricated the driver and a single passenger from the Ford Expedition and began advanced life support measures. With assistance from Vertical Solutions Helicopters, VFD personnel transported the 13-year old female passenger by helicopter to Providence Valdez Medical Center where she later succumbed to her injuries. The driver, 69-year old Sandra Silveira, was transported by ambulance to Providence Valdez Medical Center where she was declared deceased.
The driver and sole occupant of the Ford F550, 20-year old Aidan Rude, was evaluated for injuries and released at the scene.
Next of kin have been notified.
Valdez Police Department officers closed Richardson Highway from approximately 2:05 p.m. until 4:46 p.m.
The cause of the collision remains under investigation. Witnesses are encouraged to call the Valdez Police Department non-emergency line at (907) 835-4560 and ask to speak to an officer regarding case # 19-4563.
City of Valdez Public Information Office
P.O. BOX 307 Valdez, AK 99686
(907) 834-3468
aferko@valdezak.gov