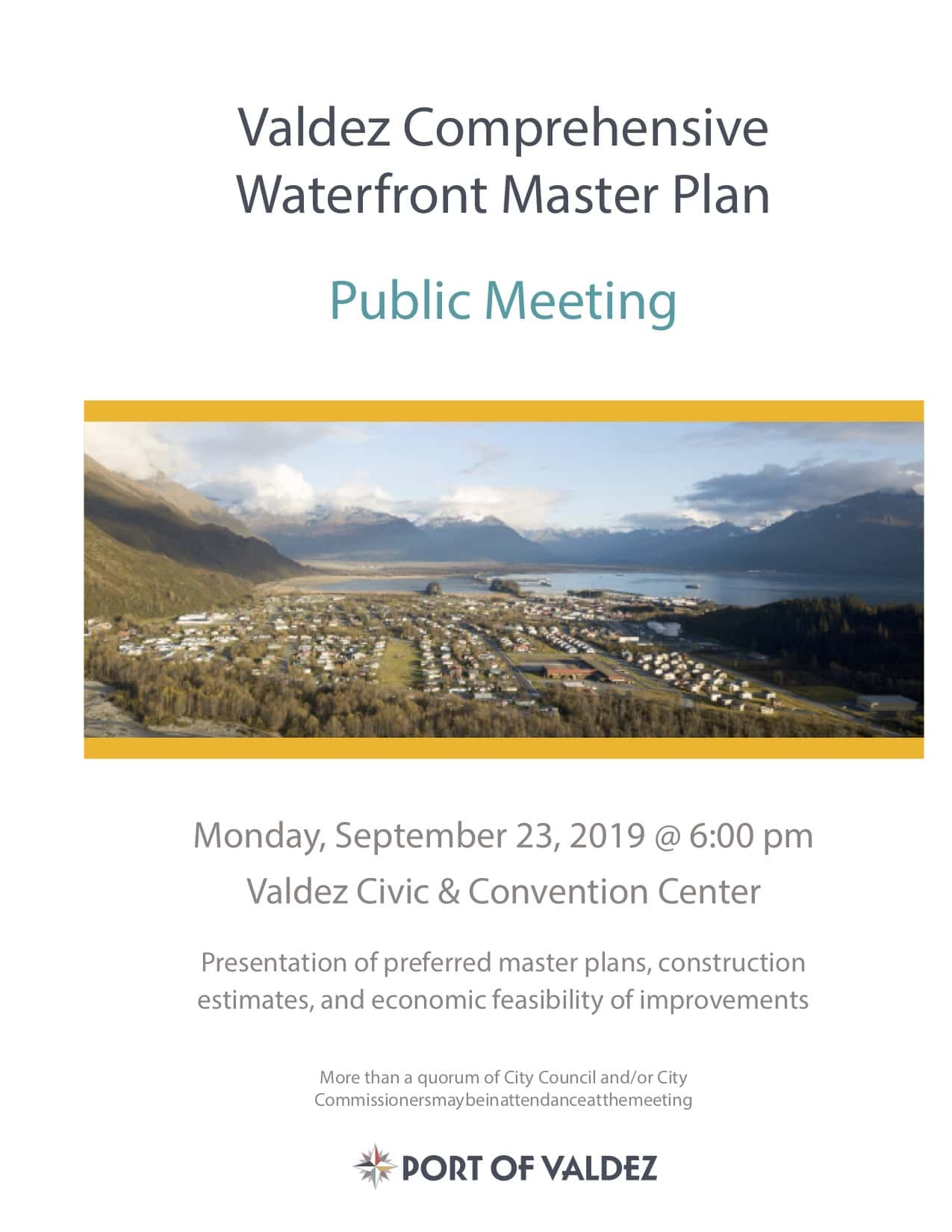 Don't miss the final public meeting for the Valdez Comprehensive Waterfront Master Plan that will be held on Monday, September 23rd at 6pm at the Valdez Civic and Convention Center. This meeting will present the preferred master plans, construction estimates, and economic feasibility of the improvements. Public input is welcomed and will help finalize the plans and their implementation.
The City of Valdez is developing a Comprehensive Waterfront Master Plan to examine what types of new
development might occur in the future in keeping with the community character, providing the needed
services and facilities, and promoting economic opportunities. Through the planning effort, the project will ensure the long-term viability of commercial fishing enterprise, commercial business, parking, infrastructure of the working waterfront, while increasing visitor traffic to the waterfront. Preserving public access to the waterfront and improving aesthetics are also components to the planning effort. Primary areas of the master
planning include:
• The existing Small Boat Harbor uplands;
• New Commercial Boat Harbor Uplands;
• Sea Otter Property at the end of South Harbor Drive;
• The Valdez Container Terminal; and
• The Old Valdez Town Site.
Visit the project website: https://valdezwaterfront.blogspot.com to review past work and public input.
For more information contact: Jeremy Talbott, COV Port Director 907.835.4565 or Doug Kenley, PND
Engineers, Inc. 907.561.1011.
The City of Valdez has contracted with PND Engineers, Corvus Design, ECI, and the McDowell Group to
develop the waterfront master plans. Please join us and be part of the process.