Courtesy of VHS Coaches
Volleyball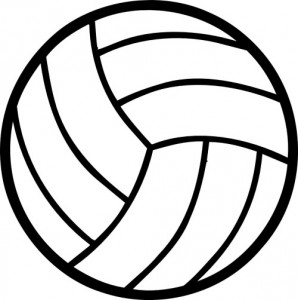 Reddington & ACS  VolleyBall 8-29/30
Head Coach: Adam Sharrai
Assistant Coach: Katie Burns
Buc Volleyball headed to Reddington for the first time Thursday morning for afternoon games.  The Bucs took Reddington in 3 straight games Thursday night playing pretty well all around and showing a relaxed rhythm as they communicated more effectively than in the previous weeks games.  The Bucs serving and passing game was on along with a few kills finding the floor to reinforce their capacity to bring a team effort to the match and keep each other fighting.  Nice job Bucs!
The Bucs had a different experience Friday with the ACS Lions as they struggled to communicate and find their rhythm after Savannah Cockerham lead it off with a 10 point serving lead at 12-2.  The ACS Lions came back in that game to go up 1-0.  More rough moments, tense playing, defense lapses, and broken communication lead to a 2nd game dropped  to put ACS up 2-0.  HOWEVER, the Bucs are tough, fight tough, regrouped, and supported each other to a 3rd game victory as they kept their composure and began breathing together again, playing their bases, and working as one.   After cleaning up weaknesses in coverage and producing better defense they also took the next game grinding a win through to leave the match at 2-2.    This  brought on a 15 point game tie-breaker which did not disappoint both the ACS and Valdez Crowd.  The set went back and forth, point for point, as the Bucs struggled to find the Floor and put their plays to end but they kept the pressure on and showed that they will never give up.  After 4 lead changes from 13-13, and several tough rallies, the Bucs found themselves up by one  16-15 setting themselves up for the win by forcing a back-row attack the Lions were not able to capitalize on. 
The Bucs showed what they are made of in sticking with it but unanimously agreed they are ready to strive for the game they know they all can and want play by honing their skills, raising their court awareness, and anticipating their opponents play presenting a failsafe defense!   Great Job Bucs sticking together and forcing your competiveness to push you through to another victory.  Keep working hard and make your season GREAT!  Play your best next week against West-Valley Thursday night and also throughout their tournament Friday and Saturday.  Find your game, play your game—Work Hard–GO BUCS!!!
JV Volleyball
Redington and ACS August 29-30, 2019
This past weekend the Buccaneers JV Volleyball Team traveled first to Wasilla to face the Redington Huskies on Thursday, and then followed up on a Friday evening match to face the ACS Lions. While the Bucs pulled out a victory in a 2-0 win against Redington, they lost their match 0-2 against ACS. In these two matches we faced some team communication challenges, movement on the court as the game transitioned from offense to defense, and connection with the ball. We are looking forward to tackling some of these challenges in practice this week and making adjustments before facing Eielson and Lathrop this coming weekend.
Cross-Country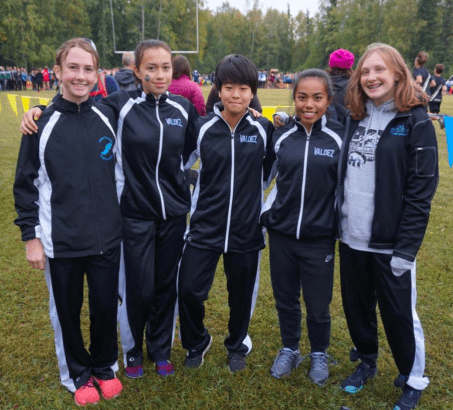 Bartlett State Preview 2019 The Buccaneers Cross-Country team braved the smoke to Anchorage. The worst smoke was in Eureka, but it diminished the closer to Anchorage we got. Mother Nature granted our wishes with overnight rains and a light drizzle to dampen the dust before the races began. The air was refreshing and the mountains were finally visible. We finally had most of the team and they were excited to run in their first official race of the season. This is the most important race aside from Regionals and State. The Bartlett State Preview gives the runners an idea of the course and their competition. A new course record was set at an astounding 15:07 by Dimond runner Santiago Prosser.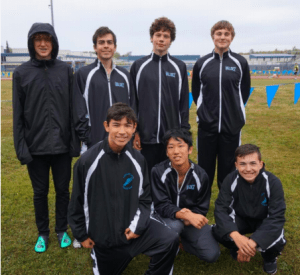 The course is 5 kilometers of rolling hills with a couple of straight stretches in between the two laps. Add a sprinkling of moose for extra excitement with over a hundred runners in each race and almost 300 runners in the Boys Junior Varsity Race.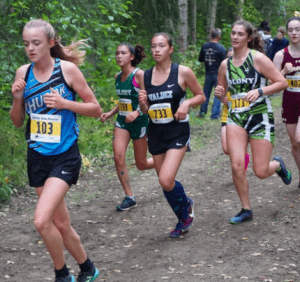 Staying near the middle of the pack, Freshman Cole Wadsworth finished 174th with an impressive 21:59 time. Freshman Jason Smilie was exactly a minute behind Wadsworth and finished 213th at 22:59. Starting the season out strong, Junior Wyatt Mehlberg finished 274th at 27:31, setting a new personal record and beating his goal for the meet.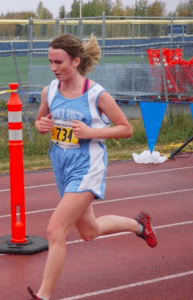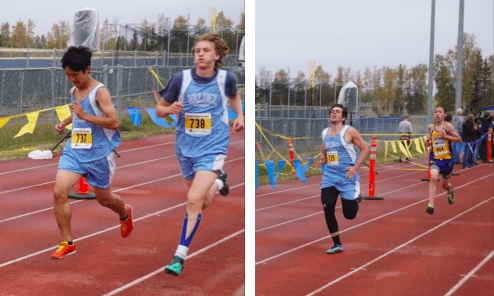 The Junior Varsity girls ran against almost 200 other runners. Freshman Angelina Grande held strong in the middle of the pack and finished 93rd at 25:43. Grande's goal was to finish in the first half, great job Angie! Senior Chloe Miller joined us for her first race of the season and finished 114th at 26:43.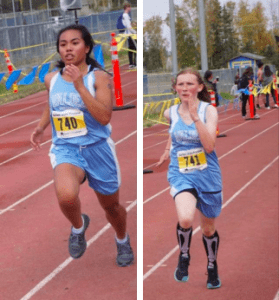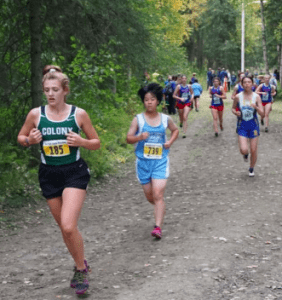 For the Varsity Girls, Senior Sophia Palomar came in first at 75th out of 103 at 24:58, almost making her goal of 24:30. Over a minute behind Palomar, Senior Katelyn Wadsworth showed of her sprinting skills at the finish placing 84th and finishing at 26:04. From Japan, Sophomore Momoka Ishikawa was hot on Wadsworth's heels and finished 85th at 26:21.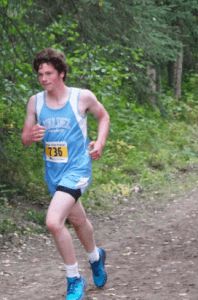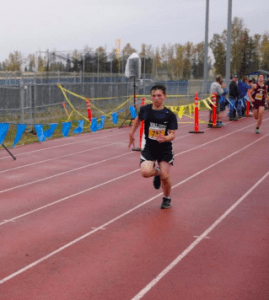 Finally, the Varsity Boys showed their team spirit by challenging each other across the finish line. In a final sprint to the finished, Senior Kalin Woods squeezed past Sophomore Jin Shiozaki from Japan and they finished 78th and 79th with Woods finished at 19:49 and Shiozaki at 19:50. Senior Rafael Alfaro was hot on their tracks and pushed through low backpain to finish 80th at 19:56. Sophomore William Benes has been extremely motivated this season and his progress shows by finishing 86th at 20:26, shaving about 4:00 from his time last year.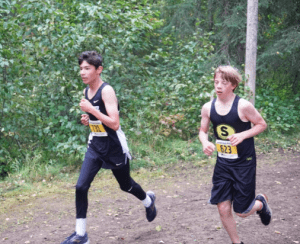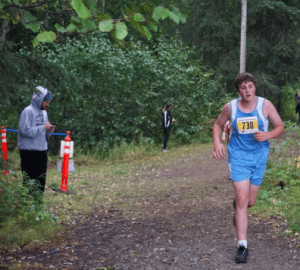 The team is motivated to work harder and to shave minutes off of their time. Next stop is Palmer for another hilly, challenging course. Coach Koontz is blown away by the dedication of these amazing athletes and sees great potential for state.
JV Boys out of 288
174 C. Wadsworth 21:59
213 J. Smilie 22:59
274 W. Mehlberg 27:31
JV Girls out of 188
93 A. Grande 25:43
114 C. Miller 26:36
Varsity Girls out of 103
75 S. Palomar 24:58
84 K. Wadsworth 26:04
85 M. Ishikawa 26:21
Varsity Boys out of 121
78 K. Woods 19:49
79 J. Shiozaki 19:50
80 R. Alfaro 19:56
86 W. Benes 20:26
Football

Valdez Buccaneers vs. Monroe Rams  (Non-Conference Game)
We traveled to Monroe on Friday for a non-conference exhibition game as our regularly scheduled game was cancelled with Nikiski.
The first quarter was hard fought. We were able to compete well on both sides of the ball, and scored an early touchdown with Jona Turner carrying it over a block by Logan Anderson and Moe Morgan.  However, a few miscues on defense allowed big plays to score, and the game quickly got out of hand. Our offense was unable to stay on the field for sustained drives with multiple fumbles, contributing to Monroe scoring on defense 3 times and 1 time on an untouched kickoff return. Despite the lopsided score of 62-7, we believe we can match up well with Monroe when we play them again in 4 weeks. However, we will have to be much more disciplined in our effort to be successful.
This week we take on the Eielson Ravens at our home field on Saturday.  Eielson is unbeaten so far this year, and ranked #1 in the state Division III rankings. We certainly will have to bring our A game this week to compete with a tough Eielson squad.
Swimming

I am very excited to report that our Buccaneer Swim Team had the strongest start to the season then we have ever had in the last 8 swim seasons. The boy's team placed second overall beating North Pole, Lathrop, & Ben Eielson High Schools. The entire team placed 3rd overall beating Lathrop & Ben Eielson High Schools.
Our swimmers swam with a great deal of intensity and were able to grab a number of top 3 finishes. These swims were:
Girls & Boys 200 Yard Medley Relay took 1st Place.
Boys 200 Yard Freestyle Relay took 2nd Place
Girls & Boys 400 Yard Freestyle Relay took 3rd Place
Grace Keller's 100 Yard Backstroke took 3rd Place.
Billi Lovell's 200 Yard Individual Medley took 1st Place & her 100 Yard Butterfly took 3rd Place.
Jeffrey Prevost's 200 Yard Individual Medley took 3rd Place.
Chase Randall's 100 Yard Butterfly took 1st Place & his 100 Yard Breaststroke took 2nd Place.
Piers Shirk's 50 Yard Freestyle took 2nd Place & his 100 Yard Backstroke took 1st Place.
Isaiah Silveira was the only swimmer to win both of his races placing 1st in both the 200 & 100 Yard Freestyle. I would like to recognize Isaiah as the Bucs Swimming athlete of the week for his incredible swims.
Please be sure to wish you Buccaneer Swimmers good luck as they travel this weekend to Unalaska!