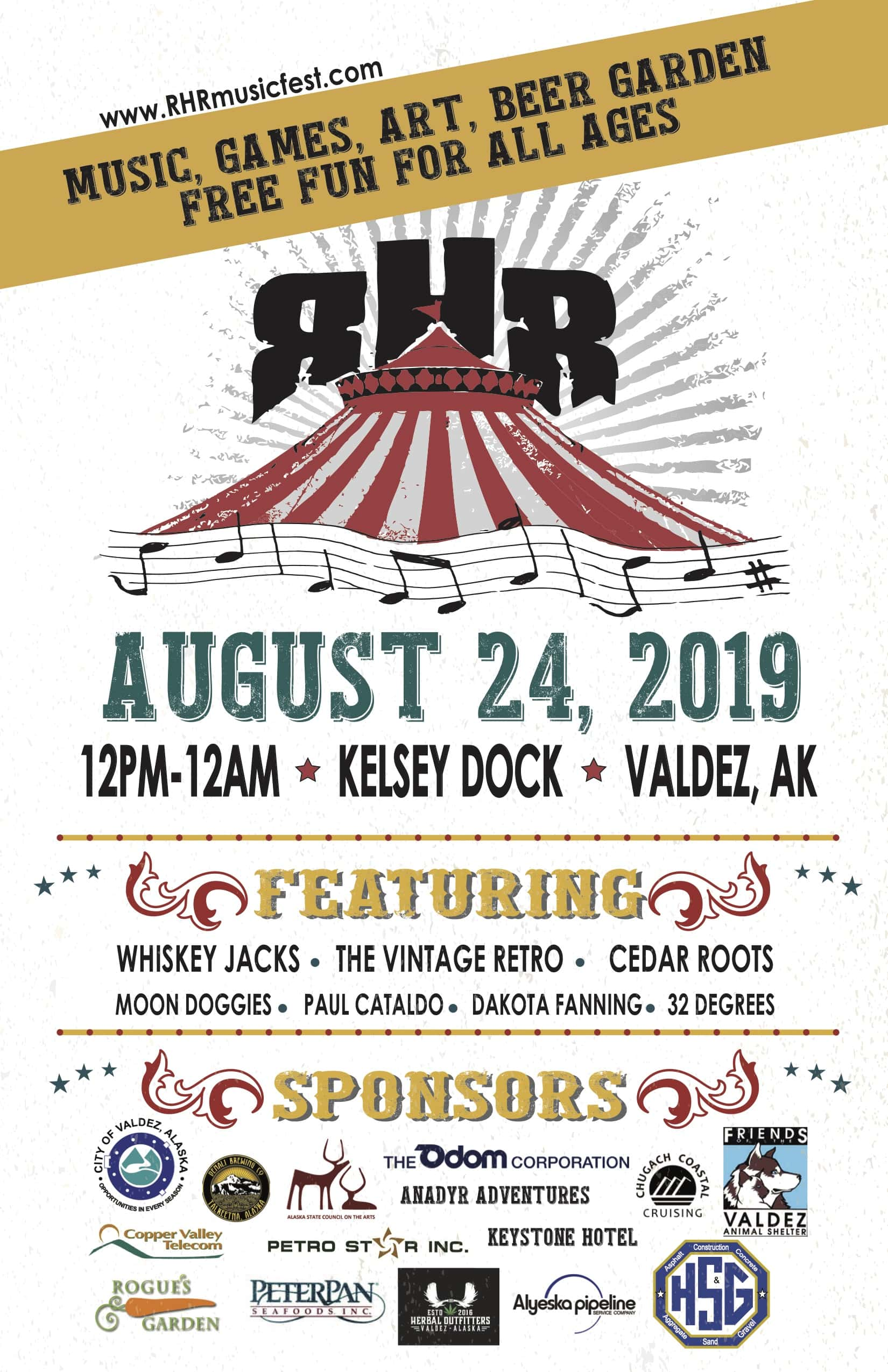 CLICK HERE for Vendor Information
and HERE for Printable Schedule
The Richardson Highway Rendezvous (aka "RHR") Music & Art Fest is celebrating its 10th anniversary on Saturday, August 24th.
Join us at the John Kelsey Dock Uplands from noon to midnight for Valdez's first & only FREE music & art festival! This festival is a fundraiser for the Friends of the Valdez Animal Shelter & local music programs & scholarships. Family-friendly activities & music, including kid's carnival games sponsored by the Friends of Animal Shelter, starts at noon.
This year's art fest features steamroller printing with artwork by Valdez High School students from 12-4PM. Our open-air market, 12PM-10PM, has vendors with food, crafts, and more. And don't miss out on the beer & wine garden starting at 3PM!
Bring any past year's RHR beer mug with you and get 1 beer for a buck!! Music by local & regional musicians starts at 2PM and we'll party until midnight, under the stars.
Admission to the festival is FREE for all ages!!
MUSIC
Music by local talent such as Caitlin Auble, Shane Kimberlin, 32 Degrees, the Moondoggies, and Dakota Fanning will run throughout the afternoon.
Starting at 6PM, Paul & Ieva Cataldo hit the stage with their unique blend of Appalachian-influenced Americana, followed at 7PM by the Whiskey Jacks' rousing Americana/ Irish acoustic string stylings, and at 8:30PM, the Vintage Retro, Alaska's premier 60/70's soul, funk, classic rock group will get the party hopping! Headliner, the Anchorage-based Cedar Roots, goes on stage at 10PM and will have you dancing to their soulful and heart-filled mix of reggae, rock, Americana, and cosmic funk until midnight (or later!!)
For more information on the RHR Music & Art Fest, visit www.rhrmusicfest.com.