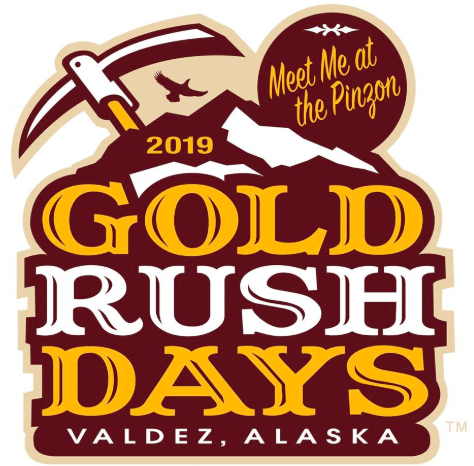 Wednesday, July 31st – Sunday, August 4th
CLICK HERE for printable schedule
Valdez Gold Rush Days kicks off Wednesday, July 31st at NOON at the Golden Opportunities Luncheon at PWSC. We will be crowning 2019 Queen & King, Laura & Jeff Saxe, at the ceremony, along with awarding the deserving local gardeners who've won a Golden Rock award.

This year's Gold Rush Days theme is "Meet Me at the Pinzon", a nod to the popular watering hole for locals & visitors to Valdez thru the decades, as well as celebrating the social aspects of early Valdez.
Read about the history of the Pinzon Bar in the Gold Rush Days booklet- available around town & in the Gold Rush Days Store.
For the latest updates on your favorite Valdez Gold Rush Days events- visit valdezgoldrushdays.org for the full event calendar.
KVAK GOLD RUSH GABBY SHOW


This Wednesday & Friday at 10am



Tune in to 93.3 FM and 1230 AM this Wednesday and Friday at 10am for KVAK's Gold Rush Gabby talk show. Gabby will fill you in on the Gold Rush Days events and activities.
Event organizers will be in the studio to give you the scoop on everything
you need to know to get the most out of Gold Rush Days.
KVAK BROADCASTING GOLD RUSH DAYS PARADE LIVE



KVAK is excited to announce that we'll be broadcasting this year's Gold Rush Days Parade LIVE! Tune in to 93.3 FM and 1230 AM at 3pm THIS Sunday to listen!
EVENT FLYERS
Click each link for flyer