NYO Valdez Mini-Meet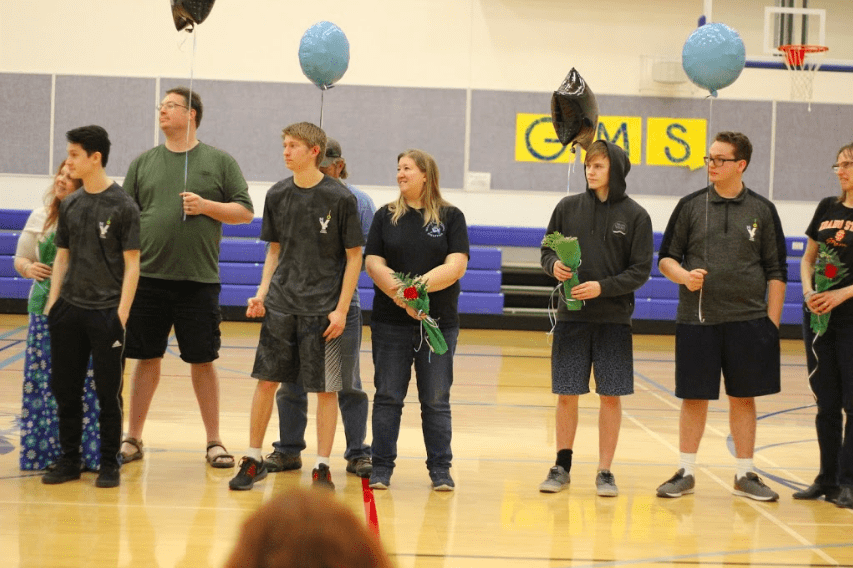 Seniors
On April 12-13, a regional NYO Mini-Meet was held at Gilson Middle School. Tatitlek Community School NYO team joined us for this event. This home meet is a qualifier for the State Native Youth Olympic Tournament, that will take place at the Alaska Airlines Center in Anchorage, April 25-27th.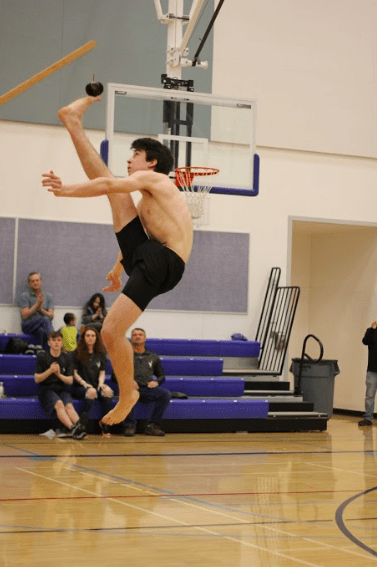 One Foot
Gilson Middle School athlete Zoe Brown, set a new school record in the Kneel Jump at 33 3⁄4" and Valdez High School athlete Storm Rohrer set a new school record in the One-Foot High Kick Record at 101".
We would also like to thank the many parents, and community members who volunteered and provided support and assistance during the events.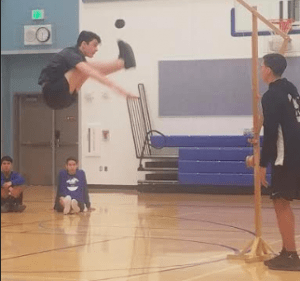 Dakota Brown gets a height of 84″ in the two foot high kick .
We also recognized the five VHS seniors and two Tatitlek seniors at the conclusion of the meet.
Valdez: Ricky Colapietro; Isaac Clubb; Evan Alexander; Dakota Brown and Caitlin Mond.
Tatitlek: Issiah Kompkoff and Ben Kompkoff.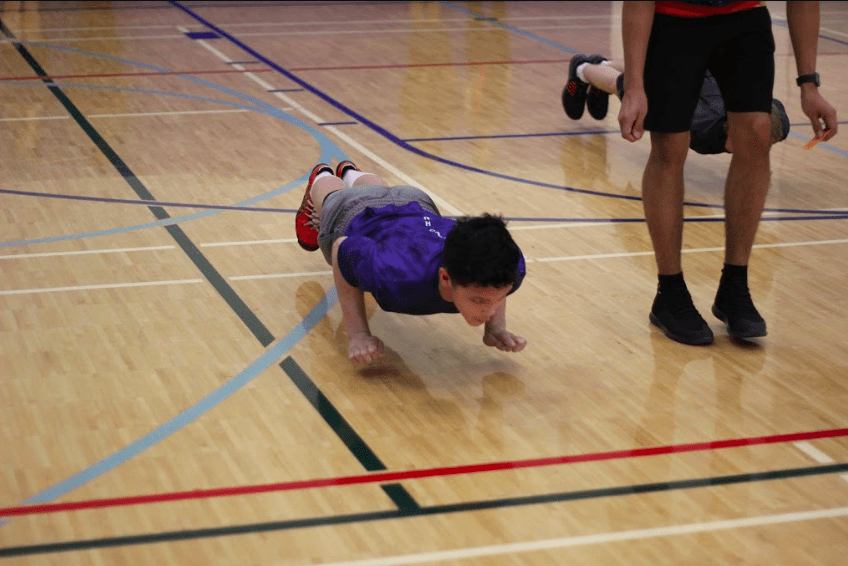 Seal Hop
Results from the Valdez Native Youth Olympic meet held Saturday, April 12th – 13th:
Girls Results:
Kneel Jump: 1st – 33 3/4" Zoe Brown; 2nd – 15 3⁄4" Olivia Selanoff; 3rd – 10" Jasmine Bravo
Alaska High Kick: 1st – 60" Faith Grey; 2nd – 54" Zoe Brown; 3rd – 48" Olivia Selanoff
Wrist Carry: 1st – Karen Santiago
One Hand Reach: 1st – 42" Olivia Selanoff
Two-Foot High Kick: 1st – 48" Zoe Brown; 2nd – 42" JoJo Fergison
Indian Stick Pull: 1st – Acacia Montgomery; 2nd – Karen Santiago; 3rd – Ambrosia Woodgate
Eskimo Stick Pull: 1st – Ellie Shantz; 2nd – Acacia Montgomery; 3rd – JoJo Fergison
One Foot High Kick: 1st – 68" – Zoe Brown; 2nd – 58" Jasmine Bravo
Seal Hop: 1st – 64' 5 1⁄2" Olivia Selanoff; 2nd – 46' 10 1⁄2" Jasmine Bravo; 3rd – 45' 3" Ginger Keller
Scissor Board Jump: 1st – 23' 8 1⁄2" Acacia Montgomery; 2nd – 22' 8" Zoe Brown; 3rd – 20' 11 1⁄2" Lydia Robart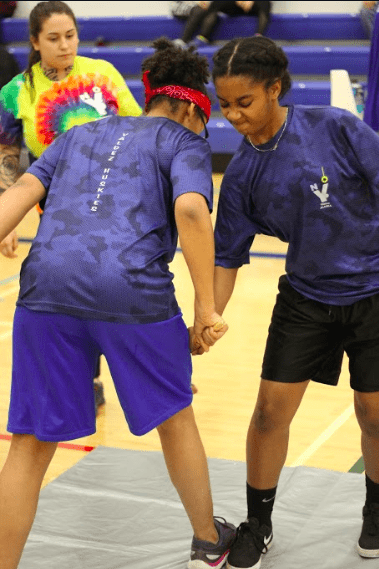 Indian Stick
Boys Results:
Kneel Jump: 1st – 44" Isaiah Kompkoff (Tatitlek); 2nd – 38" Dakota Brown; 3rd – 37 1⁄2" Storm Rohrer
Alaska High Kick: 1st – 82" Isaac Clubb; 2nd 74" Ben Kompkoff (Tatitlek); 3rd – 70" Dakota Brown
Two-Foot High Kick: 1st – 84" Dakota Brown; 2nd – 70" Isaiah Kompkoff (Tatitlek); 3rd – 66" Storm Rohrer
Wrist Carry: 1st – 301' 8 1⁄4" Isaac Clubb; 2nd – 150' Anthony Kelley; 3rd – 78' 10" Ben Kompkoff (Tatitlek)
One Hand Reach: 1st – 46" Storm Rohrer
Indian Stick Pull: 1st – Michael Cosgrave; 2nd – Anthony Kelley; 3rd – Isaiah Kompkoff (Tatitlek)
Eskimo Stick Pull: 1st – Ricky Colapietro; 2nd – Daniel Hundorf; 3rd – Micheal Cosgrave
One Foot High Kick: 1st – 102" Ben Kompkoff; 2nd – 101" Storm Rohrer; 3rd – 76" Anthony Kelley
Seal Hop: 1st – 55' 7" Micheal Cosgrave; 2nd 48' 7 1⁄2" Isaac Clubb; 3rd – Ben Kompkoff
Scissor Board Jump: 1st – 31' 23/4" Storm Roher; 2nd – 29' 11 1/4" Evan Alexander; 3rd – 29' 4 1⁄4" Jason Smilie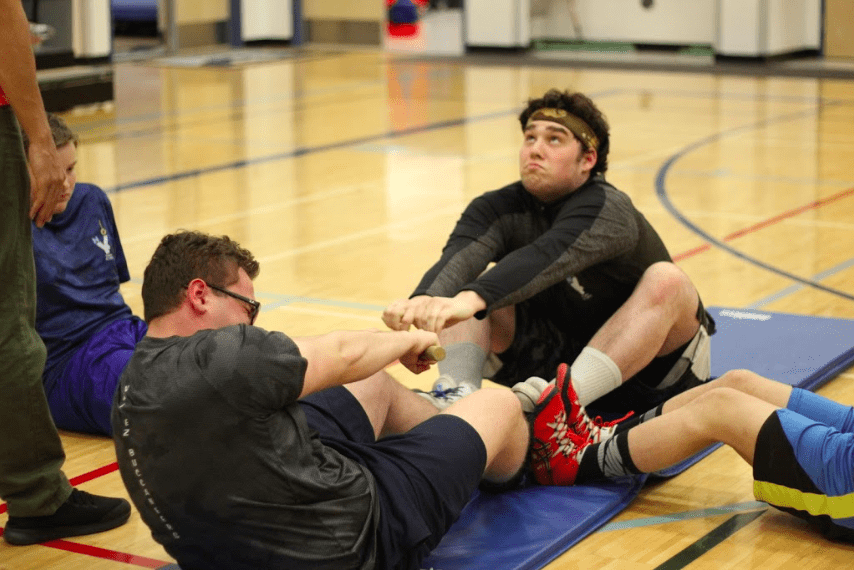 Eskimo Stick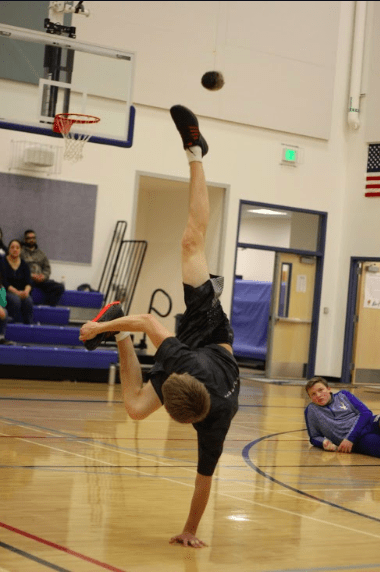 Alaskan High Kick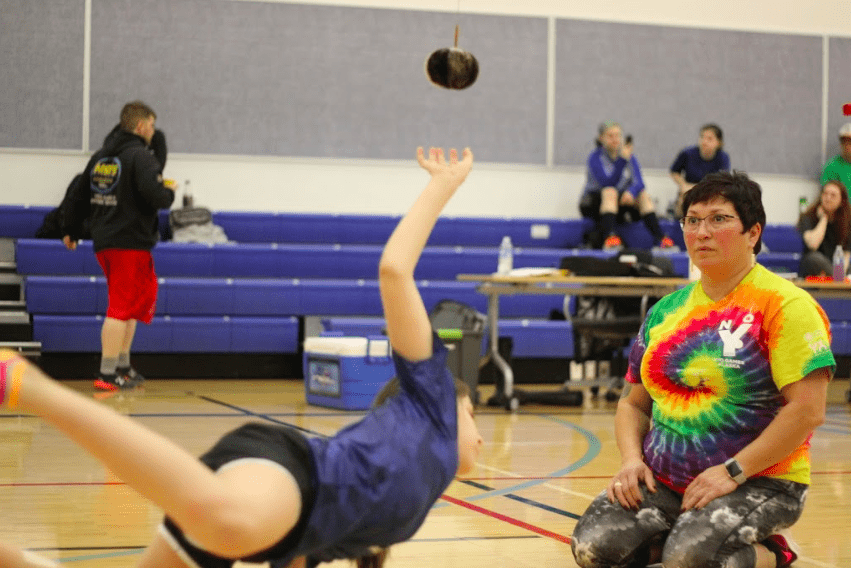 One Hand