The City Council will be meeting over the next several weeks to review the 2019 budget. The 2019 budget shows Citywide Appropriations of 52.7 million dollars (see chart below). The Education Budget has remained relatively flat the last five years at approximately 10.5 million. The 2019 budget has a 29% increase in Community Service Organization (CSO) spending from 2015 to 2019. Events funding has nearly tripled from $136,050 in 2018 to a requested $378,123 for 2019. The City has a surplus of $9,433,166 above operations and that is available for reserves or capital projects. Despite the surplus, the 2019 proposed budget includes a withdrawal of just over 3 million dollars from the City of Valdez Permanent Fund earnings.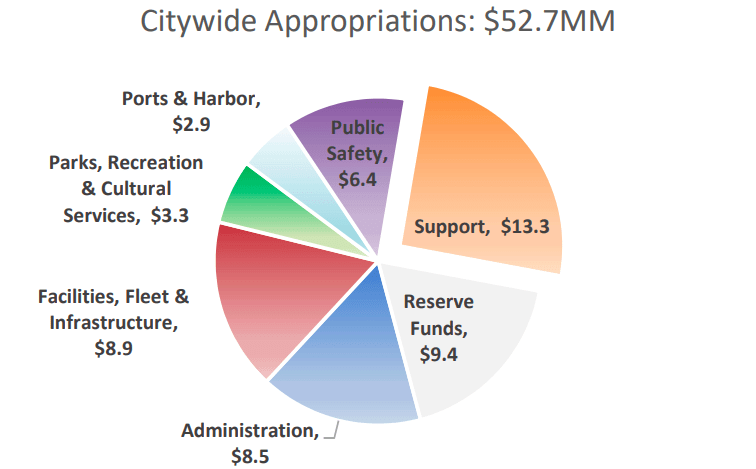 Payroll from 2014 to 2019 has grown by 29%. Here is how the increases shake out:
A review of personnel history from 2014 to the proposed 2019 budget, shows a 44% increase in Administration Payroll, a 47% increase in Parks & Recreation payroll, a 20% increase in Public Safety payroll, an 18% increase in Facilities, Fleet & Infrastructures payroll, a 37% increase in Ports & Harbor Payroll.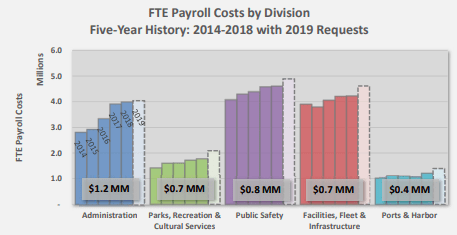 More Budget Overviews & Information – CLICK HERE