Track and Field-Palmer Invite
Becky Walker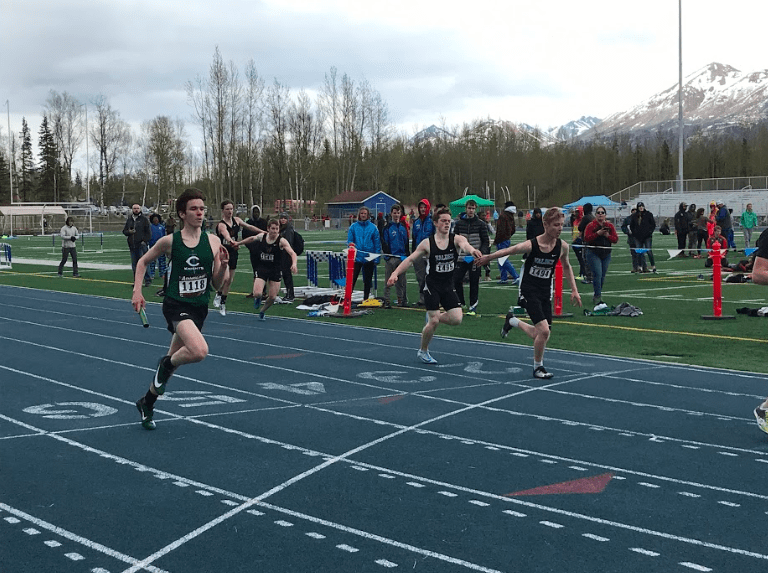 This past weekend the Track and Field team competed at the Palmer Invite.  It was a cold, rainy, windy meet, but the Buccaneers did a fantastic job.
In the High Jump Kassi Howard took third place with a jump of 4'10" and Destiny Gray finished 5th with a jump of 4'6".  For the boys, Dustin Woods also took third place with a 5'8" jump and Kyler LaBonte jumped 5'6" for 5th.
Owen Chadwick and Jade Watts both had fantastic 400m races.  Owen ran a personal best in the finals at 52.79 seconds.  Jade ran her best of the season during finals for a 1:03.77.  Owen took 4th place overall and Jade took 5th.
Hayden Howard set a new personal record in the 200m at 25:34 seconds.
Kalin Woods ran the 1600m with a new personal record or 5:01.66.
In the 100m Hurdles Destiny Gray had a season record at 20.44 and Marianne Prax and Savannah Cockerham both set personal records at 20.98 and 23.45 respectively.
In the boys 110m Hurdles Dustin Woods ran a 20.33, Jeffrey Prevost ran a 20.74 and Logan Anderson ran a 22.43.
In the 300m Hurdles Destiny Gray set a personal record at 55.73, Savannah Cockerham also had a personal record at 1:02.25 and Marianne Prax ran a 1:04.94.  For the boys, both Jeffrey Prevost and Logan Anderson set personal records at 52.72 and 54.48 respectively.
In Long Jump Sophia Palomar and Savannah Cockerham both set personal records at 12'8" and 12'02" respectively. Wyatt Mehlbburg also had his best jump of the season.
In relays, the girls ran the 4X100 in 56.49 and the 4X200 in 1:59.12.
The boys 4X100 time was 48:58, and they ran the 4X200 1:45.10 despite interference from another team causing Kyle Sodergren to have to run most of his leg with only one shoe!
The boy also had an impressive 4X400 time at 3:54.97 and 4X800 runners finished with a 10:19.23.
The Palmer Invite also includes a "Throwers 4X100 Relay".  Throwers Luke Baczuk, Gaspar Deleon, Logan Anderson and Stan Morales represented Valdez with great enthusiasm and style with a 1:01.14 finish.
In Shot Put Stan Morales threw 28', Gaspar Deleon threw 27"07", Brenner Wilson threw 22'09" and Wyat Mehlberg threw 22'07.5".  Hunter Hoppe threw 26'10.25"
And in Discus Luke Baczuk threw 70'07", Stan Morales threw 76"06", Brenner Wilson threw 72'07" and  Gaspar DeLeon threw 65'02".  For the girls, Hunter Hoppe threw 45'05".
This next weekend the Bucs will be competing at the Region III meet in Houston.