Total Raised $2,000!
Thank You Valdez for supporting KVAK Frosty Fever Cake Auction.  Since 2008, KVAK has helped raise $25,934.50!
NOON

, 

Wednesday, February 28th
Tune in and bid on fabulous homemade delicacies to support 3 Valdez Firefighters in the Scott Firefighter Stairclimb. Proceeds will go to support the Leukemia & Lymphoma Society.
Listen to 93.3FM or 1230AM KVAK, or listen live at KVAKRadio.com.
Bidding will be by phone: 907-835-5825
Round One
1. Classic Creme Brulee
Baker: Karen Feero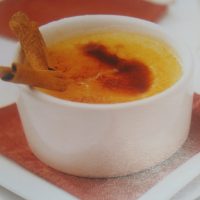 SOLD FOR $200
20 individual servings of a rich, smooth-textured dessert known as Burnt Cream in England. The caramelized sugar crust is crisp and light atop a creamy and decadent custard. Yum!
Ingredients: cream, egg, sugar, vanilla
2. Paleo Chocolate Pecan Pie
Baker: Morgan Wadsworth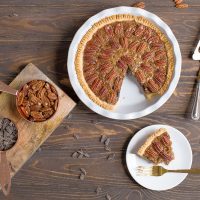 SOLD FOR $50
"Wholesomelicious" describes this mouth watering good for you dessert. Made with almond and coconut flours, tapioca and maple syrup. Layers of pecans and chocolate in a gluten free crust dominate this sticky, gooey, mouth-watering pie.
Ingredients: almond, coconut, tapioca, vanilla, salt, egg, chocolate, maple syrup, pecans
3. Country Style Carrot Cake
Baker: Daisy Hedburg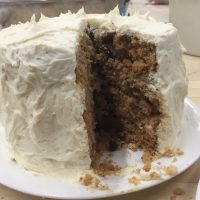 SOLD FOR $60
Country carrot cake, just like mom used to make. This moist cake is bursting with coconut, pecans, raising, and of course carrots, and is smothered in a rich cream cheese frosting. Every bite is like tasting heaven.
Ingredients: flour, sugar, cream, butter, pecans, vanilla, oil, spices, egg, coconut, raisins, cheese
4. Chocolate Fudge Cake Trifle
Baker: Debra Roberts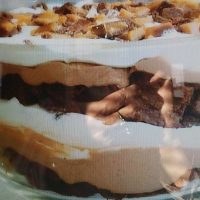 SOLD FOR $50
Light and creamy, this dessert alternates layers of rich chocolate fudge cake with creamy vanilla and cheesecake custard, and a whipped cream frosting. Smooth and rich, this dish melts in your mouth.
Ingredients: flour, sugar, butter, egg, chocolate, vanilla, milk, flavorings
5. Key Lime Pie
Baker: Brandy Smelcer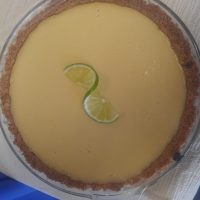 SOLD FOR $75
An American classic that originated in Florida in the late 1800s, this tangy and sweet dessert is created by a chemical reaction between the egg yolks and the lime juice. Chemistry never tasted so good!
Ingredients: Key lime, sweetened condensed milk, egg, butter, sugar, graham crackers

6. Hibiscus Hydrenga Cake
Baker: 13yr old Rhain Osburn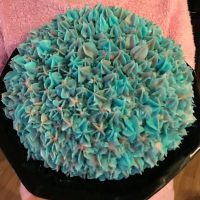 SOLD FOR $50
Delicate and delightful, this Hydrenga cake is named for its beautiful floral frosting. Light and fluffy lemon cake is layered with equally light and fluffy lemon buttercream frosting. this cake can stand alone or be accompanied by fruits and creams.
Ingredients: flour, sugar, egg, butter, milk, vanilla, salt, lemon

---
Round Two
7. Kit Kat Stuffed Candy Cake
Baker: Christy Franklin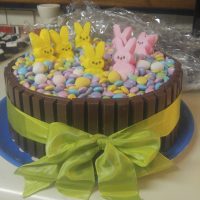 SOLD FOR $100
Sweet does not begin to describe this candy filled cake. An outer edge of Kit Kat candy bars encases a tender chocolate cake smothered in chocolate frosting and topped with literally pounds of chocolate candy. Let's call this chocolate overload.
Ingredients: flour, butter, egg, milk, salt, spices, Kit Kat candy bars, misc other candy

8. Suzie's Caramels
Baker: Suzie Koklich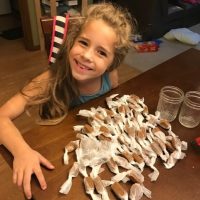 SOLD FOR $100
Two pounds of the richest, softest, and most delicious caramels. This recipe is over 30 years old and has stood the test of time. Loved by all who have tried them, these caramels are fabulous!
Ingredients: butter, sugar, salt, corn syrup, milk
9. Pandan Naked Cake
Baker: Lady Ann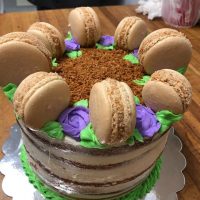 Pandan is a space widely used in Southeast Asia. This "Naked" cake is Pandan flavored with Swiss meringue buttercream and coconut French macaron topping. (A naked cake is frosting between the layers and/or just thinly covering the sides)
Ingredients: egg, sugar, butter, vanilla, salt, coconut macarons, almond, cream, sweetened condensed milk, coconut

10. Peanut Butter Chocolate Pie
Baker: Jessica Vincent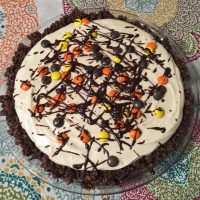 For the peanut butter fans out there! This decadent pie is piled high with a fluffy whipped peanut butter and cream filling atop a tasty crust of semi-sweet chocolate coated Rice Krispies. Finished off with Reese's pieces and a chocolate drizzle.
Ingredients: chocolate peanut butter, cream, sweetened condensed milk, Rice Krispies, vanilla, butter, cheese, Reese's Pieces
11. Stuffed German Chocolate Cupcakes
Baker: Pam Verfaillie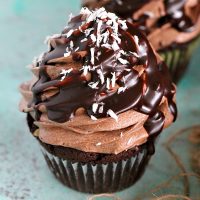 18 moist and tender chocolate cupcakes filled to bursting with a pecan and coconut filling, topped with a border of smooth chocolate cream cheese frosting drizzled with a velvety chocolate ganache. Each cupcake is packaged in a beautiful gift box.
Ingredients: flour, chocolate, sugar, butter, egg, milk, pecans, coconut, cheese, vanilla, cream, salt

12. Craisin Carrot Cake with Goat Cheese Frosting
Baker: Fire fighter Shawn Foster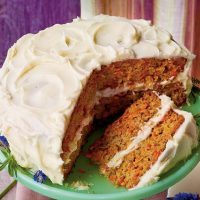 This amazing two-layer carrot cake has a tangy twist, craisins (dried cranberries), as well as raisins. Topped with an amazingly smooth goat cheese frosting, this delicious cake is moist and nutritious. Note – **NO NUTS**
Ingredients: flour, sugar, oil, egg, carrots, craisins, cheese, vanilla, butter, spices, salt
---
Round Three
13. Heavenly Gluten-Free Chocolate Vegan Cake with Vegan Truffles
Baker: Maggie Nylund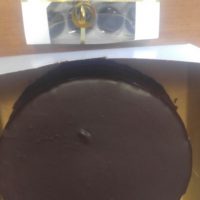 The vegan, gluten-free baking heavens have parted and given us this super moist, tender, rich, chocolately, and delicious cake. This cake is filled with raspberry whipped ganache and frosted with dark chocolate frosting. As a special gift, vegan truffles have been added.
Ingredients: AP g.t. flour, almond milk, chocolate, vinegar, cocoa, sugar, salt, spices, oil, vegan butter
 14. Joanne's Carrot Cake
Baker: Joanne Winney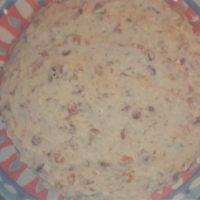 Joanne Winney's award winning carrot cake has a new twist this year – the winning bidder sets the date, any time after March 7th, 2018. Joanne will bake her delicious carrot cake for you and/or your event. This cake comes on a beautiful cake platter.
Ingredients: flour, sugar, egg, butter, pecans, raisins, coconut, cream cheese
15. Key Lime Pie
Baker: Brandy Smelcer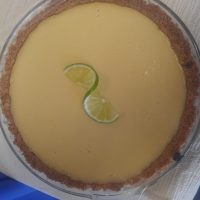 An American classic that originated in Florida in the late 1800s, this tangy and sweet dessert is created by a chemical reaction between the egg yolks and the lime juice. Chemistry never tasted so good!
Ingredients: Key lime, cream, sweetened condensed milk, egg, flour, butter, salt
16. Classic Vanilla on Vanilla Cake
Baker: Mattison Ace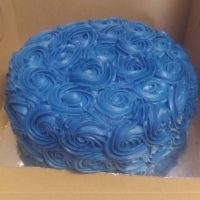 Comfort food at its best, this classic vanilla sponge cake is slight and smooth. Alternating layers of velvety vanilla buttercream frosting and scrumptious vanilla cake create the perfect bite of the vanilla dream.
Ingredients: flour, sugar, egg, butter, milk, vanilla, salt
17. Apple Maple Cake
Baker: Kate Spadafora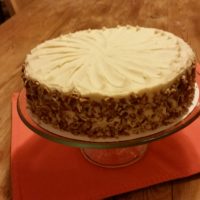 This apple cake with maple buttercream frosting, edged with pecans, is an all-American favorite. The wholesome goodness of fresh sweet apples coupled with rich and creamy maple icing is simply scrumptious.
Ingredients: flour, sugar, egg, oil, spices, apples, maple, pecans
18. Champagne Mimosa Cake
Baker: Jamie Arciniego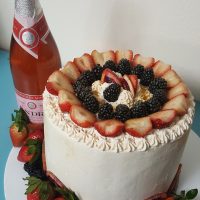 Tender, orange sponge cake is alternately layered with silky champagne buttercream, and then wrapped completely in this sinful frosting. A champagne dessert worth celebrating, this cake is perfect for any party.
Ingredients: flour, sugar, butter, egg, orange, vanilla, egg, oil, milk, champagne
---
Round Four
19. Peanut Butter Pie Crumble
Baker: Lindsey Bamick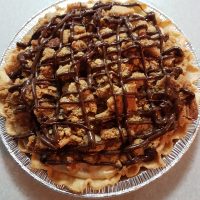 A rich and creamy peanut butter dream, this pie melts in your mouth. Peanut butter filling is whipped until light and airy, then placed in a crisp pate brisee shell. The filling is covered with a sweet and spicy crumble top and then drizzled with smooth chocolate.
Ingredients: peanut butter, sugar, butter, cream, egg, chocolate, cheese, vanilla, flour, salt, butter
20. Chocolate Oblivion Torte with Raspberry Sauce
Baker: Sandy Johns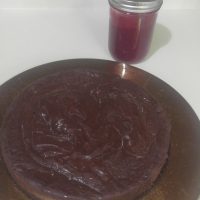 If you love chocolate truffles, you will definitely love this cake. Rich, dense and luscious; like classic chocolate cake meets fudge. Drizzled with tangy raspberry sauce, this cake is gluten-free as well.
Ingredients: chocolate, butter, egg, raspberry, sugar

21. Honey-Nut Cheese Cake
Baker: Tiffeni Major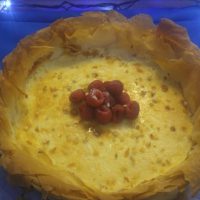 Simply dreamy. The flaky phyllo crust, nuts, and honey will remind your tastebuds of baklava. Marscarpone, an extra-rich Italian cream cheese, makes the texture sublimely creamy.
Ingredients: cheese, milk, sugar, butter, honey, egg, nuts, corn syrup, spices, raspberries
22. Chocolate Almond Cake
Baker: Kristina Brown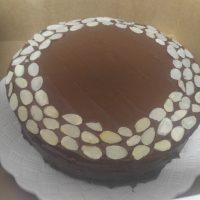 This cake is for everyone, chocolate and vanilla collide in this decadent concoction. Velvety, rich chocolate cake layers are separated by smooth and light vanilla buttercream frosting. Each bite is a balance of dark and light, sweet velvet and airy icing.
Ingredients: flour, cocoa, sugar, oil, eggs, milk, almond, vanilla
23. Mixed Berry Pound Cake
Baker: Audrey Richardson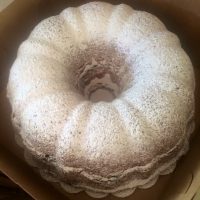 This cake will make you think of Spring with its tart berries that pop with every bite. Rich an buttery, it is pure cake, no frosting, and the result is heaven. Made with raspberries and blueberries, spices, and almonds.
Ingredients: flour, sugar, butter, egg, almond, salt, cream, milk, raspberries & blueberries, spice

24. Chocolate Espresso Cheesecake 
Baker: Seth Jorgensen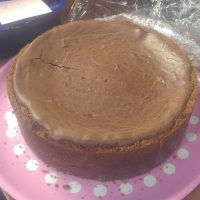 Pure indulgence should be the name of this cake. It is the perfect balance between creamy and tart. Espresso and chocolate are a rich and decadent combination, but add cheesecake and a berry reduction sauce, and you have a dessert fit for a king.
Ingredients: cheese, butter, sugar, eggs, chocolate, espresso, cream, Nilla wafers, ginger snaps, salt, raspberry, cranberry, strawberry, blueberry, orange