Boys Varsity Basketball  – Coach Todd Wegner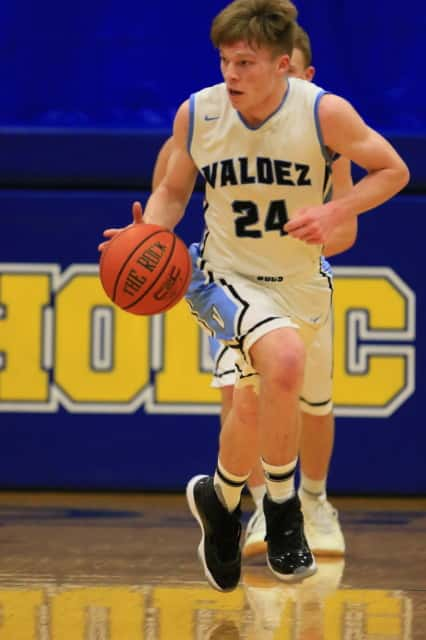 Bennett Hinkle dribbles down the court during Monroe Tournament in Anchorage. Bennett was named to the All Tournament team along with Logan Heckathorn
The Valdez Boys Basketball team participated in the McKinley Holiday Classic this past weekend in Fairbanks.  Valdez, Barrow, Monroe and Grace Christian all participated in a round robin format.  The buccaneer's opponents in this tournament have dominated the state 3A titles for the past six years.  The bucs were eager to see how they matched up with their 3A foes.
Their first game at the McKinley Holiday Classic opened with Barrow.  They focused on embracing the moment.  Having mental toughness which equals the ability to play in the present.  The bucs worked on focusing on the things they could control and not the things they couldn't.  The Buccaneers played tough and won 54-49.  Logan Heckathorn led all scorers with 22 points.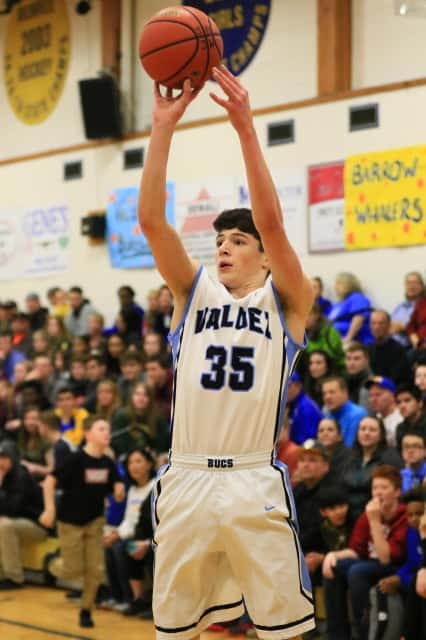 Logan Heckathron takes a shot at Monroe tournament in Fairbanks
On Friday night, they played Monroe who was last year's state runner up.  The buccaneers played tenacious defense but lost a close one 44-40.  Bennett Hinkle led all scorers with 20 points followed by Ike Watson with 12.
Saturday the buccaneers took on last year's state Champion the Grace Christian Lions.  The bucs played them even through three quarters but stalled offensively in the 4th quarter and lost 57-48.  Buccaneers were again led in scoring by Logan Heckathorn with 16 and Bennett Hinkle and Jalen Freeman both with 11
The Bucs coaching staff was pleased with their team's performance this past week and will continue to work and improve in certain areas which will hopefully allow the buccaneers to get another chance to play these teams in the state tournament.
Logan Heckathorn and Bennett Hinkle were selected to the eight person All-Tournament Team.  The Buccaneers take on the Hutchison Hawks this next weekend at home.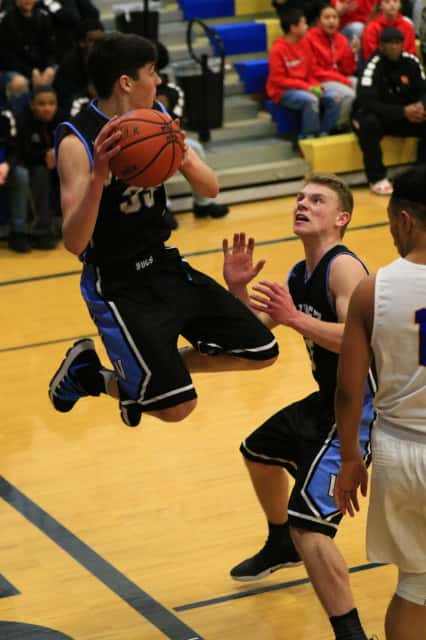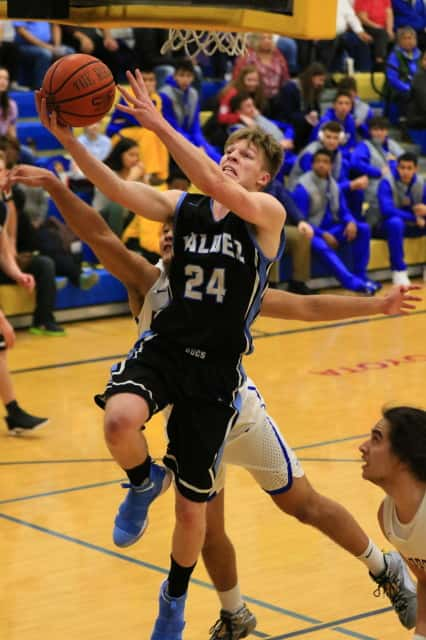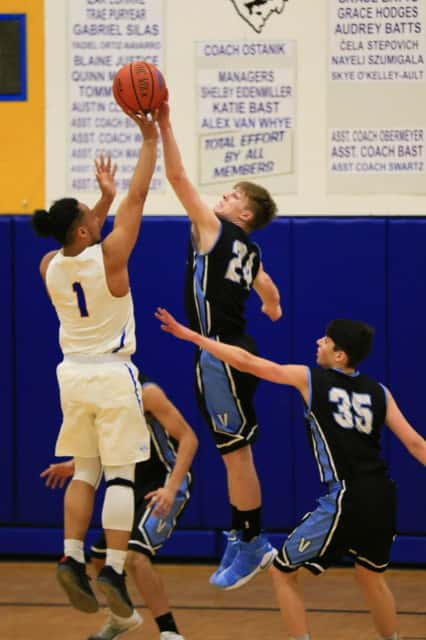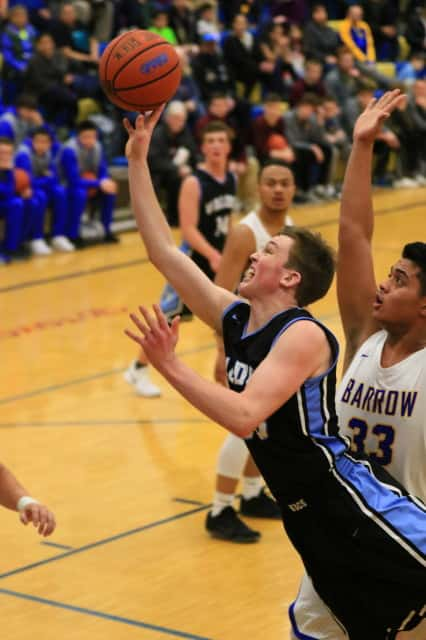 Girls Varsity Basketball – Coach Doug Fleming
The Lady Bucs brushed off a little rust from the long layoff to go 2-1 and finish 3rd at the ACS Pepsi Lime Solar Tournament. In game one the Lady Bucs overcame a slow start to defeat the Bethel Warriors. Bobbi Mott lead with 21 points and 11 rebounds, Sydney Johnson chipped in with 11 and 14 rebounds. Game 2 was a complete reversal of the previous night against the host ACS. Having played a great 1st half the ladies came out slow and lifeless to start the second half and once Carlee went down with a leg injury the girls couldn't find their rhythm or direction. Jade Watts lead the way with 10 points while Sydney Johnson again lead the rebounding effort hauling in 10. Game 3 saw the ladies put it all together and defeat a strong 4A JV team from Dimond High. Bobbi Mott lead all scorers with 18 while Jade Watts and Ashley Ramoth each contributed 12 apiece.
The girls are looking to the upcoming weekend and hoping Bobbi Mott has beaten the flu and can breath and Carlee Fleming is closer to seeing the floor again.
Nordic Ski – Coach Timi Miner & Mel Koontz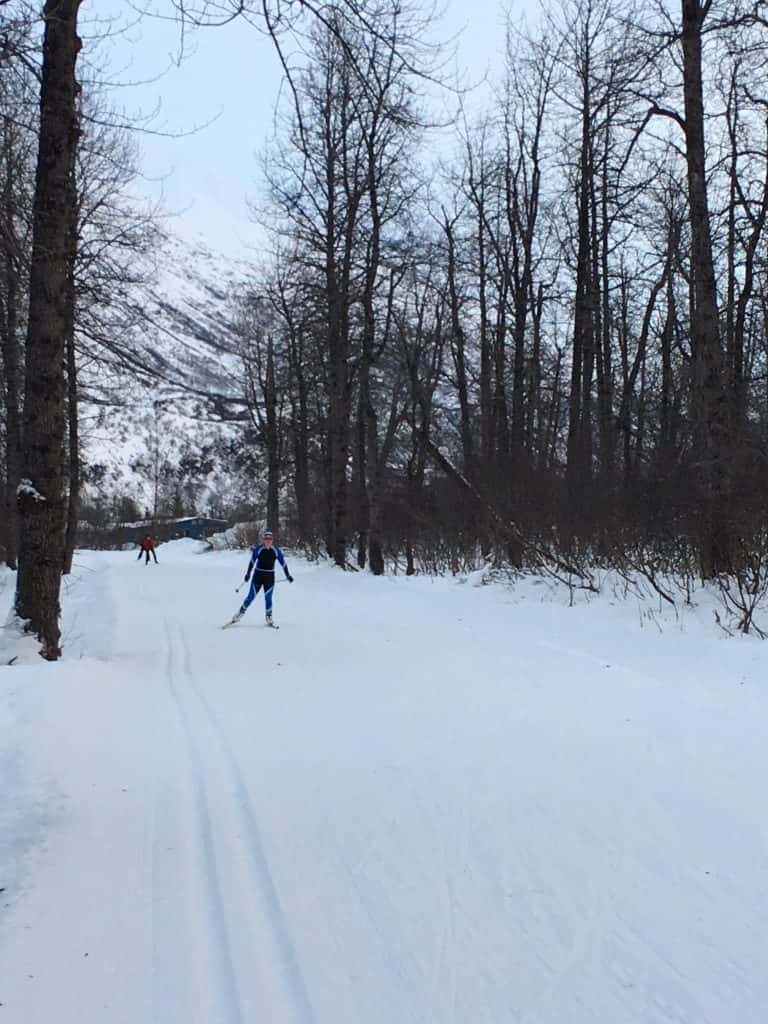 In lieu of Buc's cancelled ski invite, we hosted a town race.  It was a 7 kilometer skate in Mineral Creek.  We had an excellent turnout with 9 racers all together.  Ben Swanson finished first with a time of 20:42, Ben Stolen wasn't far behind at 22:17.  Buc's senior Josten Carlson finished third with 24:20.  Will Stark had a strong finish of 25:11.  Junior Rowen Miller finished in 31:12.  Close behind Miller was the father-son duo Colton Prevost, 31:28 and Mark Prevost, 31:31.  Renee Ernster finished on classics with a time of 33:18.  Tolganai Nasipbekova finished a 3 kilometer course in 18:16, a new personal best!  The team travels to Palmer for the Government Peak Nordic Ski Invitational.
We would like to give a shout out to Marcie for keeping our trails groomed.  Our next town race is January 20th, 10:00 am at Cato Bridge.  We will continue selling old gear at the end of each race.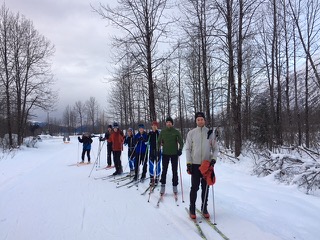 Town Race #3:  Skate Race
Results for the 7K:
Ben Swanson  20:42
Ben Stolen 22:17
Josten Carlson 24:20
Will Stark 25:11
Rowen Miller 31:12
Colton Prevost 31:28
Mark Prevost 31:31
Renee Ernster 33:18
Results for the 3K:
Tolgonai Nasipbekova  18:16