JV Girls Basketball – Coach Fred Hill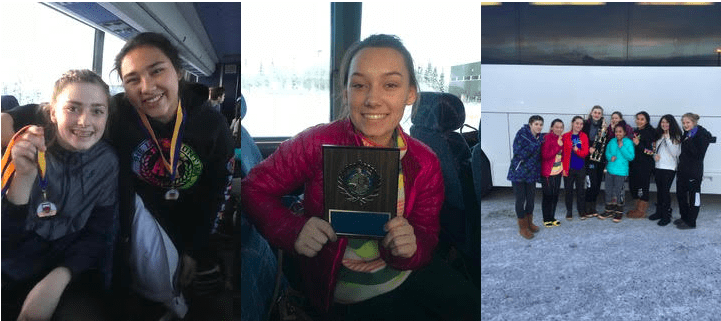 We had a great trip being the first team to travel in the tour bus. We were able to see a herd of caribou and 15 moose on the way to Fairbanks, a nice sunny day.  Maurice, our bus driver, said we had a great group of ball players both on and off the court. I asked him who did a better job of cleaning the bus and he replied both were equally good.
Our first game was North Pole girls and it was the toughest of the three games. We won 35 to 33, even though we never had the lead until the last five minutes of the game. We trailed by fifteen points at one time and we worked our way back to take the lead and held off a tough North Pole team. Ally Seiber lead all scores with 15 points with Reese King with 14 points. Marianne Prax led the team with great defense in the second half to help us win.
The second game was against the Monroe Rams and they too gave us a great challenge. We played with more confidence during this game than the first game. Monroe won the first quarter of play 11 to 6. We came back to tie it at half time with players like Rebekah Ambacher and Macy Hanson who  grabbed key rebounds and scored four points each in the second quarter to help. We won the last two quarters and won the game 44 to 39. Keyona Tudela was top scorer this game, scoring all 12 of her points in the second half. Reece King and Macy Hanson followed with 8 points each. This was a team effort with us playing good defense.
The last game we played Hutchison Hawks and won 58 to 13. We played with great confidence and we got better running our zone offense. I am very proud of the team and we look forward to our next challenge.
We had three girls make the All-Tournament team. Keyona Tudela and Ally Seiber made the All-Tournament team. Reese King was named MVP of the Tournament. I believe the whole team contributed to winning the tournament.

JV Boys Basketball – Coach Lee Chadwick
We had a great trip to Fairbanks to the Cosmo Fantazzi JV tournament at Monroe Catholic Schools. Traveling on the charter buses was wonderful, and much appreciated. Despite -18 degree weather, the bus was warm and comfortable and the driver was very accommodating. We took 9 players and 1 manager.
On Thursday, we played North Pole and won 56-20.  On Friday, we played Monroe and lost 36-56. On Saturday, we played Delta Junction and won by a score of 60-48.  We made good progress on playing together as a team on both ends of the court. James Letendre made the all-tournament team, and led the scoring in all games. More importantly, we had a very distributed scoring effort across the team in the two games we won. It was encouraging to see the team sharing the ball and making several assists. Our defense was generally stingy, concentrating on holding the opponent to one-shot possessions.