Wrestling:  (Coach Tyler Thompson)
The wrestlers took to the mat at the Palmer / Lancer Smith Memorial in Wasilla. This is largest and arguably the toughest tournament of the year. Looking at wins and losses from the weekend it may appear as if we had an unsuccessful weekend. However, I saw some of our best matches of the year. We came up short of victory but we did a good job of leaving everything on the mat. I saw our wrestlers give it their all in some hard fought matches and I am proud of the fight they have and eagerness to succeed.
As always, we still have work to do and plan to take advantage of this next open weekend to heal, prepare and train for the final stretch of the season.
All-State Choir:  (Ann Norris)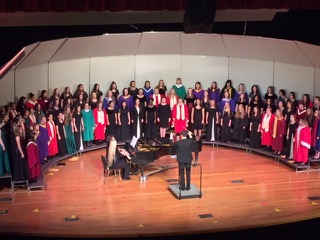 This is the ASAA All-State Honor Choir.  Jillian Fleming and Ariana Alvarez-Morales performed in a Gala Concert with students selected by audition at West High on Saturday night.
Nordic Ski: (Coach Melissa Koontz)
Birch Hill Town Series #1
November 18, 2017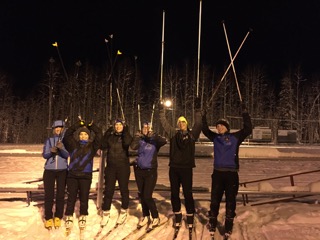 The Valdez Buccaneers Nordic Ski Team traveled to the frigid north to find snow and to have their first cross-country ski meet.  Birch Hill in Fairbanks hosted the first race of their Town Series.  They had just received about 6 inches of snow.  We were excited to see snow after our dry start here in Valdez.  The Bucs did well considering they have only practiced twice with skis on.  Rowan Miller skied the Girls' Junior Varsity 2.5 kilometer race and placed 3rd out of 7 skiers.  We are excited to have Tolgonai from Kazakhstan on our team.  She is new to skiing and will compete in future meets.  Ben Swanson started the Boys' Varsity 7.5 kilometer race strong and finished in 29:51, placing 19th out of 37 high school competitors.  Josten Carson started the season strong, finishing in 31st place with a time of 37:00.  Coach Miner and Coach Koontz are very impressed with the dedication and determination of these athletes.  It is a challenging start to the season without snow.  We are fine tuning our snow dance and ski skills.
Open ski for 8th – 12th graders will begin once there's enough snow to groom the trails.  All levels are welcomed to ski from 3:30 – 5:00 Mondays and Tuesdays.  Limited supplies of ski, boots and poles are available.
Race totals:
| | | | |
| --- | --- | --- | --- |
| Place | Name | Time | Distance |
| 3 | Rowan Miller | 17:33 | 2.5 km |
| 19 | Ben Swanson | 29:51 | 7.5 km |
| 31 | Josten Carlson | 37:00 | 7.5 km |
| | Tolgonai Nasipbek-kyzy | NA | NA |