The Girls GMS Basketball team hit the road playing four games in three days. "The girls won all their games but, more importantly, they are working together as a team," said coach Laurie Prax. "We had some tremendous drives and dishes this weekend and very balanced scoring. Everyone is contributing". Valdez played Delta Thursday and won 34-17. Ambrosia Woodgate scored 11, Carsyn Hinkle had 8 points and Lily Alfaro and Masen Holmes netted 6 points. Woodgate, Holmes and Kylie Fletcher-Gilbert had 6 rebounds apiece.
On Thursday the Valdez A Team played Northway. Carsyn Hinkle lead in scoring with 16 points, Chloe Auble scored 12 points, Acacia Montgomery had 12, Kylie Fletcher-Gilbert had 11 points, 6 rebounds and 5 steals. Ambrosia Woodgate picked up 6 steals. Masen Holmes and Acacia Montgomery got it done on the defensive end with Holmes grabbing 11 rebounds and Montgomery pulling down 11 rebounds. Carsyn Hinkle led in scoring against Tok with 9 points and Chloe Auble picked up 8. Chloe Auble and Acacia Montgomery led in rebounds with 6 and 5 rebounds respectively. In the Huskies final game against Glennallen on Saturday the Huskies won 32 to 9. Masen Holmes led in scoring with 10 points and Kylie Fletcher-Gilbert picked up 8 points. Holmes lead the team in rebounds with five and got the crowd excited with a monster block against Glennallen's top player.
VALDEZ HUSKY B TEAM WINS THREE GAMES ON THE ROAD
Jasmine Bravo led the way in scoring for the Girls B Team on Thursday in Delta, scoring 10 points. On Friday afternoon it was Peyton Wade heating up with net with 18 points against Northway. Bravo scored 11 versus Northway and Lydia Robart scored nine points. In Glennallen it was Masen Holmes leading the way for the Huskies with 10 points. Acacia Montgomery controlled the boards and scored 8 points for the Girls B Team.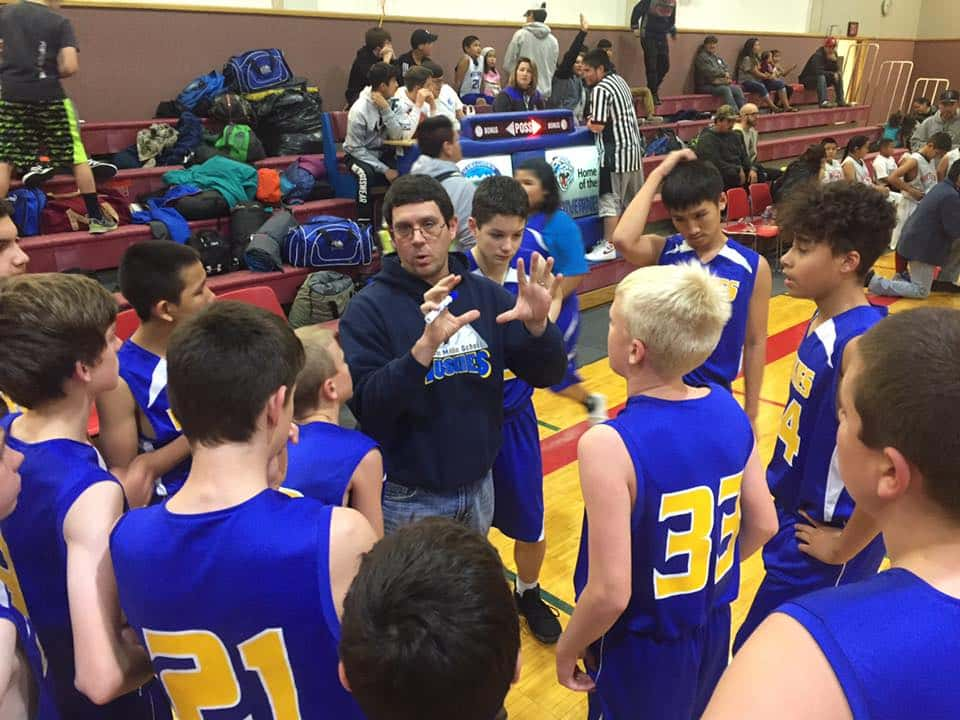 Coach Joe Robison talking with Boys in Tok