Cross Country Running:  (Melissa Koontz)
Valdez Dual Open Meet
August 19th, 2017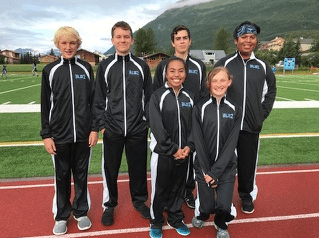 The Valdez Buccaneers had their first cross-country meet against the Cordova Wolverines.  The rain subsided and the sun emerged just long enough for the runners.  The Buccaneers had an impressive first meet, taking second and third place on a challenging 5k course.  There were a total of twelve runners for this dual meet.  With such a small group the boys and girls ran at the same time.  Runners began on the track and cut across to Mineral Creek where they were met with a short hill.  After crossing the bridge, the runners endured a long, steep incline before the road levels out until the turn around at 2.5 kilometers.  Gage Frohnapfel from Cordova crossed the finish line first at 18:41.  Buccaneer's Rafael Alfaro wasn't far behind at 18:53 and Kalin Woods on his tail at 18:58.  Coming in first for the girls was Cordova's Anika Witsoe at a remarkable 21:58.  Aiden McAtee cruised in at 22:49.  Buccaneer's girls Katie Wadsworth and Sophia Palomar crossed the finish lines seconds apart.  Wadsworth at 24:55 and Palomar at 24:58.  Brenner Wilson finished fast and strong at 30:59.  The Buccaneer runners worked hard and are motivated to keep pushing themselves.
The 2017 Valdez High School Cross Country Team Runners are:
Rafael Alfaro
Aiden McAtee
Sophia Palomar
Katelyn Wadsworth
Brenner Wilson
Kalin Woods
Coach: Melissa Koontz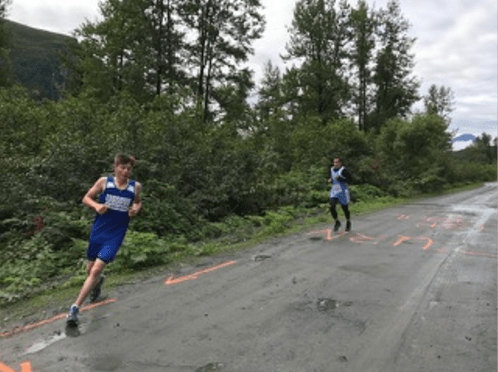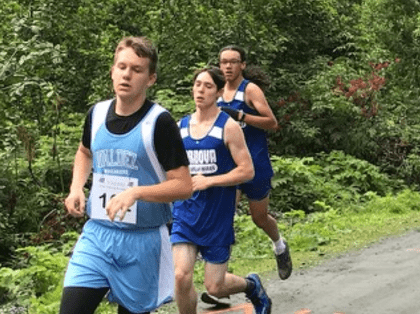 Race totals:
| | | | |
| --- | --- | --- | --- |
| Place | School | Name | Time |
| 1 | Cordova | Gage Frohnapfel | 18:41 |
| 2 | Valdez | Rafael Alfaro | 18:53 |
| 3 | Valdez | Kalin Woods | 18:58 |
| 4 | Cordova | Ben Wray | 20:05 |
| 5 | Cordova | William Deaton | 21:26 |
| 6 | Cordova | Anika Witsoe | 21:58 |
| 7 | Valdez | Aiden McAtee | 22:49 |
| 8 | Cordova | Gage Crawford | 22:54 |
| 9 | Cordova | Eoghan Hernandez | 23:08 |
| 10 | Valdez | Katie Wadsworth | 24:55 |
| 11 | Valdez | Sophia Palomar | 24:58 |
| 12 | Valdez | Brenner Willson | 20:59 |
Home Football:  (From Steve Radotich)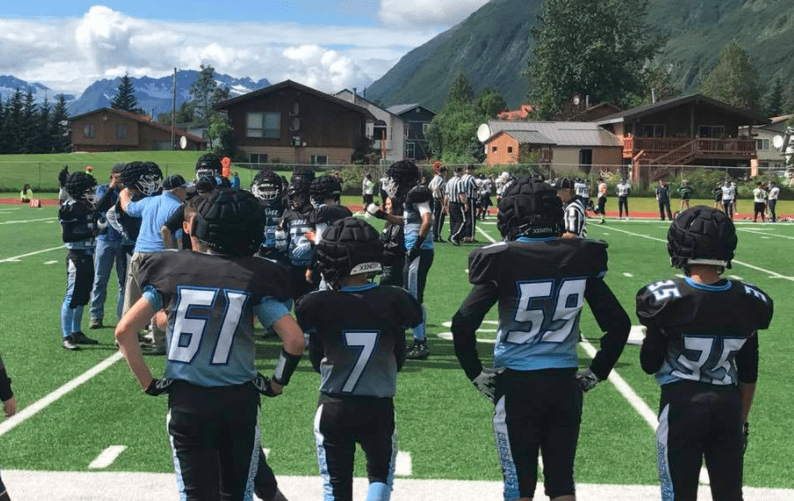 We lost to Redington 0-45.  Our lack of depth at running back caught up with us this weekend, as we only had 16 eligible players suited up and a couple players got dinged up.  We will have 20 eligible this weekend, which should help.  Derek Berg, Stan Morales, and Owen Chadwick were bright spots for us on defense.  Offensively we are still a work in progress.  We will have a tough game this weekend vs Homer on the road.
JV Volleyball:  (From Adam Sharrai)
Colony Jamboree:
Valdez vs Reddington:  25-14 (Valdez Win)
Valdez vs Wasilla:  19-25  (Valdez Loss)
Valdez vs Palmer:  14-25  (Valdez Loss)
Valdez vs ACS:  25-20 (Valdez Win)
Coaches Comments:  We worked well together, talked, made adjustments as instructed.  Enjoyed the competition.
Highlights:  Ran plays well and reacted to adjustments.  The girls had Fun!
Varsity Volleyball:  (From Ron Langseth)
Palmer Jamboree:
Loss to Palmer, Win vs Houston, Win vs Grace, Win vs ACS, Win vs Wasilla, Loss to Colony, Win vs Palmer, Loss vs Grace, Loss vs Wasilla
Finished 4th.
Coaches Comments:  Great Start, but a lot to focus on.  Fun time seeing success.
Highlights:  Saw improvements throughout the weekend.
Swimming:  (Leo Overduyn)
Colony Meet:
Coaches Comments:  The team was very excited to swim this past weekend and get the season started.
Victoria Korenev swam the same time she did in last seasons Region Meet in the 100 Free which is a strong indication that she will be an even faster swimmer   this season.
Ana Price swam her personal best in 50 free.
Abigail Sims had her first swim ever at her first swim meet.
Grace Keller lead the girls team with having the best swims in the 50 & 100 Free.
Rowan Miller swam faster in her second 50 free during the girls 200 Free relay than in her first 50 Free Individual race.
Jeffery Prevost had all time personal best times in his 50 & 100 Free.
Chase Randall broke a minute on his 100 Free at the start of the season.